Project Runeberg's front page for May 1996:

Electronic editions of classic Nordic literature and art on the Internet since 1992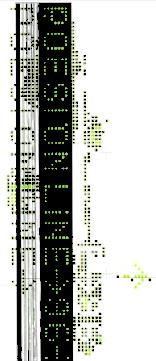 Let's Talk about Sex...
Swedish: Ungdomsromanen Kram av Hans-Eric Hellberg finns nu på nätet hos Projekt Runeberg. Den utkom första gången 1973 och rörde upp många känslor, eftersom den handlar om ungdomar och sex. Läs mer om författaren eller skriv ett brev direkt till honom. Vi hoppas att få se mer av Hans-Eric Hellberg hos Projekt Runeberg framöver.
English: When it was first published in 1973, the Swedish youth novel Kram (Embrace) by Hans-Eric Hellberg, raised many opinions, as it addresses the topic of teenagers and sex. The author has granted us the right to publish the novel over the Internet, and you can even send e-mail to him. There are rumors about a forthcoming English translation...
Hans-Eric will be 69 years old on May 11th. Congratulations!
Project Runeberg Moves Indoors
Project Runeberg will now be a joint project between Lysator and Linköping University Library. After three years of working with Project Runeberg in our unpaid spare time, Linköping University finally recognizes some of its value, and grants us a part time employed editor for the rest of 1996 and 1997. This means everything will continue as usual, only a little smoother. Cosponsors are the library, the departments of computer science and electrical engineering, and the IT committee.
Hot from the press! Organized by Författares bokmaskin in Stockholm, Poesi on line 96 is a book of poetry that was written, compiled, printed, and distributed all in one day. On Saturday April 27th, you had the chance to be part of this. A hundred poets made it. Now you can read their minds, on the Internet. See also last years' Poesi on line 95.
Tell your Teachers!
Can you use Project Runeberg at school? Of course you can! But do your teachers know? Perhaps you have to tell them! If there is something more you need to know, just ask us! We answer every letter.
På svenska: Visst kan du använda Projekt Runeberg i skolan! Men känner dina lärare till det? Berätta för dem! Om det är något du undrar, skriv till oss. Vi svarar på alla brev. Här är några bra tips: Biologi: Bilder ur Nordens Flora av C A M Lindman. Religion: Bibeln. Läs en bok: Kallocain av Karin Boye eller Gösta Berlings saga av Selma Lagerlöf. Litteraturkunskap: Nordiska författare.
More than just Bibles
The Swedish Bible is complete! The Finnish New Testament is in the web. We are also working on the Danish Bible. There are more tasks left before the Swedish Bible edition is finished. Read more about how you can help.
Looking for your Nordic roots? Read the old viking Edda or the Finnish Kalevala.
| | |
| --- | --- |
| Lysator's web server is sponsored by | |
---

Updated / the editors. Project Runeberg publishes classic Nordic literature and art on the Internet since 1992 / Lysator and Linköping University Library.