Kahlmeter, Thore (1849–1897), teacher, translator, Sweden.

Project Runeberg has published the following works by this author:
---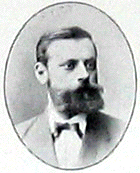 Thore Olof Kahlmeter, svensk lärare, född 2 september 1849 i Falun, död 10 juni 1897. Far till läkaren Thore Gunnar Kahlmeter, född 1885.
Student i Uppsala 1869, fil. kand. 1874, fil. lic. 1880, fil. dr. 1886. Amanuens vid fys. kabinettet i Uppsala 1876-1880. Kollega vid Katarina 1. allm. läroverk i Stockholm 1892. Har utgivit skrifter i fysikaliska ämnen.
Släktartikeln Kahlmeter i Svenskt biografiskt lexikon anger födelseåret till 1869, både i tryck och på CDROM, men detta faller på sin egen orimlighet. Flera andra källor anger det rimligare 1849.
Porträtterad i Svenskt porträttgalleri, band XII, Lärarekåren, första häftet, 1898.
Utgav en svensk översättning-bearbetning av Brewers A Guide to the Scientific Knowledge of Things Familiar med titeln Hvarför? och Huru? Nyckel till naturvetenskaperna (1890).

Find other Nordic Authors named Kahlmeter, others born in 1849 or deceased in 1897.
Look for more information in Bibsys, Det Kgl. Bibliotek, Google (search, book search), Hathi Trust, Internet Archive, Libris, Nasjonalbiblioteket (bøker, tidsskrifter), Project Gutenberg, Yahoo.
---
Project Runeberg, 2005-04-23 03:44 (aronsson) << Previous Next >>
http://runeberg.org/authors/kahlmthp.html