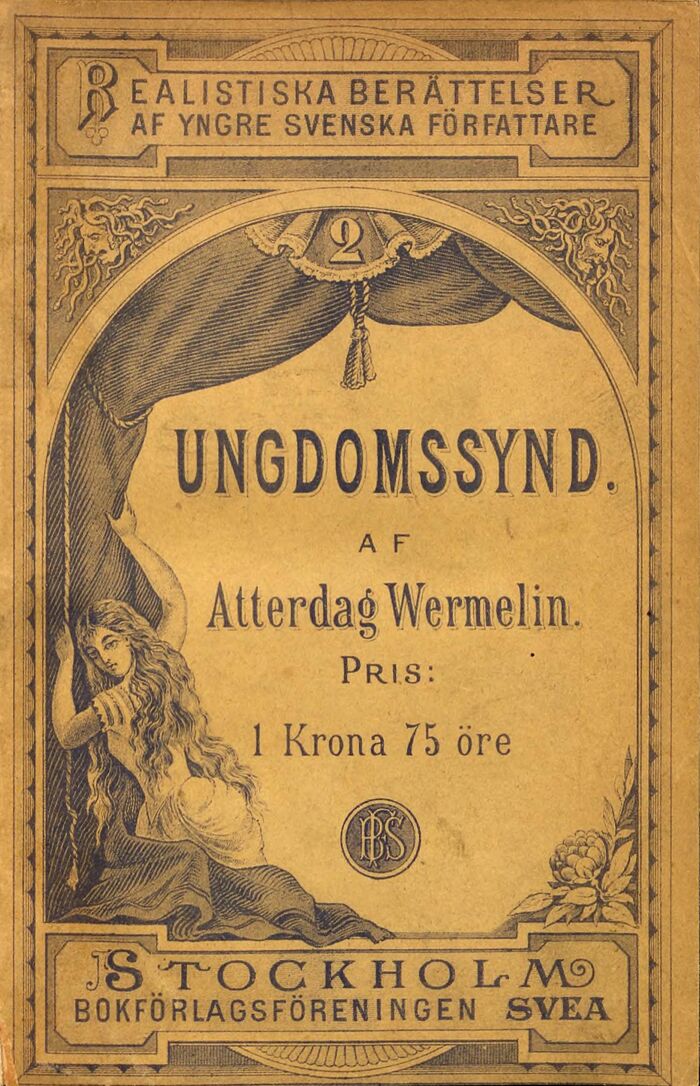 REALISTISKA BERÄTTELSER AF YNGRE SVENSKA FÖRFATTARE. _______________________________ II.
UNGDOMSSYND.
AF
ATTERDAG WERMELIN.
STOCKHOLM 1885. BOKFÖRLAGSFÖRENINGEN SVEA.
---
STOCKHOLM, J. W. HOLMS BOKTRYCKERI, 1885.
---
Förord till den elektroniska utgåvan
Författarens vän Axel Danielsson skrev om boken i artikeln En fördriven, i samband med att Wermelin emigrerade till USA: "Dessutom har han under en tidigare period skrivit en novell kallad Ungdomssynd, en oklar och romantisk bok, som dock alltigenom förråder intelligens och passion. Ämnet har sedan upptagits av Gustaf af Geijerstam. Men Wermelins bok är glömd, blev aldrig ens omtalad med undantag av ett svinaktigt epigram i Söndags-Nisse och litet mopsgläfs i landsortspressen."
Verket tillhör Göteborgs universitetsbibliotek och har scannats där. Det anpassades och OCR-tolkades för Projekt Runeberg i februari 2017 av Bert H.

This volume was scanned by Kungl. biblioteket, Sweden's national library, from where the scanned images were copied to Project Runeberg. We very much appreciate that they have made this possible and want to encourage other digital library projects to follow their example. Read more about Project Runeberg's image sources.

---
The above contents can be inspected in scanned images: Titelsida, 134

---
Korrstapel / Proof bar for this volume


Innehåll / Table of Contents

Titel - Titelsida, 134
Om konventionel och naturlig anständighet ... - III, IV, V, VI, VII, VIII, IX, X, XI, XII, XIII, XIV, XV, XVI, XVII, XVIII, XIX, XX, XXI, XXII, XXIII
Ungdomssynd ... - 1, 2, 3, 4, 5, 6, 7, 8, 9, 10, 11, 12, 13, 14, 15, 16, 17, 18, 19, 20, 21, 22, 23, 24, 25, 26, 27, 28, 29, 30, 31, 32, 33, 34, 35, 36, 37, 38, 39, 40, 41, 42, 43, 44, 45, 46, 47, 48, 49, 50, 51, 52, 53, 54, 55, 56, 57, 58, 59, 60, 61, 62, 63, 64, 65, 66, 67, 68, 69, 70, 71, 72, 73, 74, 75, 76, 77, 78, 79, 80, 81, 82, 83, 84, 85, 86, 87, 88, 89, 90, 91, 92, 93, 94, 95, 96, 97, 98, 99, 100, 101, 102, 103, 104, 105, 106, 107, 108, 109, 110, 111, 112, 113, 114, 115, 116, 117, 118, 119, 120, 121, 122, 123, 124, 125, 126, 127, 128, 129, 130, 131, 132, 133, 134
Förlagsreklam ... - Omslag

---
Project Runeberg, Thu Feb 16 15:20:42 2017 (www-data) (diff) (history) (download) Next >>
http://runeberg.org/awungdom/