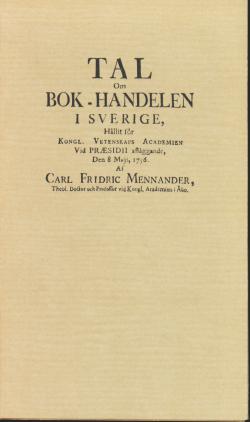 TAL
Om
BOK-HANDELEN
I SVERIGE,
Hållit för
KONGL. VETENSKAPS ACADEMIEN
Vid PRÆSIDII afläggande,
Den 8 Maji, 1756.
Af
CARL FRIDRIC MENNANDER,
Theol. Doctor och Professor vid Kongl. Academien i Åbo.
På Kongl. Vetenskaps Academiens befallning.
STOCKHOLM,
Tryckt hos LARS SALVIUS. 1756
---
Gifvit på
KONGL. VETENSKAPS ACADEMIENS
Vägnar,
Af Des Secreterare,
PEHR WARGENTIN.
---
Preface to the Electronic Edition
This is Project Runeberg's electronic facsimile edition of a speech about the state of the book market in Sweden, held in 1756. The speech was held at the Swedish Academy of Sciences, and the book also contains the response by its secretary. This little book was reprinted in facsimile 1968 and sent out as a Christmas greeting by the publisher Almqvist & Wiksell-förlagens boklådor.
Already on November 21, 1993, this text was made available on Project Runeberg's gopher server on the Internet. In March 1997, scanned facsimile images of the book pages were added. This was before Project Runeberg's method for electronic facsimile editions was fully developed (in 1998), and many readers have been unable to view the scanned pages. This was repaired in February 2007.

---
The above contents can be inspected in scanned images: omslag, omslagets insida, titelsida, titelsidans baksida (om faksimilutgåvan)

---
Korrstapel / Proof bar for this volume


Innehåll / Table of Contents

Titel och innehåll - omslag, omslagets insida, titelsida, titelsidans baksida (om faksimilutgåvan)
Tal om bok-handeln - 1
Svar - 27

---
Project Runeberg, Mon Feb 5 01:10:50 2007 (runeberg) (diff) (history) (download) << Previous Next >>
http://runeberg.org/bokhandl/
URN:NBN:se-d1998338