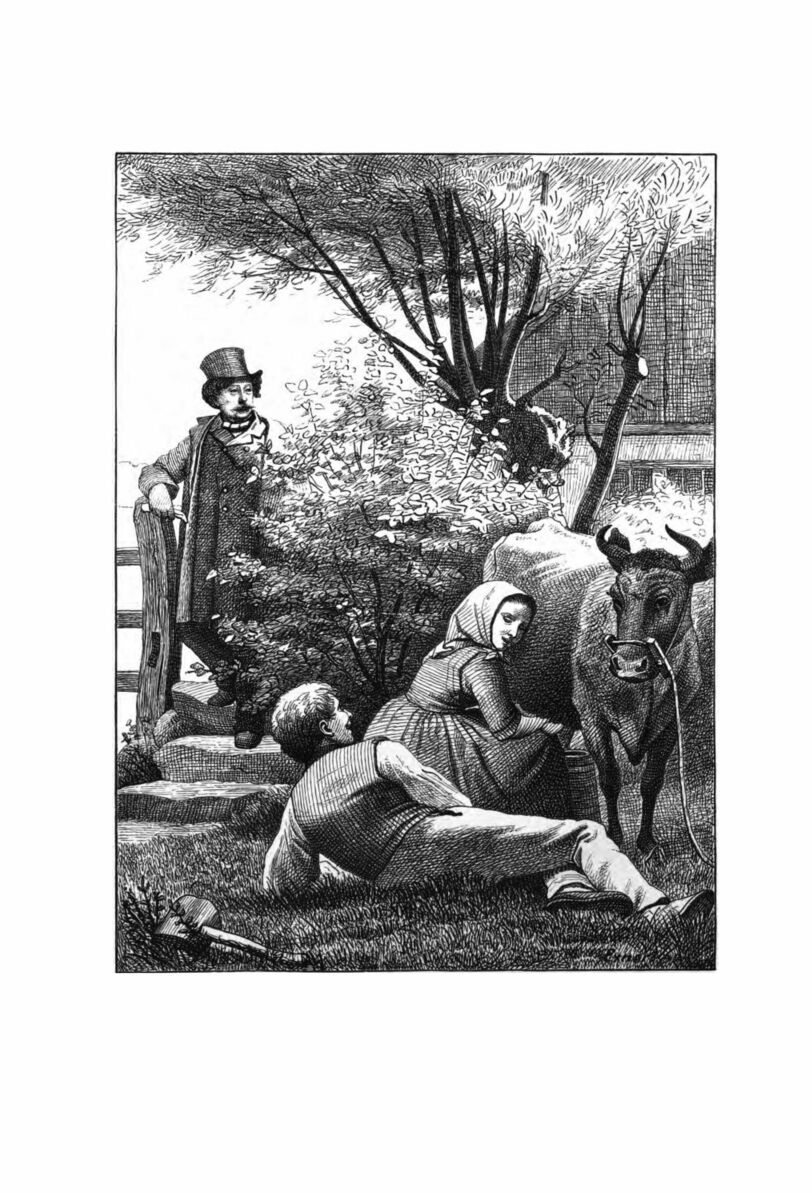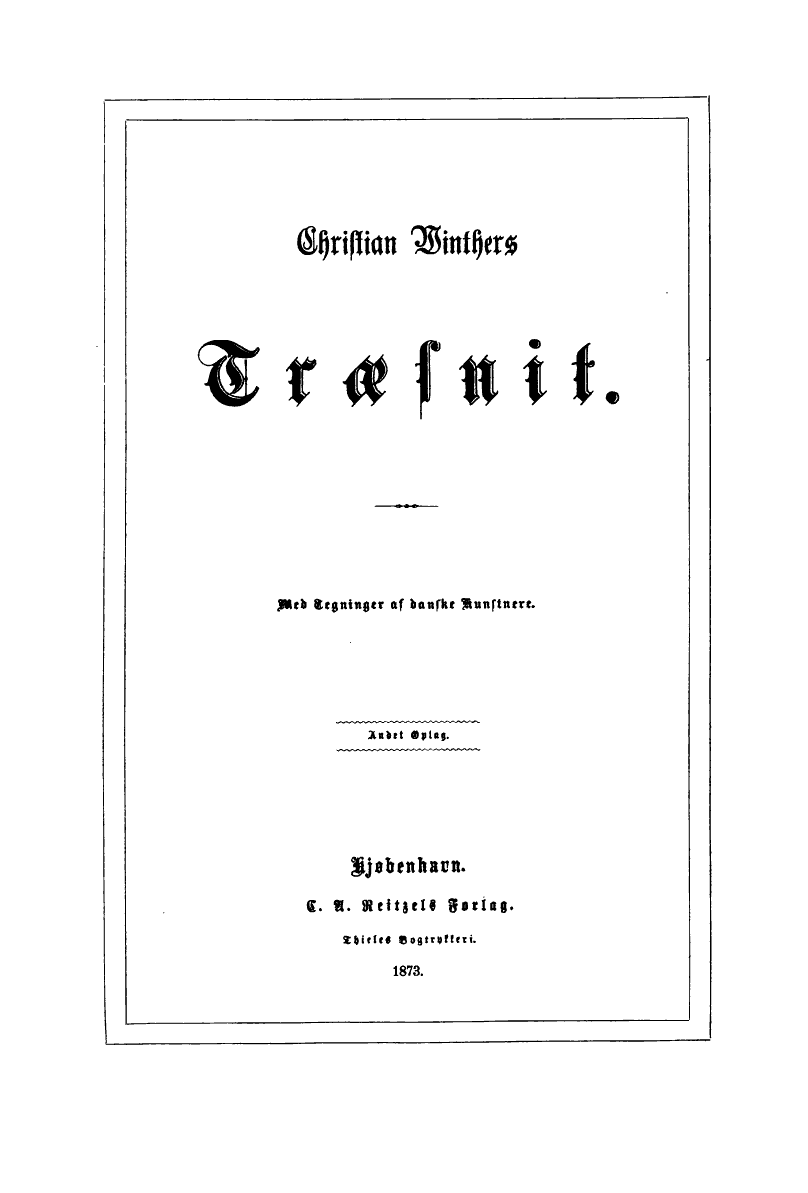 Christian Winthers
Træsnit.
*
Med Tegninger af danske Kunstnerer
----------------
Andet Oplag.
----------------
København.
C. A. Reitzels Førlag.
Thieles Bogtrykkeri.
1873.
---
Förord till den elektroniska utgåvan
Christian Winthers Træsnit är ett praktexempel på hur författare och konstnärer i samarbete kan skapa fina verk. Här har Christian Winther (1796-1876) skrivit några dikter, vilka de danska konstnärerna Julius Exner (1825-1910), Christen Dalsgaard (1824-1907), Constantin Hansen (1804-1880), Otto Bache (1839-1927), Theodor Wegener (1817-1877) samt Jørgen Sonne (1801-1890) har illustrerat, omvandlade till träsnitt av xylograferna Hans Peter Hansen (1829-1899), Frederik Hendriksen (1847-1938), Johan Frederik Rosenstand (1820-1887) samt Carl Leonard Sandberg (1839-1885). Första upplagan av Træsnit utkom 1871 och denna andra upplaga 1873.
Verket från Oxfords Universitets bibliotek har digitaliserats av Google i juli 2008 och av Ralph E anpassats för Projekt Runeberg i maj 2011 såsom 600 dpi svartvita G4 tiff-bilder soch 300 dpi jpg-bilder i gråskala eller färg.
Då det har gått mer än 70 år sedan samtliga personers levnadstid, så har upphovsrätten upphört för detta verk.


This volume was scanned elsewhere and made available by the Internet Archive, from where the scanned images were copied to Project Runeberg. We very much appreciate that they have made this possible and want to encourage other digital library projects to follow their example. Read more about Project Runeberg's image sources.

---
The above contents can be inspected in scanned images: GoogleEn, GoogleDa, Omslag, Omslag, Tom, (blank), (blank), Vinjett, Titel, Tom, Indhold, (blank), (blank), (blank), (blank), Tom, Omslag, Omslag

---
Korrstapel / Proof bar for this volume


Indhold / Table of Contents

Titel och innehåll - GoogleEn, GoogleDa, Omslag, Omslag, Tom, (blank), (blank), Vinjett, Titel, Tom, Indhold, (blank), (blank), (blank), (blank), Tom, Omslag, Omslag
Vignet - 7, 8, 9, 10, 11
Hans og Grethe - 13, (blank), 15, 16, 17
Steffen og Anne - 19, (blank), 21, 22, 23, 24, 25, 26, 27
Henrik og Else - 29, (blank), 31, 32, 33, 34, 35, 36, 37
Jørgen og Trine - 39, (blank), 41, 42, 43, 44, 45, 46
Johan og Lise - 47, (blank), 49, 50, 51, 52, 53, 54
Christen og Lene - 55, (blank), 57, 58, 59, 60, 61, 62, 63, 64
Svend og Inger - 65, (blank), 67, 68, 69, 70, 71, 72, 73, 74, 75
Asbjørn og Thora - 77, (blank), 79, 80, 81, 82, 83, 84, 85, 86
Martin og Marie - 87, (blank), 89, 90, 91, 92, 93, 94
Erik og Ellen - 95, (blank), 97, 98, 99, 100, 101, 102, 103
Rudolf og Bertha - 105, (blank), 107, 108, 109, 110, 111, 112, 113, 114
Jacob og Lone - 115, (blank), 117, 118, 119, 120, 121, 122, 123, 124, 125, 126

---
Project Runeberg, Fri Dec 9 13:38:27 2011 (aronsson) (diff) (history) (download) Next >>
http://runeberg.org/cwtraesnit/