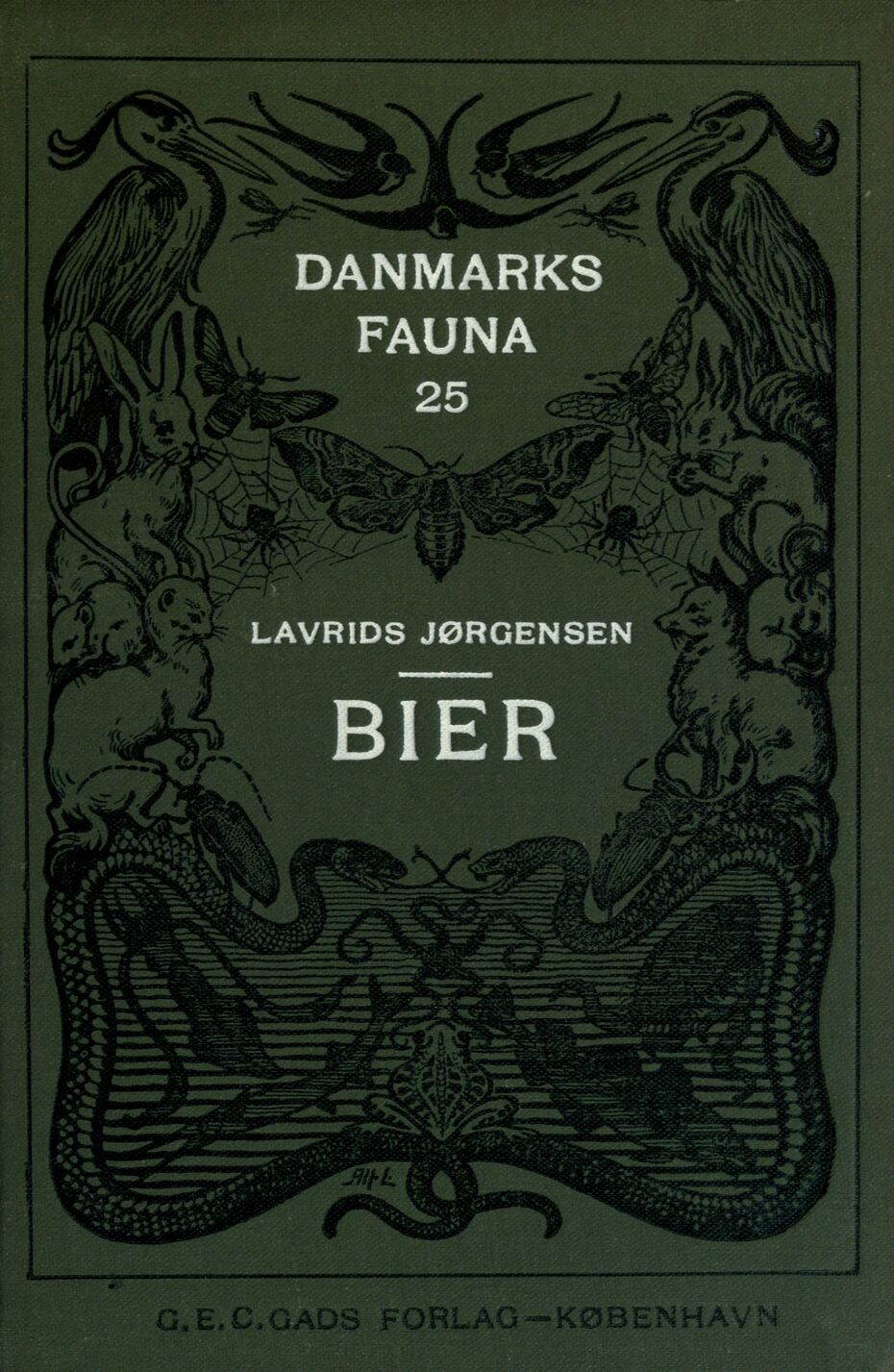 DANMARKS FAUNA 25.
DANMARKS FAUNA
ILLUSTREREDE HAANDBØGER OVER DEN DANSKE DYREVERDEN
MED STATSUNDERSTØTTELSE UDGIVNE AF
DANSK NATURHISTORISK FORENING
========================= * =========================
LAVRIDS JØRGENSEN
BIER
MED 32 AFBILDNINGER
G. E. C. GADS FORLAG - KØBENHAVN
1921
---
KØBENHAVN - BIANCO LUNOS BOGTRYKKERI
---
Förord till den elektroniska utgåvan
Denna tjugofemte del av Danmarks Fauna, författad 1921 av Lavrids Jørgensen (1865-1937), är digitaliserad i juli 2007 och anpassad för Projekt Runeberg i maj 2012 av Ralph E.
Se för övrigt förordet till hela serien!
Detta verk kan läsas såsom en uppslagen bok i färg på Internet-Arkivet.

This volume was scanned by the Biodiversity Heritage Library and made available by the Internet Archive, from where the scanned images were copied to Project Runeberg. We very much appreciate that they have made this possible and want to encourage other digital library projects to follow their example. Read more about Project Runeberg's image sources.

---
Korrstapel / Proof bar for this volume


Indhold / Table of Contents

Titel och innehåll
Sidor ... - Omslag, Blank, Titel, Trykk, Rettelser, Blank, 1, 2, 3, 4, 5, 6, 7, 8, 9, 10, 11, 12, 13, 14, 15, 16, 17, 18, 19, 20, 21, 22, 23, 24, 25, 26, 27, 28, 29, 30, 31, 32, 33, 34, 35, 36, 37, 38, 39, 40, 41, 42, 43, 44, 45, 46, 47, 48, 49, 50, 51, 52, 53, 54, 55, 56, 57, 58, 59, 60, 61, 62, 63, 64, 65, 66, 67, 68, 69, 70, 71, 72, 73, 74, 75, 76, 77, 78, 79, 80, 81, 82, 83, 84, 85, 86, 87, 88, 89, 90, 91, 92, 93, 94, 95, 96, 97, 98, 99, 100, 101, 102, 103, 104, 105, 106, 107, 108, 109, 110, 111, 112, 113, 114, 115, 116, 117, 118, 119, 120, 121, 122, 123, 124, 125, 126, 127, 128, 129, 130, 131, 132, 133, 134, 135, 136, 137, 138, 139, 140, 141, 142, 143, 144, 145, 146, 147, 148, 149, 150, 151, 152, 153, 154, 155, 156, 157, 158, 159, 160, 161, 162, 163, 164, 165, 166, 167, 168, 169, 170, 171, 172, 173, 174, 175, 176, 177, 178, 179, 180, 181, 182, 183, 184, 185, 186, 187, 188, 189, 190, 191, 192, 193, 194, 195, 196, 197, 198, 199, 200, 201, 202, 203, 204, 205, 206, 207, 208, 209, 210, 211, 212, 213, 214, 215, 216, 217, 218, 219, 220, 221, 222, 223, 224, 225, 226, 227, 228, 229, 230, 231, 232, 233, 234, 235, 236, 237, 238, 239, 240, 241, 242, 243, 244, 245, 246, 247, 248, 249, 250, 251, 252, 253, 254, 255, 256, 257, 258, 259, Navnefortegnelse, Navnefortegnelse, Navnefortegnelse, Navnefortegnelse, Navnefortegnelse, Blank, Omslag

---
Project Runeberg, Thu May 24 07:22:33 2012 (aronsson) (diff) (history) (download) Next >>
http://runeberg.org/danfauna/25/