Full resolution (JPEG) - On this page / på denna sida - R - rändern ...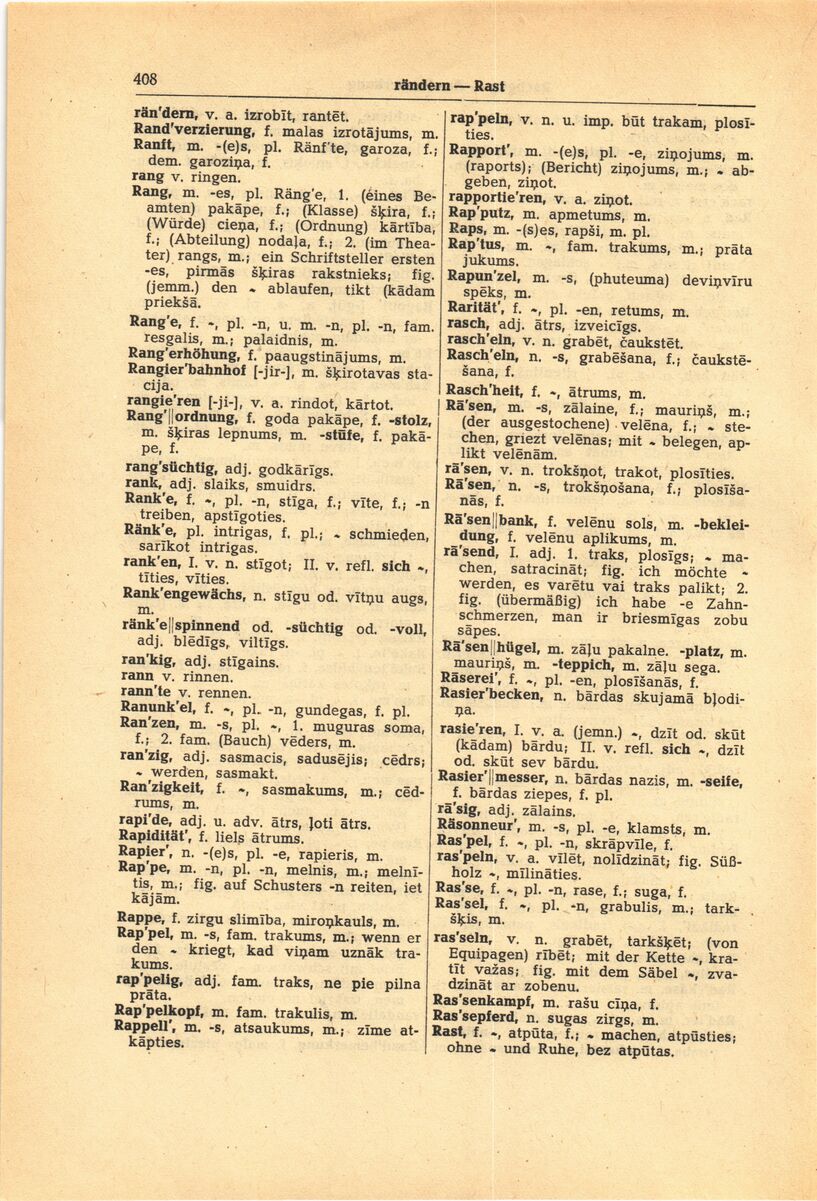 << prev. page << föreg. sida << >> nästa sida >> next page >>

---
Below is the raw OCR text from the above scanned image. Do you see an error? Proofread the page now!
Här nedan syns maskintolkade texten från faksimilbilden ovan. Ser du något fel? Korrekturläs sidan nu!
This page has never been proofread. / Denna sida har aldrig korrekturlästs.

408

rändern — Rast

rän'dern, v. a. izrobīt, rantēt.
Rand'verzierung, f. malas izrotājums, m.
Ranft, m. -(e)s, pl. Ränfte, garoza, f.;

dem. garoziņa, f.
rang v. ringen.

Rang, m. -es, pl. Ränge, 1. (eines
Beamten) pakāpe, f.; (Klasse) šķira, f.;
(Würde) cieņa, f.; (Ordnung) kārtība,
f.; (Abteilung) nodaļa, f.; 2. (im
Theater) rangs, m.; ein Schriftsteller ersten
-es, pirmās šķiras rakstnieks; fig.
(jemm.) den - ablaufen, tikt (kādam
priekšā.

Rang'e, f. pl. -n, u. m. -n, pl. -n, fam.

resgalis, m.; palaidnis, m.
Rangerhöhung, f. paaugstinājums, m.
Rangier'bahnhof [-jir-], m. šķirotavas
stacija.

rangie'ren [-ji-], v. a. rindot, kārtot.
Rang'ļ i Ordnung, f. goda pakāpe, f. -stolz,
m. šķiras lepnums, m. -stūfe, f.
pakāpe, f.

rang'süchtig, adj. godkārīgs.

rank, adj. slaiks, smuidrs.

Rank'e, f. », pl. -n, stīga, f.; vīte, f.; -n

treiben, apstīgoties.
Ränk'e, pl. intrigas, f. pl.; . schmieden,

sarīkot intrigas,
rank'en, I. v. n. stīgot; II. v. refl. sich «.,

tīties, vīties.
Rankengewächs, n. stīgu od. vītņu augs,
m.

ränk'e||spinnend od. -süchtig od. -voll,

adj. blēdīgs, viltīgs,
ran'kig, adj. stīgains.
rann v. rinnen,
rann'te v. rennen.

Ranunk'el, f. pl. -n, gundegas, f. pl.
Ran'zen, m. -s, pl. 1. muguras soma,

f.; 2. fam. (Bauch) vēders, m.
ran'zig, adj. sasmacis, sadusējis; cēdrs;

werden, sasmakt.
Ran'zigkeit, f. sasmakums, m.; cēd-

rums, m.
rapi'de, adj. u. adv. ātrs, ļoti ātrs.
Rapiditäf, f. liels ātrums.
Rapier', n. -(e)s, pl. -e, rapieris, m.
Rap'pe, m. -n, pl. -n, melnis, m.;
melnī-tis, m.; fig. auf Schusters -n reiten, iet
kājām.

Rappe, f. zirgu slimība, miroņkauls, m.
Rap'pel, m. -s, fam. trakums, m.; wenn er
den kriegt, kad viņam uznāk
trakums.

rap'pelig, adj. fam. traks, ne pie pilna
prāta.

Rap'pelkopf, m. fam. trakulis, m.
Rappell', m. -s, atsaukums, m.; zīme
atkāpties.

rap'peln, v. n. u. imp. būt trakam,
plosīties.

Rapport', m. -(e)s, pl. -e, ziņojums, m.
(raports); (Bericht) ziņojums, m.; .
abgeben, ziņot,
rapportie'ren, v. a. ziņot.
Rap'putz, m. apmetums, m.
Raps, m. -(s)es, rapši, m. pl.
Rap'tus, m. fam. trakums, m.; prāta
jukums.

Rapun'zel, m. -s, (phuteuma) deviņvīru

spēks, m.
Rarität', f. pl. -en, retums, m.
rasch, adj. ātrs, izveicīgs,
rasch'eln, v. n. grabēt, čaukstēt.
Rasch'eln, n. -s, grabēšana, f.;
čaukstēšana, f.
Rasch'heit, f. ātrums, m.
Rā'sen, m. -s, zālaine, f.; mauriņš, m.;
(der ausgestochene) velēna, f.;
stechen, griezt velēnas; mit - belegen,
aplikt velēnām,
rā'sen, v. n. trokšņot, trakot, plosīties.
Rā'sen, n. -s, trokšņošana, f.;
plosīšanās, f.

Rā'senļļbank, f. velēnu sols, m. -beklei-

dung, f. velēnu aplikums, m.
rä'send, I. adj. 1. traks, plosīgs; «.
machen, satracināt; fig. ich möchte
-werden, es varētu vai traks palikt; 2.
fig. (übermäßig) ich habe -e
Zahnschmerzen, man ir briesmīgas zobu
sāpes.

Rā'senļļhūgel, m. zāļu pakalne, -platz, m.

mauriņš, m. -teppich, m. zāļu sega.
Rāserei', f. pl. -en, plosīšanās, f.
Rasier'becken, n. bārdas skujamā
bļodiņa.

rasie'ren, I. v. a. (jemn.) dzīt od. skūt
(kādam) bārdu; II. v. refl. sich dzīt
od. skūt sev bārdu.
Rasier'ļļmesser, n. bārdas nazis, m. -seife,

f. bārdas ziepes, f. pl.
rā'sig, adj. zālains.
Räsonneur', m. -s, pl. -e, klamsts, m.
Ras'pel, f. pl. -n, skrāpvīle, f.
ras'peln, v. a. vīlēt, nolīdzināt; fig.
Süßholz mīlināties.
Ras'se, f. «., pl. -n, rase, f.; suga, f.
Ras'sel, f. pl. -n, grabulis, m.; tark- .
šķis, m.

ras'seln, v. n. grabēt, tarkšķēt; (von
Equipagen) rībēt; mit der Kette
kratīt važas; fig. mit dem Säbel »,
zva-dzināt ar zobenu.
Ras'senkampf, m. rašu cīņa, f.
Ras'sepferd, n. sugas zirgs, m.
Rast, f. «■, atpūta, f.; « machen, atpūsties;
ohne - und Ruhe, bez atpūtas.
<< prev. page << föreg. sida << >> nästa sida >> next page >>

---
Project Runeberg, Tue Jul 26 02:17:38 2016 (aronsson) (download) << Previous Next >>
http://runeberg.org/delv1944/0406.html