Note: This work was first published in 1963, less than 70 years ago. Therefore, this work is protected by copyright, restricting your legal rights to reproduce it. However, you are welcome to view it on screen, as you do now. Read more about copyright.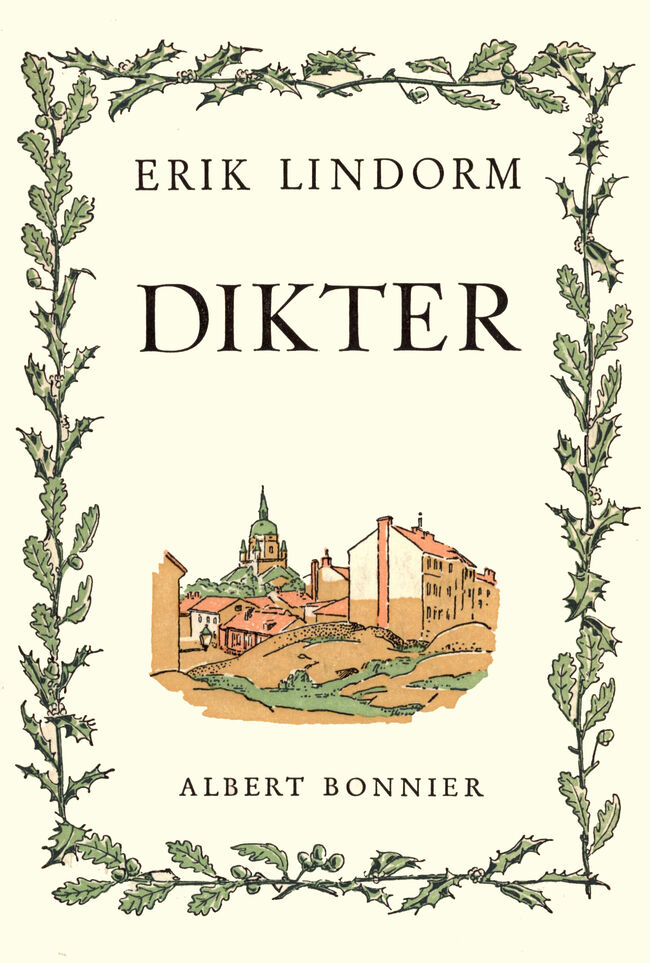 ERIK LINDORM
DIKTER
STOCKHOLM
ALBERT BONNIERS FÖRLAG
1963
---
Förord till den elektroniska utgåvan
Detta dikturval av Erik Lindorm (1889-1941) dikter utkom första gången 1941 och därefter i nya upplagor 1944, 1946, 1948, 1950, 1953, 1957 och 1963. Här återges den senare tryckningen, som utgjorde 21/22 tusendet och utgavs som en del i Bonniers serie Vår tids lyrik. Den digitaliserades i augusti 2012 av Bert H.
---
The above contents can be inspected in scanned images: Smutstitel, Blank, Titelblad, Tryckning, Innehåll, Innehåll, Innehåll, Innehåll, Innehåll, Blank

---
Korrstapel / Proof bar for this volume


Innehåll / Table of Contents

Titel och innehåll - Smutstitel, Blank, Titelblad, Tryckning, Innehåll, Innehåll, Innehåll, Innehåll, Innehåll, Blank
Sidor ... - 9, 10, 11, 12, 13, 14, 15, 16, 17, 18, 19, 20, 21, 22, 23, 24, 25, 26, 27, 28, 29, 30, 31, 32, 33, 34, 35, 36, 37, 38, 39, Blank, Undertitel, Blank, 43, 44, 45, 46, 47, Blank, Undertitel, Blank, 51, 52, 53, 54, 55, 56, 57, 58, 59, 60, 61, 62, 63, 64, 65, 66, 67, 68, 69, 70, 71, 72, 73, 74, 75, 76, 77, 78, 79, 80, 81, 82, 83, 84, 85, 86, 87, 88, 89, Blank, Undertitel, Blank, 93, 94, 95, 96, 97, 98, 99, 100, 101, 102, 103, 104, 105, 106, 107, 108, 109, 110, 111, 112, 113, 114, 115, 116, 117, 118, 119, 120, 121, 122, 123, 124, 125, 126, 127, 128, 129, 130, 131, 132, 133, 134, 135, 136, 137, 138, 139, 140, 141, Blank, Undertitel, Blank, 145, 146, 147, 148, 149, 150, 151, 152, 153, 154, 155, 156, 157, 158, 159, 160, 161, 162, 163, 164, 165, 166, 167, 168, 169, 170, 171, 172, 173, 174, 175, 176, 177, 178, 179, 180, 181, 182, 183, 184, 185, 186, 187, 188, 189, 190, 191, 192, 193, 194, 195, 196, 197, 198, 199, 200, 201, Blank, Undertitel, Blank, Undertitel, Blank, 207, 208, 209, 210, 211, 212, 213, 214, 215, 216, 217, 218, 219, 220, 221, 222, 223, 224, 225, 226, 227, 228, 229, 230, 231, 232, 233, 234, 235, 236, 237, 238, 239, 240, 241, 242, 243, 244, 245, 246, 247, 248, 249, 250, Undertitel, Blank, 253, 254, 255, 256, 257, 258, 259, 260, 261, 262, 263, 264, 265, 266, 267, 268, 269, 270, 271, 272, 273, 274, Undertitel, Blank, 277, 278, 279, 280, 281, 282, 283, 284, 285, 286, 287, 288, 289, 290, 291, 292, 293, Blank, Innehåll, Innehåll, Innehåll, Innehåll, Innehåll, Blank

---
Project Runeberg, Mon Jul 20 08:18:53 2015 (www-data) (diff) (history) (download) Next >>
http://runeberg.org/eldikter/