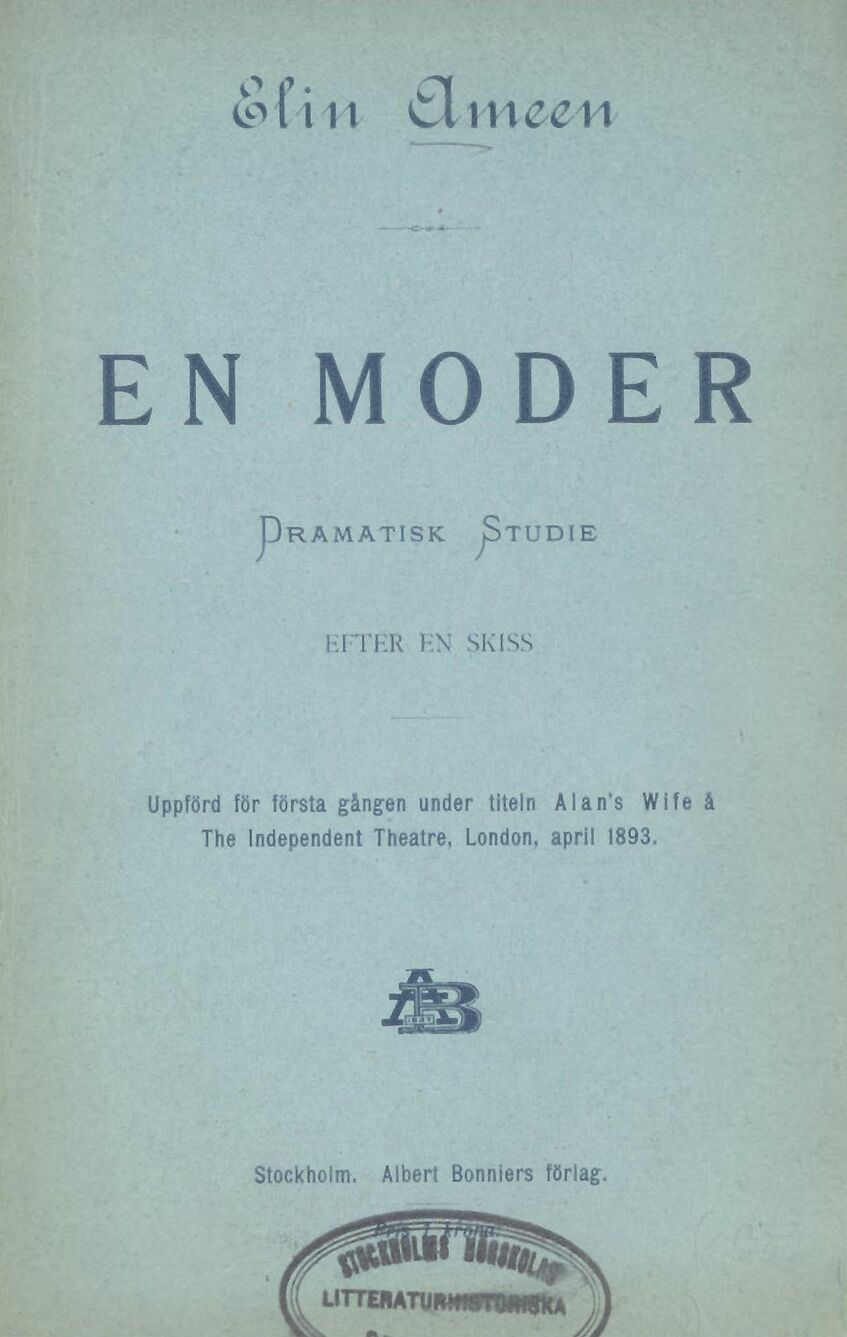 EN MODER.
DRAMATISK STUDIE.
EFTER EN SKIZZ
AF
ELIN AMEEN.
Uppförd första gången under titeln Alan's Wife å The Independent Theatre, London, april 1893.
STOCKHOLM
ALBERT BONNIERS FÖRLAG.
---
Förord till den elektroniska utgåvan
En moder är en dramatisk studie av Elin Ameen (1852-1913), vilken har digitaliserats av Dramawebben och anpassats för Projekt Runeberg den 26 september 2012 av Ralph E.
Då det gått mer än 70 år sedan författarinnans levnad gäller ingen upphovsrätt.

This volume was scanned by Dramawebben, from where the scanned images were copied to Project Runeberg. We very much appreciate that they have made this possible and want to encourage other digital library projects to follow their example. Read more about Project Runeberg's image sources.

---
The above contents can be inspected in scanned images: Omslag, Omslag, titel, tryckning, Innehåll, Omslag, Omslag

---
Korrstapel / Proof bar for this volume


Innehåll / Table of Contents

Titel och innehåll - Omslag, Omslag, titel, tryckning, Innehåll, Omslag, Omslag
Förord av Elin Ameen - 3, 4, 5
En moder - subtitel, 8, 9, 10, 11, 12, 13, 14, 15, 16, 17, 18, 19, 20, 21, 22, 23, 24, 25, 26, 27, 28, 29, 30, 31, 32, 33, 34, 35, 36, 37, 38, 39, 40, 41, 42, 43, 44, 45, 46, 47, 48, 49, 50, 51, 52, 53, 54, 55, 56, 57, 58, 59, 60
Utdrag ur mr William Archers företal till Alan's Wife - 61, 62, 63, 64, 65, 66, 67, 68
Utdrag ur Londonpressens omdömen om AIan's Wife, dramatisk studie efter en skiss af Elin Ameen - 69, 70, 71

---
Project Runeberg, Fri Aug 16 09:42:41 2013 (www-data) (diff) (history) (download) Next >>
http://runeberg.org/enmoder/