Om skjævheden hos Flynderne og navnlig om Vandringen af det övre Öie fra Blindsiden til Öiesiden tvers igjennem Hovedet, m.m.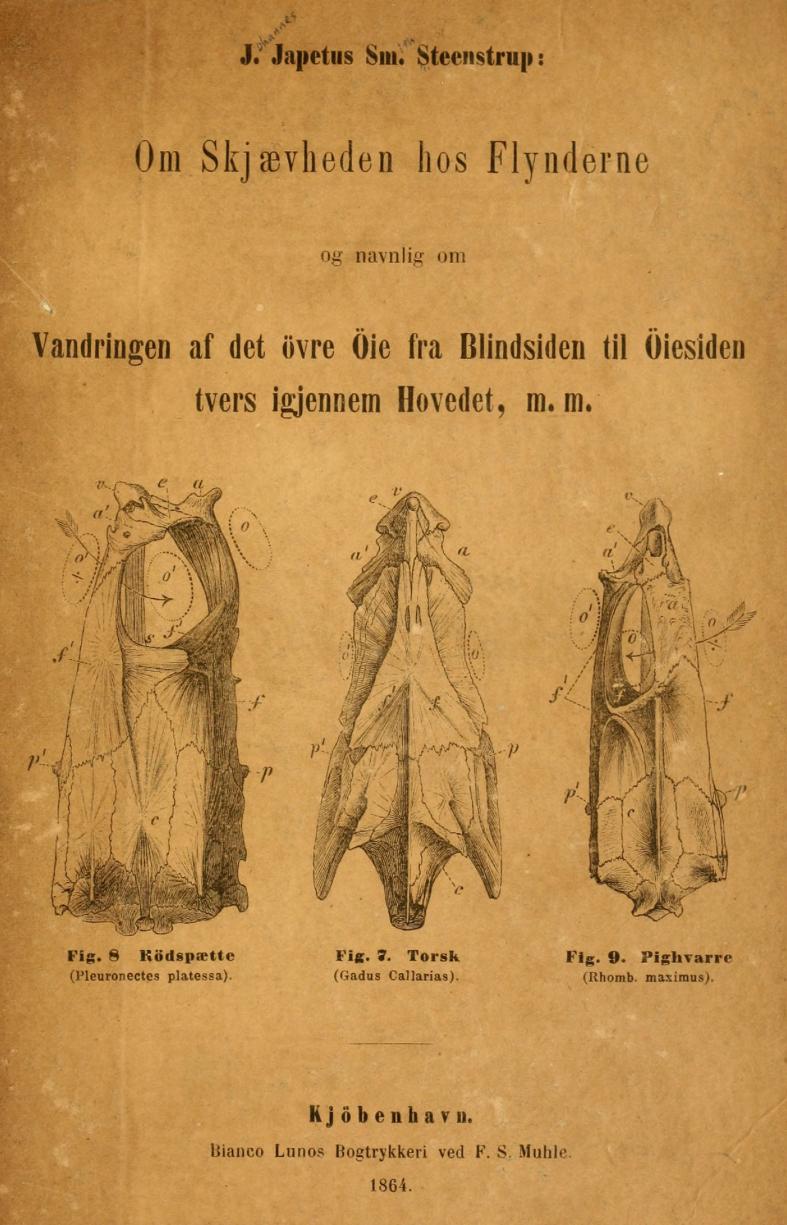 ---
Förord till den elektroniska utgåvan
Detta särtryck av Japetus Steenstrups (1813-1897) beskrivning av flundror har digitalsierats i april 2009 från Smithsonian Institution Libraries av Biodiversity Heritage Library och anpassats för Projekt Runeberg i januari 2011 av Ralph E.
Detta verk kan läsas såsom en uppslagen bok i färg på Internet Archive.


This volume was scanned by the Biodiversity Heritage Library and made available by the Internet Archive, from where the scanned images were copied to Project Runeberg. We very much appreciate that they have made this possible and want to encourage other digital library projects to follow their example. Read more about Project Runeberg's image sources.

---
The above contents can be inspected in scanned images: Omslag, Omslag, Tom, Tom, Titel, Tom, Tilegnan, Tom, Tom, Tom, Tom, Omslag, Omslag

---
Korrstapel / Proof bar for this volume


Indhold / Table of Contents

Titel och innehåll - Omslag, Omslag, Tom, Tom, Titel, Tom, Tilegnan, Tom, Tom, Tom, Tom, Omslag, Omslag
Bidrag til en rigtigere Opfattelse af Skjævheden hos Flynderne (Pleuronectides) og til Forklaring af begge Øines Fremkomst paa samme Side af Kroppe - 3, 4, 5, 6, 7, 8, 9, 10, 11, 12, 13, 14, 15, 16, 17, 18, 19, 20, 21, 22, 23, 24, 25, 26, 27, 28, 29, 30, 31, 32, 33, 34, 35, 36, 37, 38, 39, 40, 41, 42, 43, 44, 45, 46, 47, 48, 49, 50, 51
Rettelser - 51
Forklaring af Kobbertavlen - 52, 53

---
Project Runeberg, Tue Jan 27 10:43:28 2015 (www-data) (diff) (history) (download) Next >>
http://runeberg.org/flynderne/