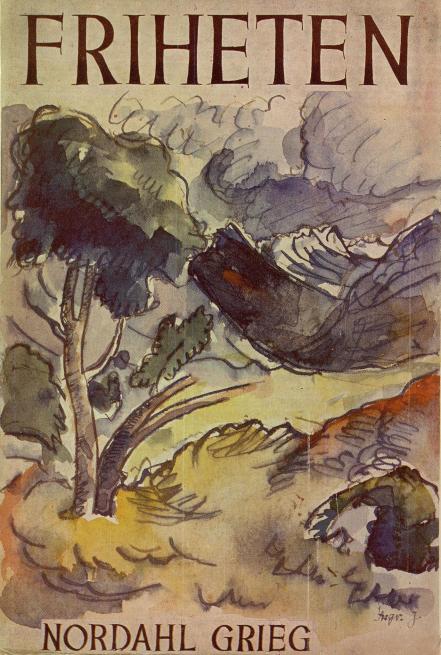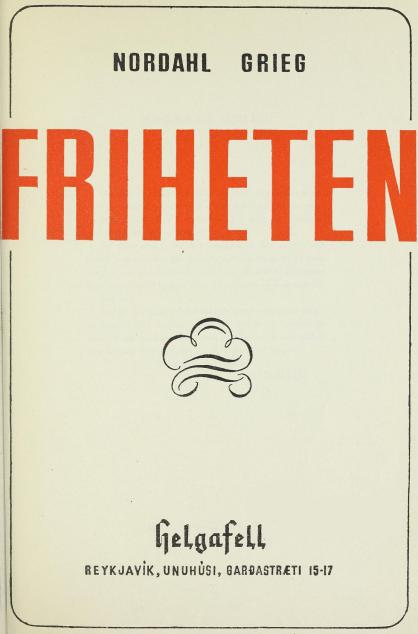 NORDAHL GRIEG
FRIHETEN
helgafell
REYKJAVÍK, UNHÚSI, GARÐASTRÆTI 15-17
---
Vikingsprent h.f. — 1943
---
TIL MIN HUSTRU
---
Forord till den elektroniske udgave
Dette siste verk av Nordahl Grieg (1902-1943) er digitalisert i november 2013 av Nasjonalbiblioteket, Oslo. Det tilpassedes og OCR-tolkedes for Projekt Runeberg i oktober 2015 av Bert H.
Norskt minnesord er skrevet av August Esmarch (1881-1956) og islandskt av Tómas Guðmundsson (1901-1983).
Jfr den norske udgave fra 1945!


This volume was scanned by the Norwegian National Library, from where the scanned images were copied to Project Runeberg. We very much appreciate that they have made this possible and want to encourage other digital library projects to follow their example. Read more about Project Runeberg's image sources.

---
The above contents can be inspected in scanned images: Omslag, Smutstitel, Titelsida, Titelsida, 1

---
Korrstapel / Proof bar for this volume


Innhold / Table of Contents

Titel och innehåll - Omslag, Smutstitel, Titelsida, Titelsida, 1
Nordahl Greig av Augut Esmarch - VI
Nokkur Minningarorð av Tómas Guðmundsson - VIII, IX, X
Gerd - 3, 4
17. MAI 1940 - 5, 6, 7
Sidor ... - 8, 9, 10, 11, 12, 13, 14, 15, 16, 17, 18, 19, 20, 21, 22, 23, 24, 25, 26, 27, 28, 29, 30, 31, 32, 33, 34, 35, 36, 37, 38, 39, 40, 41, 42, 43, 44, 45, 46, 47, 48, 49, 50, 51, 52, 53, 54, 55, 56, 57, 58, 59, 60, 61, 62, 63, 64, 65, 66, 67, 68, 69, 70, 71, 72, 73, 74, 75, 76
Nordahl Grieg flyer over norskekysen - 77, 78

---
Project Runeberg, Sun Oct 11 07:27:22 2015 (www-data) (diff) (history) (download) Next >>
http://runeberg.org/gnfrihet43/