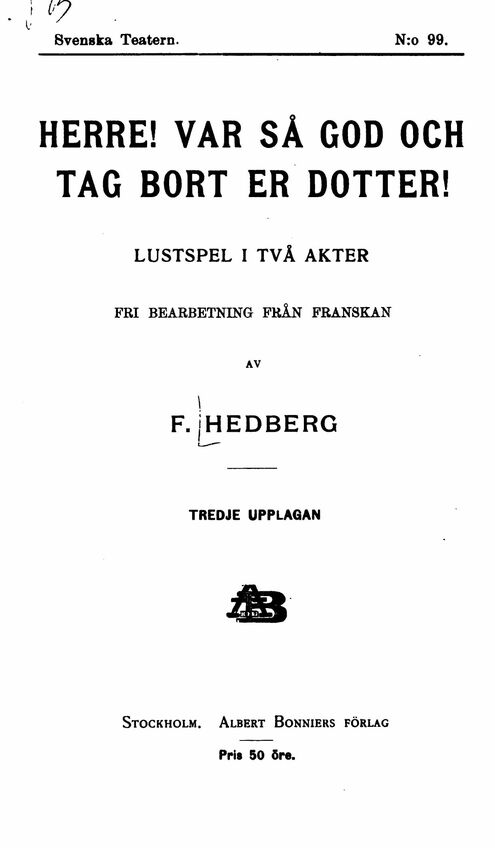 HERRE! VAR SÅ GOD OCH TAG BORT ER DOTTER!
LUSTSPEL I TVÅ AKTER
FRI BEARBETNING FRÅN FRANSKAN
AF
FRANS HEDBERG
———
TREDJE UPPLAGAN

STOCKHOLM
ALBERT BONNIERS FÖRLAG
---
STOCKHOLM
ALB. BONNIERS BOKTRYCKERI 1914
---
Förord till den elektroniska utgåvan
Detta lustspel har Frans Hedberg (1828-1908) bearbetat från ett fransk verk av Eugène Labiche (1815-1888). Det har digitaliserats från University of California av Google Books i oktober 2007 och anpassats för Projekt Runeberg i juni 2015 av Ralph E.

This volume was scanned elsewhere and made available by the Internet Archive, from where the scanned images were copied to Project Runeberg. We very much appreciate that they have made this possible and want to encourage other digital library projects to follow their example. Read more about Project Runeberg's image sources.

---
Korrstapel / Proof bar for this volume


Innehåll / Table of Contents

Titel och innehåll
Sidor ... - Omslag, Omslag, blank, blank, Omslagstitel, blank, Titel, 2, 3, 4, 5, 6, 7, 8, 9, 10, 11, 12, 13, 14, 15, 16, 17, 18, 19, 20, 21, 22, 23, 24, 25, 26, 27, 28, 29, 30, 31, 32, 33, 34, 35, 36, 37, 38, 39, 40, 41, 42, 43, 44, 45, 46, 47, 48, 49, 50, 51, 52, 53, 54, 55, 56, teateråjäser, Teaterpjäser, blank, blank, Omslag, Omslag

---
Project Runeberg, Tue Aug 25 09:39:10 2015 (www-data) (diff) (history) (download) Next >>
http://runeberg.org/hfherre/