Korvetten Heimdals Togt til de Vestindiske Farvande i Aarenen 1861 og 1862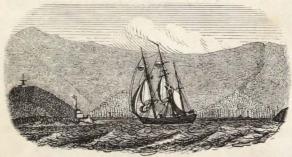 ---
Forord til den elektroniske udgave
Dette verk af lieutenant Jacob Holm er digitaliseret fra Harvard University Library av Google Books og anpasset for Projekt Runeberg i mars 2014 af Ralph E.
I 2104 blev verket digitaliseret af Det Kongelige Bibliotek i Köbenhavn og dette tilpassedes for Projekt Runeberg i september 2015 af Ralph E. inlagan byttes ut saa bare forbalden blev kvar fra Google-digitalseiringa.

This volume was scanned by Google Book Search, from where the scanned images were copied to Project Runeberg. We very much appreciate that they have made this possible and want to encourage other digital library projects to follow their example. Read more about Project Runeberg's image sources.

---
Korrstapel / Proof bar for this volume


Indhold / Table of Contents

Titel och innehåll
Sidor ... - Cover, Cover, (blank), (blank), Omslag, Annons, (blank), Frontespis, Titel, Trykkeri, V, VI, 1, 2, 3, 4, 5, 6, 7, 8, 9, 10, 11, 12, 13, 14, 15, 16, 17, 18, 19, 20, 21, 22, Illustration, (blank), 23, 24, 25, 26, 27, 28, 29, 30, 31, 32, 33, 34, 35, 36, 37, 38, 39, 40, 41, 42, 43, 44, 45, 46, 47, 48, 49, 50, 51, 52, 53, 54, 55, 56, 57, 58, 59, 60, illustration, (blank), 61, 62, 63, 64, 65, 66, 67, 68, illustration, (blank), 69, 70, 71, 72, 73, 74, 75, 76, illustration, (blank), 77, 78, 79, 80, 81, 82, illustration, (blank), 83, 84, subtitel, (blank), 87, 88, 89, 90, 91, 92, 93, 94, 95, 96, 97, 98, 99, 100, 101, 102, 103, 104, 105, 106, 107, 108, 109, 110, 111, 112, 113, 114, 115, 116, 117, 118, 119, 120, 121, 122, 123, Indhold, annons, omslag, (blank), (blank), Cover, Cover

---
Project Runeberg, Sat Sep 5 21:43:42 2015 (www-data) (diff) (history) (download) Next >>
http://runeberg.org/hjheimdals/