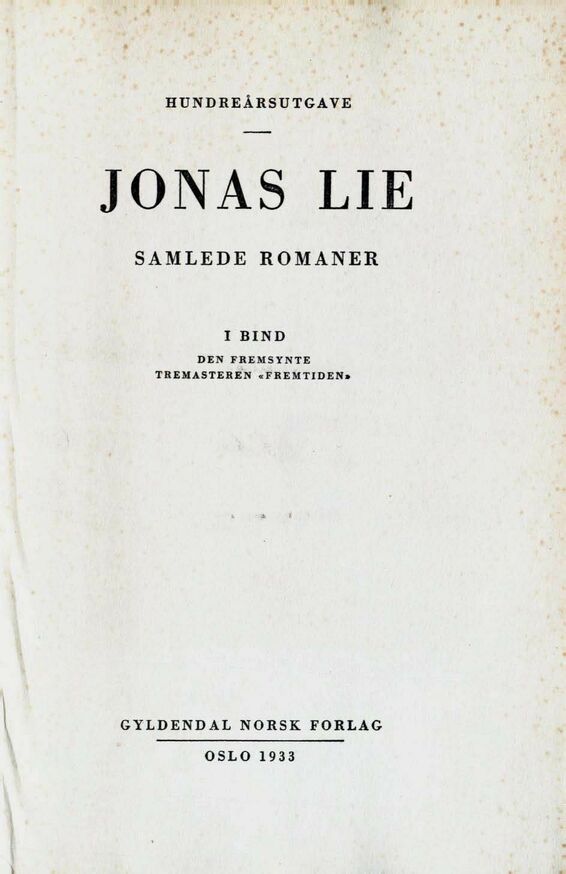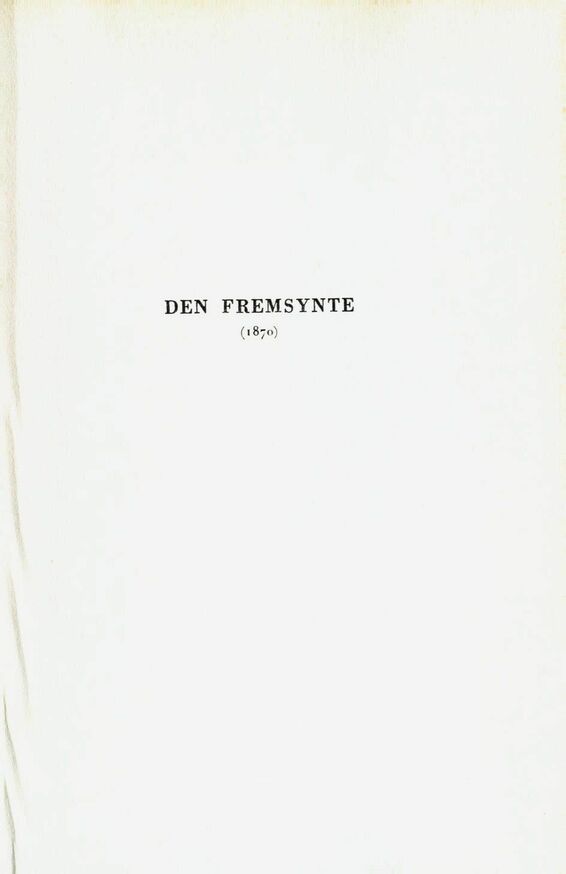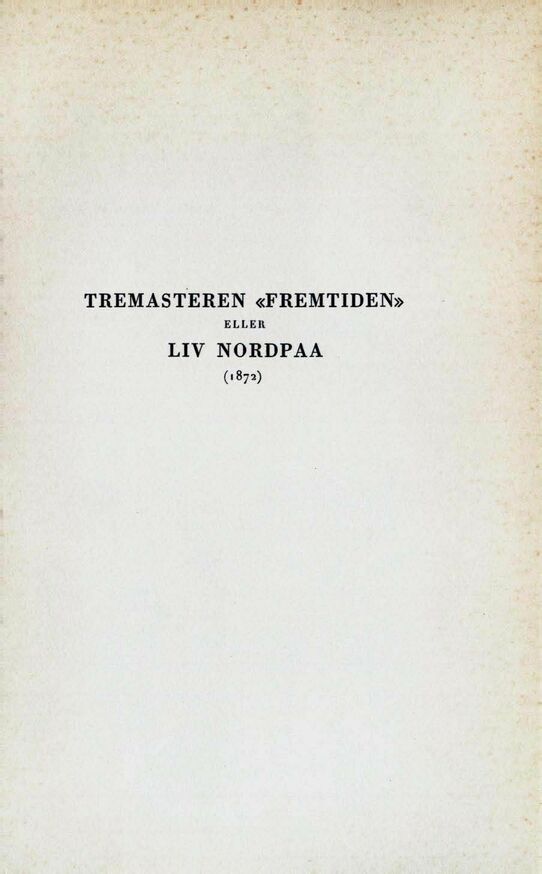 HUNDREÅRSUTGAVE
—
JONAS LIE
SAMLEDE ROMANER
I BIND
DEN FREMSYNTE
TREMASTEREN «FREMTIDEN»
GYLDENDALS NORSK FORLAG
——————————
OSLO 1933
---
PRINTED IN NORWAY
CENTRALTRYKKERIET
OSLO
---
Förord till den elektroniska utgåvan
I Bind av Jonas Lies Samlade Romaner har digitaliserets i december 2006.
Romanen Den Fremsynte från 1870 kan även läsas som originalverk i frakturstil.
Se videre i forordet till hele verket!

This volume was scanned by the Norwegian National Library, from where the scanned images were copied to Project Runeberg. We very much appreciate that they have made this possible and want to encourage other digital library projects to follow their example. Read more about Project Runeberg's image sources.

---
The above contents can be inspected in scanned images: Cover, Cover, verkstitel, (blank), (blank), Frontespis, Titel, Trykkeri, Indhold, (blank), Cover, Cover, Bokrygg

---
Korrstapel / Proof bar for this volume


Innhold / Table of Contents

Titel och innehåll - Cover, Cover, verkstitel, (blank), (blank), Frontespis, Titel, Trykkeri, Indhold, (blank), Cover, Cover, Bokrygg
Sidor ... - subtitel, (blank), 7, 8, 9, 10, 11, 12, 13, 14, 15, 16, 17, 18, 19, 20, 21, 22, 23, 24, 25, 26, 27, 28, 29, 30, 31, 32, 33, 34, 35, 36, 37, 38, 39, 40, 41, 42, 43, 44, 45, 46, 47, 48, 49, 50, 51, 52, 53, 54, 55, 56, 57, 58, 59, 60, 61, 62, 63, 64, 65, 66, 67, 68, 69, 70, 71, 72, 73, 74, 75, 76, 77, 78, 79, 80, 81, 82, 83, 84, 85, 86, 87, 88, 89, 90, 91, 92, 93, 94, 95, 96, 97, 98, 99, 100, 101, 102, 103, 104, subtitel, (blank), 107, 108, 109, 110, 111, 112, 113, 114, 115, 116, 117, 118, 119, 120, 121, 122, 123, 124, 125, 126, 127, 128, 129, 130, 131, 132, 133, 134, 135, 136, 137, 138, 139, 140, 141, 142, 143, 144, 145, 146, 147, 148, 149, 150, 151, 152, 153, 154, 155, 156, 157, 158, 159, 160, 161, 162, 163, 164, 165, 166, 167, 168, 169, 170, 171, 172, 173, 174, 175, 176, 177, 178, 179, 180, 181, 182, 183, 184, 185, 186, 187, 188, 189, 190, 191, 192, 193, 194, 195, 196, 197, 198, 199, 200, 201, 202, 203, 204, 205, 206, 207, 208, 209, 210, 211, 212, 213, 214, 215, 216, 217, 218, 219, 220, 221, 222, 223, 224, 225, 226, 227, 228, 229, 230, 231, 232, 233, 234, 235, 236, 237, 238, 239, 240, 241, 242, 243, 244, 245, 246, 247, 248, 249, 250, 251, 252, 253, 254, 255, 256, 257, 258, 259, 260, 261, 262, 263, 264, 265, 266, 267, 268, 269, 270, 271, 272, 273, (blank)

---
Project Runeberg, Thu Sep 29 15:32:25 2016 (www-data) (diff) (history) (download) Next >>
http://runeberg.org/liesamrom/1/