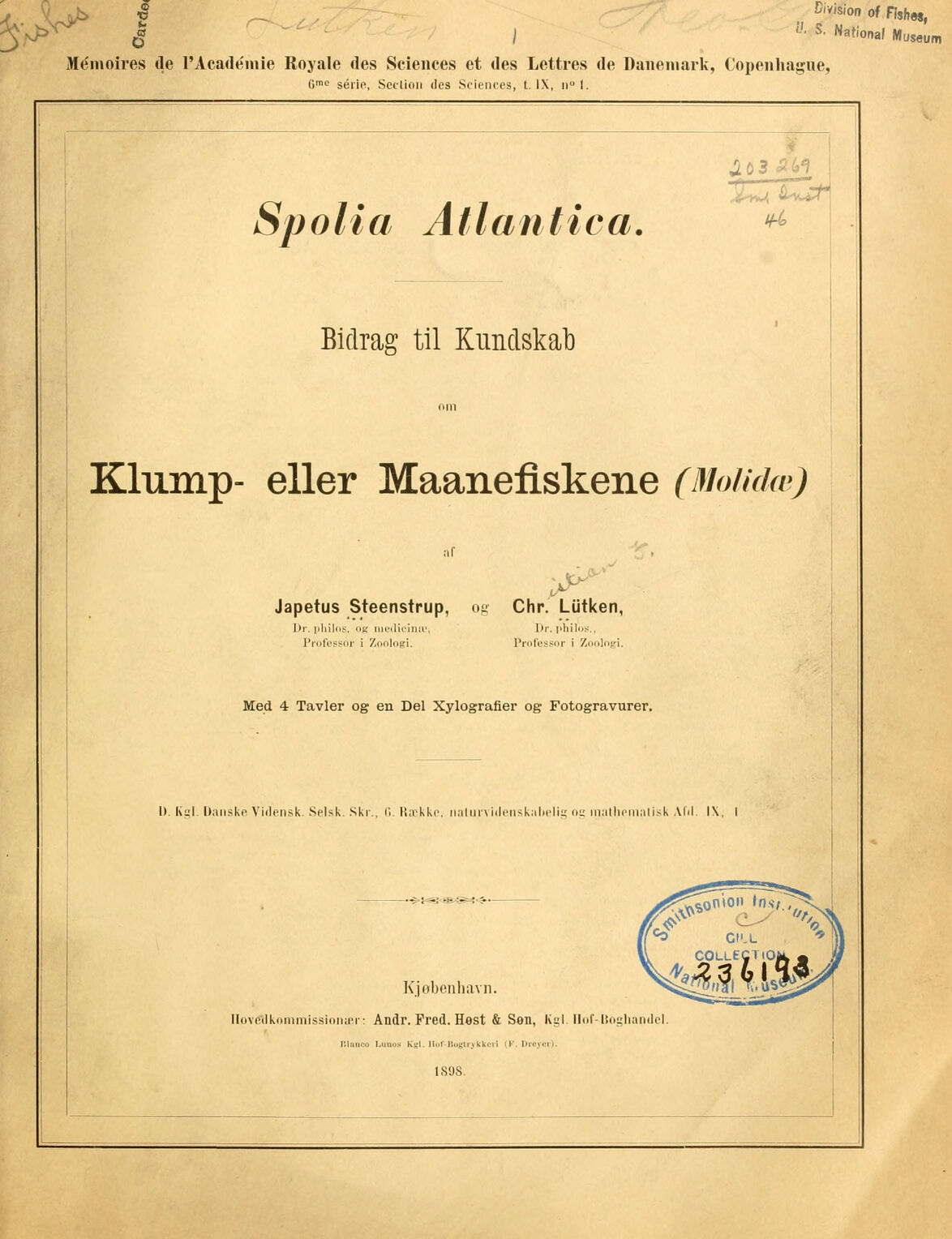 Spolia Atlantica.
Bidrag til Kundskab
om
Klump- eller Maanefiskene (Molidæ)
af
Japetus Steenstrup, og Chr. Lütken,
Dr. philos. og medicinæ, Professor i Zoologi. Dr. philos., Professor i Zoologi.
Med 4 Tavler og en Del Xylografier og Photogravurer.
D. Kgl. Danske Vidensk. Selsk. Skr., 6. Række, naturvidenskabelig og mathematisk Afd. IX, 1.

København.
Bianco Lunos Kgl. Hof-Bogtrykkeri (F. Dreyer),
1898.
---
Förord till den elektroniska utgåvan
Detta verk av Japetus Steenstrup (1813-1897) och Christian Frederik Lütken (1829-1901) har digitaliserats i april 2009 av Internet-Arkivet och anpassats för Projekt Runeberg våren 2012 av Ralph E.
Då det gått mer än 70 år sedan författarnas levnad, så gäller inte längre någon upphovsrätt.
Detta verk finns att läsa som en uppslagen bok i färg på Internet-Arkivet.


This volume was scanned elsewhere and made available by the Internet Archive, from where the scanned images were copied to Project Runeberg. We very much appreciate that they have made this possible and want to encourage other digital library projects to follow their example. Read more about Project Runeberg's image sources.

---
Korrstapel / Proof bar for this volume


Indhold / Table of Contents

Titel och innehåll
Sidor ... - Omslag, Skrifter, Titel, Blank, Indhold, Blank, 5, 6, 7, 8, 9, 10, 11, 12, 13, 14, 15, 16, 17, 18, 19, 20, 21, 22, 23, 24, 25, 26, 27, 28, 29, 30, 31, 32, 33, 34, 35, 36, 37, 38, 39, 40, 41, 42, 43, 44, 45, 46, 47, 48, 49, 50, 51, 52, 53, 54, 55, 56, 57, 58, 59, 60, 61, 62, 63, 64, 65, 66, 67, 68, 69, 70, 71, 72, 73, 74, 75, 76, 77, 78, 79, 80, 81, 82, 83, 84, 85, 86, 87, 88, 89, 90, 91, 92, 93, 94, 95, 96, 97, 98, 99, 100, 101, 102, 103, Rettelser, Tab.I., Blank, Blank, Blank, Tab.II., Blank, Tab.III., Blank, Tab.IV., Blank, Skrifter, Skrifter

---
Project Runeberg, Tue Dec 18 16:18:02 2012 (aronsson) (diff) (history) (download) Next >>
http://runeberg.org/maanefiske/