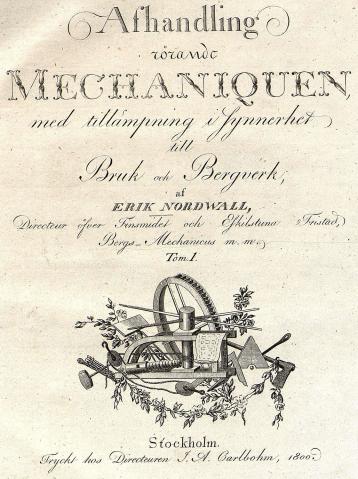 Afhandling
rörande
MECHANIQUEN
Med tillämpning i synnerhet
til
Bruk och Bergwerk
af
ERIK NORDWALL
Directeur öfver Finsmidet och Eskilstuna Fristad, Bergs Mechanicus m. m. Tom. 1.
Stockholm.
Tryckt hos Directeuren J. A. Carlbohm 1800
---
Förord till den elektroniska utgåvan
Detta är del 1, som skrevs av Erik Nordewall, och utkom efter del 2.

This volume was scanned by Kungl. biblioteket, Sweden's national library, from where the scanned images were copied to Project Runeberg. We very much appreciate that they have made this possible and want to encourage other digital library projects to follow their example. Read more about Project Runeberg's image sources.

---
The above contents can be inspected in scanned images: Titelblad, Innehåll_1, Innehåll_2, Innehåll_3, Innehåll_4, Innehåll_5, Innehåll_6, Innehåll_7, Innehåll_8, Innehåll_9, Innehåll_10, Innehåll_11, Innehåll_12, Innehåll_13, Innehåll_14, Innehåll_15, Innehåll_16, Innehåll_17, Innehåll_18, Innehåll_19, Innehåll_20, Innehåll_21, Innehåll_22, Innehåll_23, Innehåll_24, Innehåll_25, Innehåll_26, Innehåll_27, Innehåll_28, Innehåll_29, Innehåll_30, Innehåll_31, Innehåll_32, Innehåll_33, Innehåll_34, Innehåll_35, Innehåll_36, Innehåll_37, Innehåll_38, Innehåll_39, Innehåll_40, Innehåll_41, Innehåll_42, Innehåll_43, Innehåll_44, Innehåll_45, Innehåll_46

---
Korrstapel / Proof bar for this volume


Innehåll / Table of Contents

Titel och innehåll - Titelblad, Innehåll_1, Innehåll_2, Innehåll_3, Innehåll_4, Innehåll_5, Innehåll_6, Innehåll_7, Innehåll_8, Innehåll_9, Innehåll_10, Innehåll_11, Innehåll_12, Innehåll_13, Innehåll_14, Innehåll_15, Innehåll_16, Innehåll_17, Innehåll_18, Innehåll_19, Innehåll_20, Innehåll_21, Innehåll_22, Innehåll_23, Innehåll_24, Innehåll_25, Innehåll_26, Innehåll_27, Innehåll_28, Innehåll_29, Innehåll_30, Innehåll_31, Innehåll_32, Innehåll_33, Innehåll_34, Innehåll_35, Innehåll_36, Innehåll_37, Innehåll_38, Innehåll_39, Innehåll_40, Innehåll_41, Innehåll_42, Innehåll_43, Innehåll_44, Innehåll_45, Innehåll_46
Sidor ... - III, IV, V, VI, VII, VIII, IX, X, 1, 2, 3, 4, 5, 6, 7, 8, 9, 10, 11, 12, 13, 14, 15, 16, 17, 18, 19, 20, 21, 22, 23, 24, 25, 26, 27, 28, 29, 30, 31, 32, 33, 34, 35, 36, 37, 38, 39, 40, 41, 42, 43, 44, 45, 46, 47, 48, 49, 50, 51, 52, 53, 54, 55, 56, 57, 58, 59, 60, 61, 62, 63, 64, 65, 66, 67, 68, 69, 70, 71, 72, 73, 74, 75, 76, 77, 78, 79, 80, 81, 82, 83, 84, 85, 86, 87, 88, 89(98), 90, 91, 92, 93, 94, 95, 96, 97, 98, 99, 100, 101, 102, 103, 104, 105, 106, 107, 108, 109, 110, 111, 112, 113, 114, 115, 116, 117, 118, 119, 120, 121, 122, 123, 124, 125, 126, 127, 128, 129, 130, 131, 132, 133, 134, 135, 136, 137, 138, 139, 140, 141, 142, 143, 144, 145, 146, 147, 148, 149, 150, 151, 152, 153, 154, 155, 156, 157, 158, 159, 160, 161, 162, 163, 164, 165, 166, 167, 168, 169, 170, 171, 172, 173, 174, 175, 176, 177, 178, 179, 180, 181, 182, 183, 184, 185, 186, 187, 188, 189, 190, 191, 192, 193, 194, 195, 196, 197, 198, 199, 200, 201, 202, 203, 204, 205, 206, 207, 208, 209, 210, 211, 212, 213, 214, 215, 216, 217, 218, 219, 220, 221, 222, 223, 224, 225, 226, 227, 228, 229, 230, 231, 232, 233, 234, 235, 236, 237, 238, 239, 240, 241, 242, 243, 244, 245, 246, 247, 248, 249, 250, 251, 252, 253, 254, 255, 256, 257, 258, 259, 260, 261, 262, 263, 264, 265, 266, 267, 268, 269, 270, 271, 272, 273, 274, 275, 276, 277, 278, 279, 280, 281, 282, 283, 284, 285, 286, 287, 288, 289, 290, 291, 292, 293, 294, 295, 296, 297, 298, 299, 300, 301, 302, 303, 304, 305, 306, 307, 308, 309, 310, 311, 312, 313, 314, 315, 316, 317, 318, 319, 320, 321, 322, 323, 324, 325, 326, 327, 328, 329, 330, 331, 332, 333, 334, 335, 336, 337, 338, 339, 340, 341, 342, 343, 344, 345, 346, 347, 348, 349, 350, 351, 352, 353, 354, 355, 356, 357, 358, 359, 360, 361, 362, 363, 364, 365, 366, 367, 368, 369, 370, 371, 372, 373, 374, 375, 376, 377, 378, 379, 380, 381, 382, 383, 384, 385, 386, 387, 388, 389, 390, 391, 392, 393, 394, 395, 396, 397, 398, 399, 400, 401, 402, 403, 404, 405, 406, 407, 408, 409, 410, 411, 412, 413, 414, 415, 416, 417, 418, 419, 420, 421, 422, 423, 424, 425, 426, 427, 428, 429, 430, 431, 432, 433, 434, 435, 436, 437, 438, 439, 440, 441, 442, 443, 444, 445, 446, 447, 448, 449, 450, 451, 452, 453, 454, 455, 456, 457, 458, 459, 460, 461, 462, 463, 464, 465, 466, 467, 468, 469, 470, 471, 472, 473, 474, 475, 476, 477, 478, 479, 480, 481, 482, 483, 484, 485, 486, 487, 488, 489, 490, 491, 492, 493, 494, 495, 496, 497, 498, 499, 500, 501, 502, 503, 504, 505, 506, 507, 508, 509, 510, 511, 512, 513, 514, 515, 516, 517, 518, 519, 520, 521, 522, 523, 524, 525, 526, 527, 528, 529, 530, 531, 532, 533, 534, 535, 536, 537, 538, 539, 540, 541, 542, 543, 544, 545, 546, 547, 548, 549, 550, 551, 552, 553, 554, 555, 556, 557, 558, 559, 560, 561, 562, 563, 564, 565, 566, 567, 568, 569, 570, 571, 572, 573, 574, 575, 576, 577, 578, 579, 580, 581, 582, 583, 584, 585, 586, 587, 588, blank, Mekanik.1, blank, Mekanik.2., blank, Mekanik.3., blank, Mekanik.4., blank, Mekanik.5., blank, Mekanik.6., blank, Mekanik.7., blank, Mekanik.8, blank, Mekanik.9., blank, Mekanik.10., blank, Mekanik.11., blank, Mekanik.12., blank, Mekanik.13., blank, Hydrostat.1., blank, Hydrostat.2., blank, Hydrostat.3., blank, Hydrostat.4., blank, Hydrostat.5., blank, Hydraul.1., blank, Hydraul.2., blank, Hydraul.3., blank, Hydraul.4, blank, Hydraul.5., blank, Hydraul.6., blank, Hydraul.7., blank, Hydraul.8., blank, Hydraul.9., blank, Hydraul.10., blank, Hydraul.11., blank, Hydraul.12., blank, Hydraul.13., blank, Hydraul.14., blank, Hydraul.15., blank, Hydraul.16., blank, Hydraul.17., blank, Hydraul.18., blank, Hydraul.19., blank, Hydraul.20., blank

---
Project Runeberg, Tue Jan 5 14:53:33 2016 (www-data) (diff) (history) (download) Next >>
http://runeberg.org/mechaniq/1/