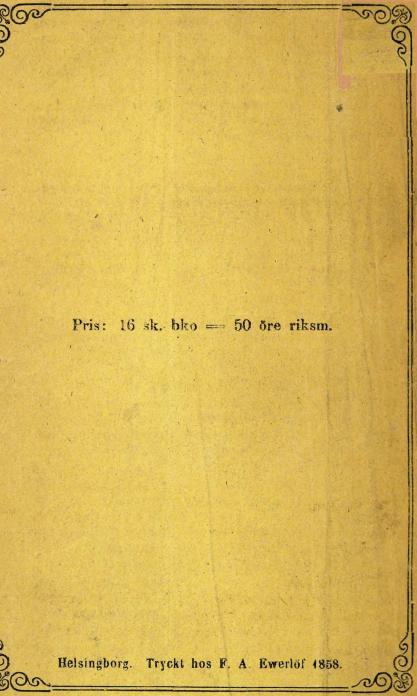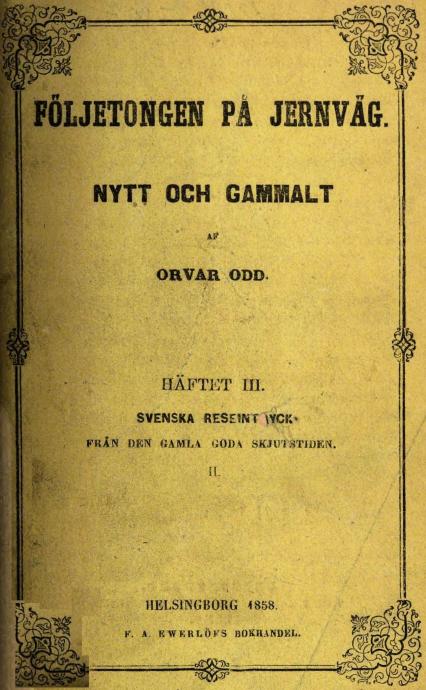 FÖLJETONGEN PÅ JERNVÄG.
NYTT OCH GAMMALT
AF ORVAR ODD. HÄFTET III. SVENSKA RESEINTRYCK FRÅN DEN GAMLA GODA SKJUTS-TIDEN. III. HELSINGBORG. F. A. EWERLÖF. 1858.
---
HELSINGBORG. TRYCKT UTI F. A. EWERLÖFS BOKTRYCKERI. 1858.
---
SVENSKA RESEINTRYCK
FRÅN
DEN GODA GAMLA SKJUTS-TIDEN
AF ORVAR ODD. II. FRÅN SUNDET NORR-UT. HELSINGBORG, F. A. EWERLÖF. 1858.
---
Förord till den elektroniska utgåvan
Detta är tredje delen i serien Följetongen på järnväg.
Se i övrigt förordet till hela serien!

This volume was scanned by Google Book Search, from where the scanned images were copied to Project Runeberg. We very much appreciate that they have made this possible and want to encourage other digital library projects to follow their example. Read more about Project Runeberg's image sources.

---
The above contents can be inspected in scanned images: Omslag, Omslag, Serietitelsida, Serietitelsida, Deltitelsida, Omslag, Omslag

---
Korrstapel / Proof bar for this volume


Innehåll / Table of Contents

Titel - Omslag, Omslag, Serietitelsida, Serietitelsida, Deltitelsida, Omslag, Omslag
I. - 5, 6, 7, 8, 9, 10, 11, 12, 13, 14, 15, 16, 17, 18, 19
II. - 19, 20, 21, 22, 23, 24, 25
III. - 25, 26, 27, 28, 29, 30, 31, 32, 33, 34, 35, 36, 37, 38, 39, 40

---
Project Runeberg, Mon Aug 31 15:14:19 2015 (aronsson) (diff) (history) (download) Next >>
http://runeberg.org/oojernvag/3/