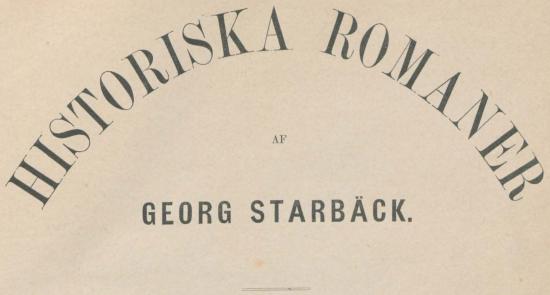 Historiska Romaner af Georg Starbäck.
ILLUSTRERADE
AF
HISTORIEMÅLAREN ANKER LUND.
——
KÖPENHAMN.
I HUFVUDKOMMISsION HOS H. C. KYHN.
BAGGESENSGADE 16. N.
---
Tryckt hos Nicolai Cohen.
---

Historiska Romaner af Georg Starbäck.
Illustrerade af historiemålaren Anker Lund.
1. Band. Häfte 1. -- 4. Band. Häfte 118.
1. Band. Engelbrekt Engelbrektsson. 2. Band. Guldhalsbandet. 3. Band. Konungakronan. 4. Band. Testamentet.
---
Förord till den elektroniska utgåvan
Detta historiska verk i tidningsformat av Georg Starbäck (1828-1885) med illustrationer av historiemålaren Niels Anker Lund (1840-1922) har digitaliserats 2014 av Det Kongelige Bibliotek i København och anpassats för Projekt Runeberg i juli 2015 av Ralph E.
Tyvärr saknas spalterna 595-598 och 827-830, vilka behöver kompletteras tillsammans med några felskannade bilder.

This volume was scanned by Det Kongelige Bibliotek, Denmark's national library, from where the scanned images were copied to Project Runeberg. We very much appreciate that they have made this possible and want to encourage other digital library projects to follow their example. Read more about Project Runeberg's image sources.

---
Korrstapel / Proof bar for this volume


Innehåll / Table of Contents

Titel och innehåll
Sidor ... - Omslag, Omslag, blank, blank, Titel, Tryk, Innehåll, blank, 1-2, 3-4, 5-6, 7-8, 9-10, 11-12, 13-14, 15-16, 17-18, 19-20, 21-22, 23-24, 25-26, 27-28, 29-30, 31-32, 33-34, 35-36, 37-38, 39-40, 41-42, 43-44, 45-46, 47-48, 49-50, 51-52, 53-54, 55-56, 57-58, 59-60, 61-62, 63-64, 65-66, 67-68, 69-70, 71-72, 73-74, 75-76, 77-78, 79-80, 81-82, 83-84, 85-86, 87-88, 89-90, 91-92, 93-94, 95-96, 97-98, 99-100, 101-102, 103-104, 105-106, 107-108, 109-110, 111-112, 113-114, 115-116, 117-118, 119-120, 121-122, 123-124, 125-126, 127-128, 129-130, 131-132, 133-134, 135-136, 137-138, 139-140, 141-142, 143-144, 145-146, 147-148, 149-150, 151-152, 153-154, 155-156, 157-158, 159-160, 161-162, 163-164, 165-166, 167-168, 169-170, 171-172, 173-174, 175-176, 177-.178, 179-180, 181-182, 183-184, 185-186, 187-188, 189-190, 191-192, 193-184, 195-196, 197-198, 199-200, 201-202, 203-204, 205-206, 207-208, 209-210, 211-212, 213-214, 215-216, 217-218, 219-220, 221-222, 223-224, 225-226, 227-228, 229-230, 231-232, 233-234, 235-236, 237-238, 239-240, 241-242, 243-244, 245-246, 247-248, 249-250, 251-252, 253-254, 255-256, 257-258, 259-260, 261-262, 263-264, 265-266, 267-268, 269-270, 271-272, 273-274, 275-276, 277-278, 279-280, 281-282, 283-284, 295-286, 287-288, 289-290, 291-292, 293-294, 295-296, 297-298, 299-300, 301-302, 303-304, 305-306, 307-308, 309-310, 311-312, 313-314, 315-316, 317-318, 319-320, 321-322, 323-324, 325-326, 327-328, 329-330, 331-332, 333-334, 335-336, 337-338, 339-340, 341-342, 343-344, 345-346, 347-348, 349-350, 351-352, 353-354, 355-356, 357-358, 359-360, 361-362, 363-364, 365-366, 367-368, 369-370, 371-372, 373-374, 375-376, 377-378, 379-380, 381-382, 383-384, 193, 194, 195, 196, 197, 198, 199, 200, 201, 202, 203, 204, 205, 206, 207, 208, 209, 210, 211, 212, 213, 214, 215, 216, 217, 218, 219, 220, 221, 222, 223, 224, 225, 226, 227, 228, 229, 230, 231, 232, 233, 234, 235, 236, 237, 238, 239, 240, 241, 242, 243, 244, 245, 246, 247, 248, 249, 250, 251, 252, 253, 254, 255, 256, 257, 258, 259, 260, 261, 262, 263, 264, 265, 266, 267, 268, 269, 270, 271, 272, 273, 274, 275, 276, 277, 278, 279, 280, 281, 282, 283, 284, 285, 286, 287, 288, 289, 290, 291, 292, 293, 294, 295, 296, 297, 298, 299, 300, 301, 302, 303, 304, 305, 306, 307, 308, 309, 310, 311, 312, 313, 314, 315, 316, 317, 318, 319, 320, 321, 322, 323, 324, 325, 326, 327, 328, 329, 330, 331, 332, 333, 334, 335, 336, 337, 338, 339, 340, 341, 342, 343, 344, 345, 346, 347, 348, 349, 350, 351, 352, 353, 354, 355, 356, 357, 358, 359, 360, 361, 362, 363, 364, 365, 366, 367, 368, 369, 370, 371, 372, 373, 374, 375, 376, 377, 378, 379, 380, 381, 382, 383, 384, 385, 386, 387, 388, 389, 390, 391, 392, 393, 394, 395, 396, 397, 398, 399, 400, 401, 402, 403, 404, 405, 406, 407, 408, 409, 410, 411, 412, 413, 414, 415, 416, 417, 418, 419, 420, 421, 422, 423, 424, 425, 426, 427, 428, 429, 430, 431, 432, 433, 434, 435, 436, 437, 438, 439, 440, 441, 442, 443, 444, 445, 446, 447, 448, 449, 450, 451, 452, 453, 454, 455, 456, 457, 458, 459, 460, 461, 462, 463, 464, 465, 466, 467, 468, 469, 470, 471, 472, 473, 474, 475, 476, 477, 478, 479, 480, 481, 482, 483, 484, 485, 486, 487, 488, 489, 490, 491, 492, 493, 494, 495, 496, 497, 498, 499, 500, 501, 502, 503, 504, 505, 506, 507, 508, 509, 510, 511, 512, 513, 514, 515, 516, 517, 518, 519, 520, 521, 522, 523, 524, 525, 526, 527, 528, 529, 530, 531, 532, 533, 534, 535, 536, 537, 538, 539, 540, 541, 542, 543, 544, 545, 546, 547, 548, 549, 550, 551, 552, 553, 554, 555, 556, 557, 558, 559, 560, 561, 562, 563, 564, 565, 566, 567, 568, 569, 570, 571, 572, 573, 574, 575, 576, 577, 578, 579, 580, 581, 582, 583, 584, 585, 586, 587, 588, 589, 590, 591, 592, 593, 594, 595, 596, 597, 598, 599, 600, 601, 602, 603, 604, 605, 606, 607, 608, 609, 610, 611, 612, 613, 614, 615, 616, 617, 618, 619, 620, 621, 622, 623, 624, 625, 626, 627, 628, 629, 630, 631, 632, 633, 634, 635, 636, 637, 638, 639, 640, 641, 642, 643, 644, 645, 646, 647, 648, 649, 650, 651, 652, 653, 654, 655, 656, 657, 658, 659, 660, 661, 662, 663, 664, 665, 666, 667, 668, 669, 670, 671, 672, 673, 674, 675, 676, 677, 678, 679, 680, 681, 682, 683, 684, 685, 686, 687, 688, 689, 690, 691, 692, 693, 694, 695, 696, 697, 698, 699, 700, 701, 702, 703, 704, 705, 706, 707, 708, 709, 710, 711, 712, 713, 714, 715, 716, 717, 718, 719, 720, 721, 722, 723, 724, 725, 726, 727, 728, 729, 730, 731, 732, 733, 734, 735, 736, 737, 738, 739, 740, 741, 742, 743, 744, 745, 746, 747, 748, 749, 750, 751, 752, 753, 754, 755, 756, 757, 758, 759, 760, 761, 762, 763, 764, 765, 766, 767, 768, 769, 770, 771, 772, 773, 774, 775, 776, 777, 778, 779, 780, 781, 782, 783, 784, 785, 786, 787, 788, 789, 790, 791, 792, 793, 794, 795, 796, 797, 798, 799, 800, 801, 802, 803, 804, 805, 806, 807, 808, 809, 810, 811, 812, 813, 814, 815, 816, 817, 818, 819, 820, 821, 822, 823, 824, 825, 826, 827, 828, 829, 830, 831, 832, 833, 834, 835, 836, 837, 838, 839, 840, 841, 842, 843, 844, 845, 846, 847, 848, 849, 850, 851, 852, 853, 854, 855, 856, 857, 858, 859, 860, 861, 862, 863, 864, 865, 866, 867, 868, 869, 870, 871, 872, 873, 874, 875, 876, 877, 878, 879, 880, 881, 882, 883, 884, 885, 886, 887, 888, 889, 890, 891, 892, 893, 894, 895, 896, 897, 898, 899, 900, 901, 902, 903, 904, 905, 906, 907, 908, 909, 910, 911, 912, 913, 914, 915, 916, 917, 918, 919, 920, 921, 922, 923, 924, 925, 926, 927, 928, 929, 930, 931, 932, 933, 934, 935, 936, 1873-1874, 1875-1876, 1877-1878, 1879-1880, blank, blank, blank, Omslag

---
Project Runeberg, Fri Apr 29 10:11:47 2016 (aronsson) (diff) (history) (download) Next >>
http://runeberg.org/sghiroman/