Full resolution (JPEG) - On this page / på denna sida - F - framgå ...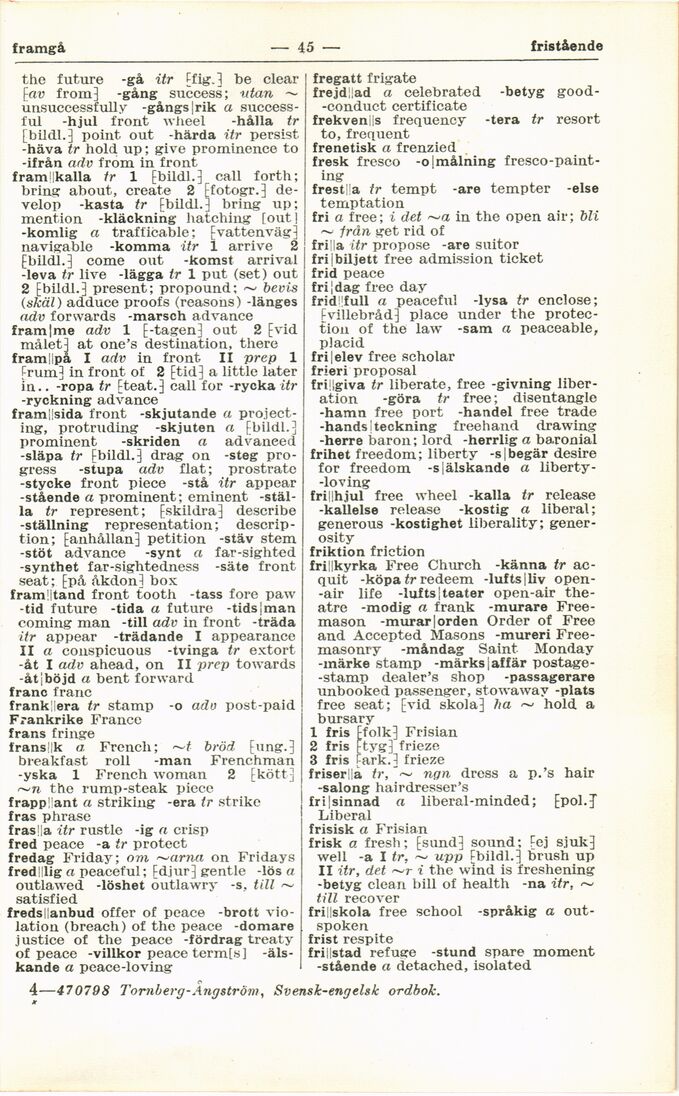 << prev. page << föreg. sida << >> nästa sida >> next page >>

---
Below is the raw OCR text from the above scanned image. Do you see an error? Proofread the page now!
Här nedan syns maskintolkade texten från faksimilbilden ovan. Ser du något fel? Korrekturläs sidan nu!
This page has never been proofread. / Denna sida har aldrig korrekturlästs.

framgå

— 45 —

fristående

the future -gå itr [fig.] be clear
[av from] -gång success; v tan ~
unsuccessfully -gångs [rik a
successful -hjul front wheel -hålla tr
[bildl.] point, out -härda itr persist
-häva tr hold up; give prominence to
-ifrån adv from in front
fram kalla tr 1 [bildh] call forth;
bring about, create 2 [fotogr.]
develop -kasta tr [bildh] bring up;
mention -kläckning hatching [out]
-komlig a trafficable; [vattenväg]
navigable -komma itr 1 arrive 2
[bildh] come out -komst arrival
-leva tr live -lägga tr 1 put (set) out
2 [bildh] present; propound; ~ bevis
(skäl) adduce proofs (reasons) -länges
adv forwards -marsch advance
fram|me adv 1 [-tagen] out 2 [vid

målet] at one's destination, there
fram[jpå I adv in front II prep 1
[rum] in front of 2 Etid] a little later
in., -ropa tr Eteat.] call for -rycka itr
-ryckning advance
fram[|sida front -skjutande a
projecting, protruding -skjuten a [bildh]
prominent -skriden a advanced
-släpa tr [bildh] drag on -steg
progress -stupa adv flat; prostrate
-stycke front piece -stå itr appear
-stående a prominent; eminent
-stäl-la tr represent; [skildra] describe
-ställning representation;
description; [anhållan] petition -stäv stem
-stöt advance -synt a far-sighted
-synthet far-sightedness -säte front
seat; [på åkdon] box
fram|jtand front tooth -tass fore paw
-tid future -tida a future -tids[man
coming man -till adv in front -träda
itr appear -trädande I appearance
II a conspicuous -tvinga tr extort
-åt I adv ahead, on II prep towards
-åt[böjd a bent forward
franc franc

frank era tr stamp -o ado post-paid
Frankrike France
frans fringe

fransük a French; ~t bröd [ung.]
breakfast roll -man Frenchman
-yska 1 French woman 2 [kött]
~n the rump-steak piece
frappllant a striking -era tr strike
fras phrase

fras! la itr rustle -ig a crisp
fred peace -a tr protect
fredag Friday; om —amt i on Fridays
fredülig a peaceful; [djur] gentle -lös a
outlawed -löshet outlawry -s, till ~
satisfied

fredsCanbud offer of peace -brott
violation (breach) of the peace -domare
justice of the peace -fördrag treaty
of peace -villkor peace term[s]
-älskande a peace-loving

4—470798 Tornberg-Angstrom, Sven

fregatt frigate

frejd||ad a celebrated -betyg good-

-conduct certificate
frekveni|s frequency -tera tr resort

to, frequent
frenetisk a frenzied

fresk fresco -o|målning
fresco-painting

frestlia tr tempt -are tempter -else
temptation
fri a free; i det ~a in the open air; bli

~ från get rid of
frilla itr propose -are suitor
fri [biljett free admission ticket
frid peace
fri [ dag free day

frid!|full a peaceful -lysa tr enclose;
[villebråd] place under the
protection of the law -sam a peaceable,
placid
fri I elev free scholar
frieri proposal

friilgiva tr liberate, free -givning
liberation -göra tr free; disentangle
-hamn free port -handel free trade
-hands I teckning freehand drawing
-herre baron; lord -herrlig a baronial
frihet freedom; liberty -s|begär desire
for freedom -s|älskande a liberty
–loving

friühjul free wheel -kalla tr release
-kallelse release -kostig a liberal;
generous -kostighet liberality;
generosity
friktion friction

fri||kyrka Free Church -känna tr
acquit -köpa tr redeem -lufts j liv
open–air life -lufts[teater open-air
theatre -modig a frank -murare
Freemason -murar I orden Order of Free
and Accepted Masons -mureri
Freemasonry -måndag Saint Monday
-märke stamp -märks[affär
postage–stamp dealer's shop -passagerare
unbooked passenger, stowaway -plats
free seat; [vid skola] ha ~ hold a
bursary

1 fris [folk] Frisian

2 fris [tyg] frieze

3 fris [ark.] frieze

friser||a tr,ngn dress a p.'s hair

-salong hairdresser's
fri [sinnad a liberal-minded; [pöl. J

Liberal
frisisk a Frisian

frisk a fresh; Esund] sound; [ej sjuk]
well -a I tr, ~ upp [bildh] brush up
II itr, det ~r i the wind is freshening
-betyg clean bill of health -na itr, ~
till recover
fri||skola free school -språkig a
outspoken
frist respite

fri||stad refusre -stund spare moment
-stående a detached, isolated

sk-engelsk ordbok.
<< prev. page << föreg. sida << >> nästa sida >> next page >>

---
Project Runeberg, Wed Apr 24 21:13:34 2019 (aronsson) (download) << Previous Next >>
http://runeberg.org/sven1957/0049.html