Full resolution (JPEG) - On this page / på denna sida - N - nålpengar ...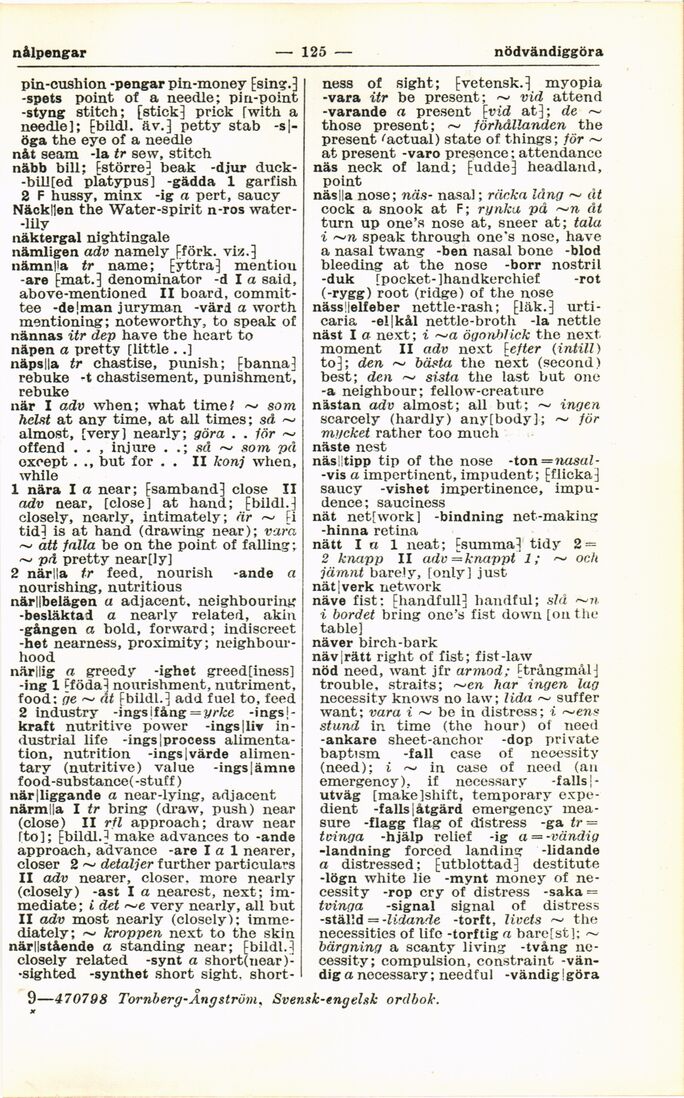 << prev. page << föreg. sida << >> nästa sida >> next page >>

---
Below is the raw OCR text from the above scanned image. Do you see an error? Proofread the page now!
Här nedan syns maskintolkade texten från faksimilbilden ovan. Ser du något fel? Korrekturläs sidan nu!
This page has never been proofread. / Denna sida har aldrig korrekturlästs.

nålpengar

— 125 —

nödvändiggöra

pin-cushion -pengar pin-money [sing.]
-spets point of a needle; pin-point
-styng stitch; [stick] prick [with a
needle]; [bildl. äv.] petty stab
-s|-öga the eye of a needle
nåt seam -la tr sew, stitch
näbb bill: [större] beak -djur
duck–bill[ed platypus] -gädda 1 garfish
2 F hussy, minx -ig a pert, saucy
Näckl]en the Water-spirit n-ros
water–lily

näktergal nightingale
nämligen adv namely [förk. viz.]
nämn|la tr name; [yttra] mentiou
-are [mat.] denominator -d I a said,
above-mentioned II board,
committee -de]man juryman -värd a worth
mentioning; noteworthy, to speak of
nännas itr dep have the heart to
näpen a pretty [little . .]
näps||a tr chastise, punish; [banna]
rebuke -t chastisement, punishment,
rebuke

när I adv when; what time? ~ som
helst at any time, at all times; så ~
almost, [very] nearly; g öra . . lör ~
offend . • , injure . .; sd ~ som pd
oxeept . ., but for . . II konj when,
while

1 nära I a near; [samband] close II
adv near, [close] at hand; [bildh]
closely, nearly, intimately; är ~ [i
tid] is at hand (drawing near); vara
~ att falla be on the point of falling;
~ pd pretty near[ly]

2 närlla tr feed, nourish -ande a
nourishing, nutritious

när||belägen a adjacent, neighbouring
-besläktad a nearly related, akin
-gången a bold, forward; indiscreet
-het nearness, proximity;
neighbourhood

när||ig a greedy -ighet greed[iness]
-ing 1 [föda] nourishment, nutriment,
food: ge ~ åt [bildh] add fuel to, feed
2 industry -ingsifång =yrke
-ings|-kraft nutritive power -ings| liv
industrial life -ings|process
alimentation, nutrition -ings|värde
alimentary (nutritive) value -ings|ämne
food-substance( -stuff)
när|liggande a near-lying, adjacent
närml|a I tr bring (draw, push) near
(close) II rfl approach; draw near
[to]; [bildl.] make advances to -ande
approach, advance -are I a 1 nearer,
closer 2 ~ detaljer further particulars
II adv nearer, closer, more nearly
(closely) -äst I a nearest, next;
immediate; i det ~e very nearly, all but
II adv most nearly (closely);
immediately; ~ kroppen next to the skin
när||stående a standing near; [bildh]
closely related -synt a
short(near)-•sighted -synthet short sight, short -

9—470798 Tornberg-Ångström, Svei,

ness of sight; [vetensk.] myopia
-vara itr be present; ~ vid attend
-varande a present [vid at]; de ~
those present; ~ förhållanden the
present ''actual) state of things; för ~
at present -värö presence; attendance
näs neck of land; [udde] headland,
point

näslla nose; näs- nasal; räcka lång ~ åt
cock a snook at F; rynka på ~n åt
turn up one's nose at, sneer at; tala

1 ~n speak through one's nose, have
a nasal twang -ben nasal bone -blod
bleeding at the nose -borr nostril
-duk [pocket-]handkerchief -rot
(-rygg) root (ridge) of the nose

nässl|elfeber nettle-rash; [läk.]
urticaria -ei|kål nettle-broth -la nettle
näst I a next; i ~a ögonblick the next
moment II adv next [efter (intill)
to]; den ~ bästa the next (second)
best; den ~ sista the last but one
-a neighbour; fellow-creature
nästan adv almost; all but; ~ ingen
scarcely (hardly) any[body]; ~ för
mycket rather too much
näste nest

näs tipp tip of the nose
-ton=nusal–vis a impertinent, impudent; [flicka]
saucy -vishet impertinence,
impudence; sauciness
nät net[work] -bindning net-making

-hinna retina
nätt Ini neat; [summa] tidy 2 =

2 knapp II adv =knappt 1; ~ och
jämnt barely, [only] just

nät I verk network

näve fist: Ehandfull] handful; slå ~ro
i bordet bring one's fist down [on the
table]
näver birch-bark
näv|rätt right of fist; fist-law
nöd need, want jfr armod; [trångmål]
trouble, straits; ~oi har ingen lag
necessity knows no law; lida ~ suffer
want; vara i ~ be in distress; i ~ens
stund in time (the hour) of need
-ankare sheet-anchor -dop private
baptism -fall case of necessity
(need); i ~ in case of need (an
emergency), if necessary -falls
|-utväg [make]shift, temporary
expedient -falls I åtgärd emergency
measure -flagg flag of distress -ga tr =
tvinga -hjälp relief -ig a = -vändig
-landning forced landing -lidande
a distressed; [utblottad] destitute
-lögn white lie -mynt money of
necessity -rop cry of distress -saka =
tvinga -signal signal of distress
-ställd = -lidande -torft, livets ~ the
necessities of life -torftig a bare[st]; ~
bärgning a scanty living -tvång
necessity; compulsion, constraint
-vän-dig a necessary; needful -vändig I göra

ilc-engelxk ordbok.
<< prev. page << föreg. sida << >> nästa sida >> next page >>

---
Project Runeberg, Fri Apr 19 21:47:58 2019 (aronsson) (download) << Previous Next >>
http://runeberg.org/sven1957/0129.html