Full resolution (JPEG) - On this page / på denna sida - P - puss ...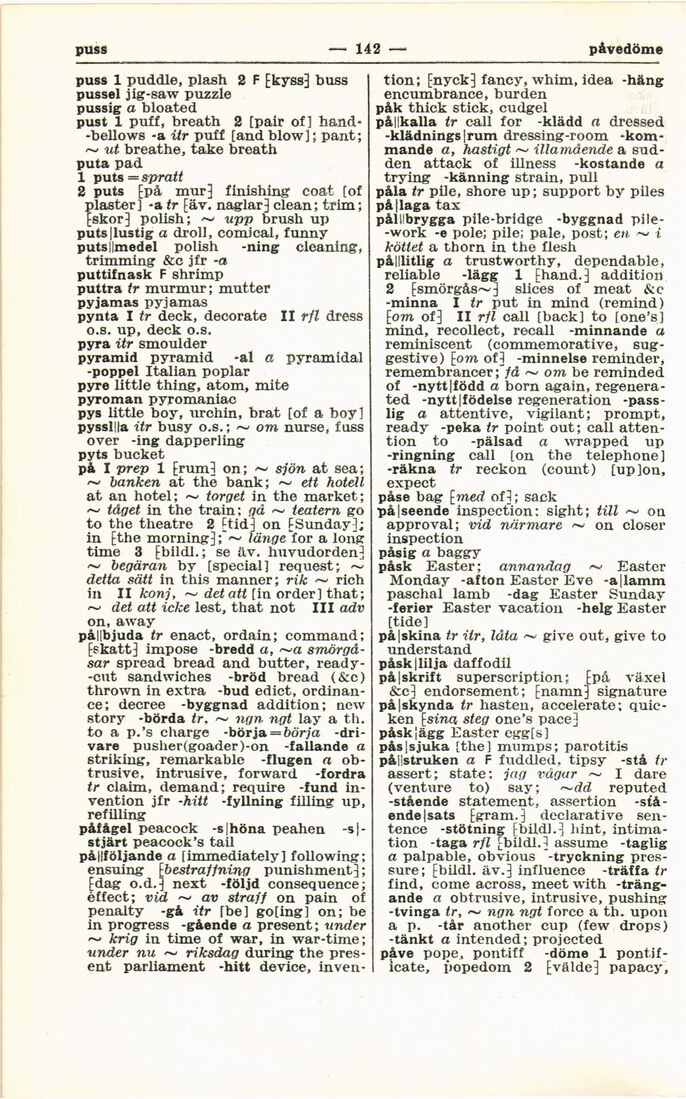 << prev. page << föreg. sida << >> nästa sida >> next page >>

---
Below is the raw OCR text from the above scanned image. Do you see an error? Proofread the page now!
Här nedan syns maskintolkade texten från faksimilbilden ovan. Ser du något fel? Korrekturläs sidan nu!
This page has never been proofread. / Denna sida har aldrig korrekturlästs.

puss

_ 142 —

p&vedöme

puss 1 puddle, plash 2 F [kyss] buss
pussel jig-saw puzzle
pussig a bloated

pust 1 puff, breath 2 [pair of]
hand–bellows -a itr puff [and blow]; pant;
~ ut breathe, take breath
puta pad

1 puts = spratt

2 puts [på mur] finishing coat [of
plaster] -a tr [äv. naglar] clean; trim;
[skor] polish; <— upp brush up

puts I lustig a droll, comical, funny
putsllmedel polish -ning cleaning,

trimming &c jfr -a
puttifnask F shrimp
puttra tr murmur; mutter
pyjamas pyjamas

pynta I tr deck, decorate II rfl dress

o.s. up, deck o.s.
pyra itr smoulder

pyramid pyramid -al a pyramidal

-poppel Italian poplar
pyre little thing, atom, mite
pyroman pyromaniac
pys little boy, urchin, brat [of a boy]
pyssllla itr busy o.s.; ~ om nurse, fuss

over -ing dapperling
pyts bucket

på I prep 1 [rum] on; ~ sjön at sea;
~ banken at the bank; ~ ett hotell
at an hotel; ~ torget in the market;
~ tåget in the train; gå ~ teatern go
to the theatre 2 [tid] on [Sunday];
in Ethe morning]länge "for a long
time 3 Ebildl.; se äv. huvudorden]
~ begäran by [special] request; ~
detta sätt in this manner; rik ~ rich
in II konj, ~ det att [in order] that;
~ det att icke lest, that not III adv
on, away

på||bjuda tr enact, ordain; command;
[skatt] impose -bredd a, ~a
smörgåsar spread bread and butter,
ready–cut sandwiches -bröd bread (&c)
thrown in extra -bud edict,
ordinance; decree -byggnad addition; new
story -börda tr, ~ ngn ngt lay a th.
to a p.'s charge -börja = börja
-dri-vare puslier(goader)-on -fallande a
striking, remarkable -flugen a
obtrusive, intrusive, forward -fordra
tr claim, demand; require -fund
invention jfr -Kitt -fyllning filling up,
refilling

påfågel peacock -s[höna peahen -s|-

stjärt peacock's tail
på||följande a [immediately] following;
ensuing Ebestraffning[ punishment];
[dag o.d.] next -följd consequence;
èffect; vid, ~ av straff on pain of
penalty -gå itr The] go[ing] on; be
in progress -gående a present; under
~ krig in time of war, in war-time;
under nu ~ riksdag during the
present parliament -hitt device, inven-

tion; [nyck] fancy, whim, idea -häng
encumbrance, burden
påk thick stick, cudgel
på||kalla tr call for -klädd a dressed
-klädnings[rum dressing-room
-kommande a, hastigt ~ illamående a
sudden attack of illness -kostande a
trying -känning strain, pull
påla tr pile, shore up; support by piles
på|laga tax

pålllbrygga pile-bridge -byggnad
pile–work -e pole; pile; pale, post; en ~ i
köttet a thorn in the flesh
pålllitlig a trustworthy, dependable,
reliable -lägg 1 [hand.] addition
2 [smörgås~] slices of meat &c
-minna I tr put in mind (remind)
[om of] II rfl call [back] to [one's]
mind, recollect, recall -minnande a
reminiscent (commemorative,
suggestive) [om of] -minnelse reminder,
remembrancer; få ~ om be reminded
of -nytt|född a born again,
regenerated -nytt|födelse regeneration
-pass-lig a attentive, vigilant; prompt,
ready -peka tr point out; call
attention to -pälsad a wrapped up
-ringning call [on the telephone]
-räkna tr reckon (count) [up]ön,
expect
påse bag [med of]; sack
på|seende inspection: sight; till ~ on
approval; vid närmare ~ on closer
inspection
påsig a baggy

påsk Easter; annandag ~ Easter
Monday -afton Easter Eve -a[lamm
paschal lamb -dag Easter Sunday
-ferier Easter vacation -helg Easter
[tide]

på|skina tr itr, låta ~ give out, give to

understand
påsk I lilja daffodil

på [ skrift superscription; Epå växel
&c] endorsement; [namn] signature
på I skynda tr hasten, accelerate;
quicken [sina, steg one's pace]
påsk [ägg Èaster egg[s]
pås[sjuka [the] mumps; parotitis
på||struken a F fuddled, tipsy -stå tr
assert; state: jag vågar ~ I dare
(venture to) say; reputed

-stående statement, assertion
-s£å-ende|sats [gram.] declarative
sentence -stötning [bildl.] hint,
intimation -taga rfl [bildl.] assume -taglig
a palpable, obvious -tryckning
pressure; [bildl. äv.] influence -träffa tr
find, come across, meet with
-trängande a obtrusive, intrusive, pushing
-tvinga tr, ~ ngn ngt force a th. upon
a p. -tår another cup (few drops)
-tänkt a intended; projected
påve pope, pontiff -dome 1
pontificate, popedom 2 [välde] papacy.
<< prev. page << föreg. sida << >> nästa sida >> next page >>

---
Project Runeberg, Tue Jul 16 11:22:28 2019 (aronsson) (download) << Previous Next >>
http://runeberg.org/sven1957/0146.html