Note: This work was first published in 1963, less than 70 years ago. Therefore, this work is protected by copyright, restricting your legal rights to reproduce it. However, you are welcome to view it on screen, as you do now. Read more about copyright.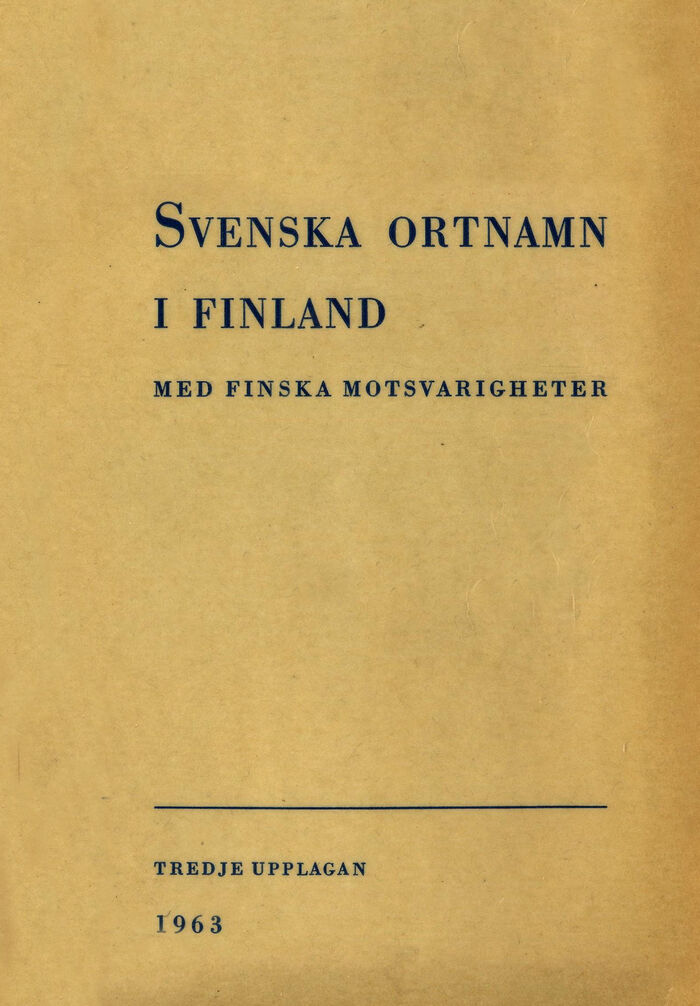 SVENSKA ORTNAMN I FINLAND
MED FINSKA MOTSVARIGHETER
Tredje upplagan
UTGIVEN AV SVENSKA FOLKPARTIETS ORTNAMNSKOMMITTÉ GENOM ÅKE GRANLUND OCH KURT ZILLIACUS HELSINGFORS 1963
---
HELSINGFORS 1963 MERCATORS TRYCKERI
---
Förord till den elektroniska utgåvan
Projekt Runeberg digitaliserar lexikon som detta under antagandet att de inte omfattas av upphovsrätt i 70 år, utan enbart av katalogskydd i 15 år. Boken digitaliserades i december 2014 av Bert H.
---
The above contents can be inspected in scanned images: Smutstitel, Titelsida, Titelsida

---
Korrstapel / Proof bar for this volume


Innehåll / Table of Contents

Titel - Smutstitel, Titelsida, Titelsida
Förord - 5, 6, 7, 8
[Ortnamnsförteckning] - 9, 10, 11, 12, 13, 14, 15, 16, 17, 18, 19, 20, 21, 22, 23, 24, 25, 26, 27, 28, 29, 30, 31, 32, 33, 34, 35, 36, 37, 38, 39, 40, 41, 42, 43, 44, 45, 46, 47, 48, 49, 50, 51, 52, 53, 54, 55, 56, 57, 58, 59, 60, 61, 62, 63, 64, 65, 66, 67, 68, 69, 70, 71, 72, 73, 74, 75, 76, 77, 78, 79, 80, 81, 82, 83, 84, 85, 86, 87, 88, 89, 90, 91, 92, 93, 94, 95, 96, 97, 98, 99, 100, 101, 102
Finskt - svenskt register - 103, 104, 105, 106, 107, 108, 109, 110, 111, 112, 113, 114, 115, 116, 117, 118, 119, 120, 121, 122

---
Project Runeberg, Mon Dec 1 10:24:41 2014 (aronsson) (diff) (history) (download) Next >>
http://runeberg.org/sveortfin/