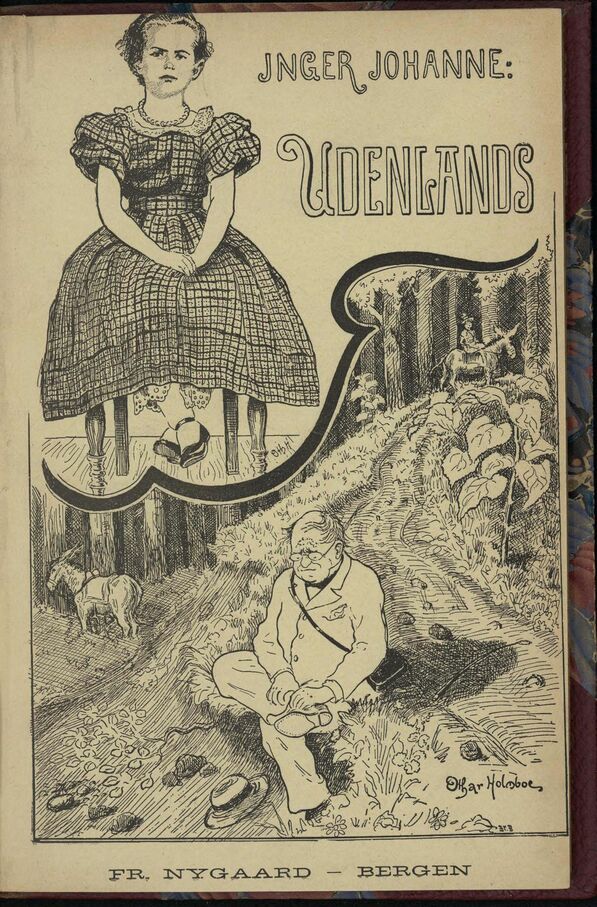 Ill. Othar Holmboe
Inger Johanne: Udenlands
---
UDENLANDS
————

Af
INGER JOHANNE
— Dikhen Zwilgmeyer —
Forf. af »Vi Børn«, »Karsten og jeg«, »Fra vor By«,
»Morsomme Dage», »Barndom«, »Hos Onkel Max og Tante Betty«

BERGEN
Fr. Nygaards Forlag.
———
Kjøbenhavn: Jul. Schlichtkrull.
---
1898 — ALEX. RASMUSSENS BOGTR.
---
Forord til den elektroniske udgave
Dette verk av Dikken Zwilgmeyer (1853-1913) med omslag tegnet av Othar Holmboe (1868-1928) er digitalisert i oktober 2014 av Nasjonalbiblioteket i Oslo og tilpasset for Projekt Runeberg i februar 2015 av Ralph E.

This volume was scanned by the Norwegian National Library, from where the scanned images were copied to Project Runeberg. We very much appreciate that they have made this possible and want to encourage other digital library projects to follow their example. Read more about Project Runeberg's image sources.

---
The above contents can be inspected in scanned images: Omslag, Omslag, blaknk, blank, Omslag, blank, Titel, Trykkeri, Indhold, blank

---
Korrstapel / Proof bar for this volume


Innhold / Table of Contents

Titel och innehåll - Omslag, Omslag, blaknk, blank, Omslag, blank, Titel, Trykkeri, Indhold, blank
Inger Johannes fortale - 1, 2
Hvorfor vi reiste - 3, 4, 5, 6, 7, 8, 9, 10, 11, 12, 13, 14, 15, 16, 17, 18, 19, 20, 21
Paa Landtur til Niederwald - 22, 23, 24, 25, 26, 27, 28, 29, 30, 31, 32, 33, 34
Paa Staaltraadbane og paa Æsel - 35, 36, 37, 38, 39, 40, 41, 42, 43, 44, 45, 46, 47, 48, 49, 50, 51
I Panopticum - 52, 53, 54, 55, 56, 57, 58, 59, 60, 61
Sidor ... - 62, 63, 64, 65, 66, 67, 68, 69, 70, 71, 72, 73, 74, 75, 76, 77, 78, 79, 80, 81, 82, 83, 84, 85, 86, 87, 88, 89, 90, 91, 92, 93, 94, 95, 96, blank, blank, Omslag, Omslag, bogrygg

---
Project Runeberg, Wed Apr 1 17:23:24 2015 (www-data) (diff) (history) (download) Next >>
http://runeberg.org/udenlands/