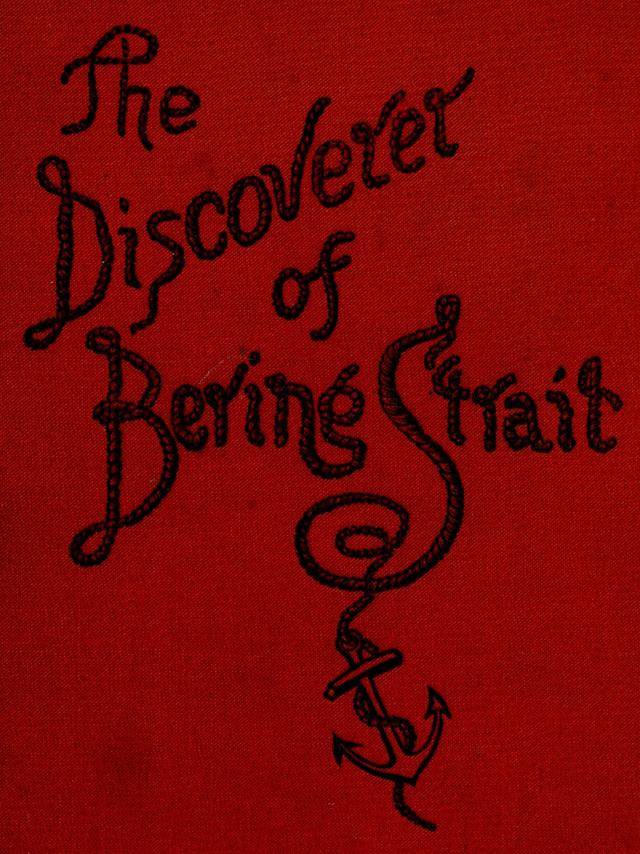 Vitus Bering: The Discoverer of Bering Strait
---
Preface to the electronic edition
This work is written in Danish 1885 by Peter Lauridsen (1846-1923) and translated into English by Julius E Olson (1858-1944) with a preface by Frederick Schwatka (1849-1892). It has been digitized in October 2009 by Biodiversity Heritage Library and adapted for the Project Runeberg in October 2014 by Ralph E.
Here you can find the Danish original text.
This work can be read as a book in colour at the Internet Archive.

This volume was scanned by the Biodiversity Heritage Library and made available by the Internet Archive, from where the scanned images were copied to Project Runeberg. We very much appreciate that they have made this possible and want to encourage other digital library projects to follow their example. Read more about Project Runeberg's image sources.

---
The above contents can be inspected in scanned images: Cover, Cover, blank, blank, blank, blank, Titel, tryckning, blank, blank, Cover, Cover

---
Korrstapel / Proof bar for this volume


Table of Contents

Titel och innehåll - Cover, Cover, blank, blank, blank, blank, Titel, tryckning, blank, blank, Cover, Cover
Contents - III, IV, V, VI
Introduction to American Edition by Frederick Schwatka - VII, VIII, IX, X, XI
Translater's Preface by Julius E. Olson - XII, XIII, XIV
Author's Preface - XV, XVI
Chapter I. - 3, 4, 5
Chapter II. - 6, 7, 8, 9, 10, 11
Chapter III. - 12, 13, 14, 15, 16, 17, 18
Chapter IV. - 19, 20, 21, 22, 23, 24, 25, 26, 27, 28
Chapter V. - 29, 30, 31, 32, 33, 34
Chapter VI. - 35, 36, 37, 38, 39, 40, 41, 42, 43, 44, 45, 46, 47, 48, 49
Chapter VII. - 50, 51, 52, 53, 54, 55, 56, 57
Chapter VIII. - 61, 62, 63, 64, 65, 66, 67, 68, 69, 70, 71, 72, 73, 74, 75, 76
Chapter IX. - 77, 78, 79, 80, 81, 82, 83, 84, 85, 86, 87, 88, 89, 90
Chapter X. - 91, 92, 93, 94, 95, 96, 97, 98
Chapter XI. - 99, 100, 101, 102, 103, 104
Chapter XII. - 107, 108, 109, 110, 111, 112, 113, 114, 115, 116
Chapter XIII. - 117, 118, 119, 120, 121, 122, 123, 124, 125, 126
Chapter XIV. - 127, 128, 129, 130, 131, 132, 133, 134
Chapter XV. - 135, 136, 137, 138, 139, 140, 141, 142
Chapter XVI. - 143, 144, 145, 146, 147, 148, 149
Chapter XVII. - 150, 151, 152, 153, 154, 155, 156, 157, 158, 159, 160, 161, 162, 163
Chapter XVIII. - 164, 165, 166, 167, 168, 169, 170, 171, 172, 173
Chapter XIX. - 174, 175, 176, 177, 178, 179, 180, 181, 182, 183, 184, 185, 186, 187, 188, 189, 190, 191, 192
Appendix - subtitel, blank, 195, 196, 197, 198, 199, 200, 201
Notes. - 202, 203, 204, 205, 206, 207, 208, 209, 210, 211, 212, 213, 214, 215
Index - 217, 218, 219, 220, 221, 222, 223
Scripts and Maps - blank, blank, biografi, blank, blank, blank, brev, blank, blank, kartor, blank, blank, blank, karta

---
Project Runeberg, Wed Oct 5 12:26:25 2016 (www-data) (diff) (history) (download) Next >>
http://runeberg.org/vjberingen/