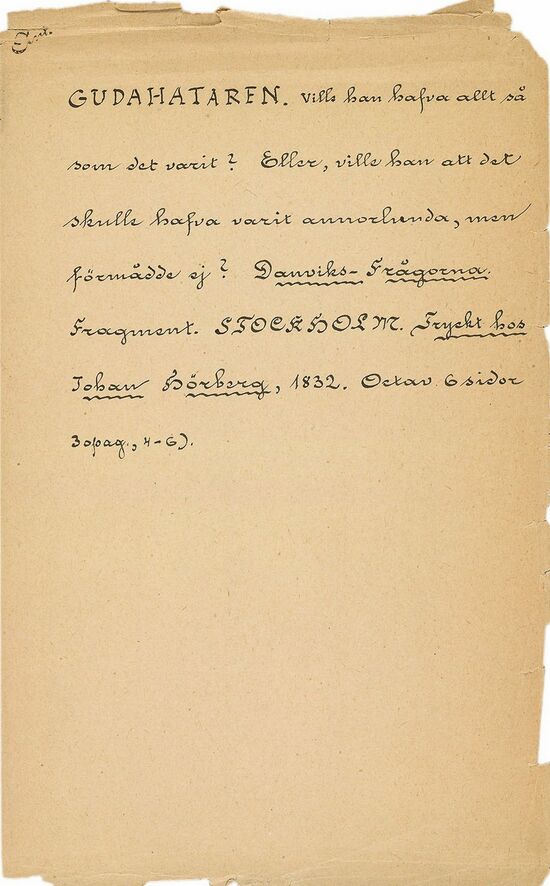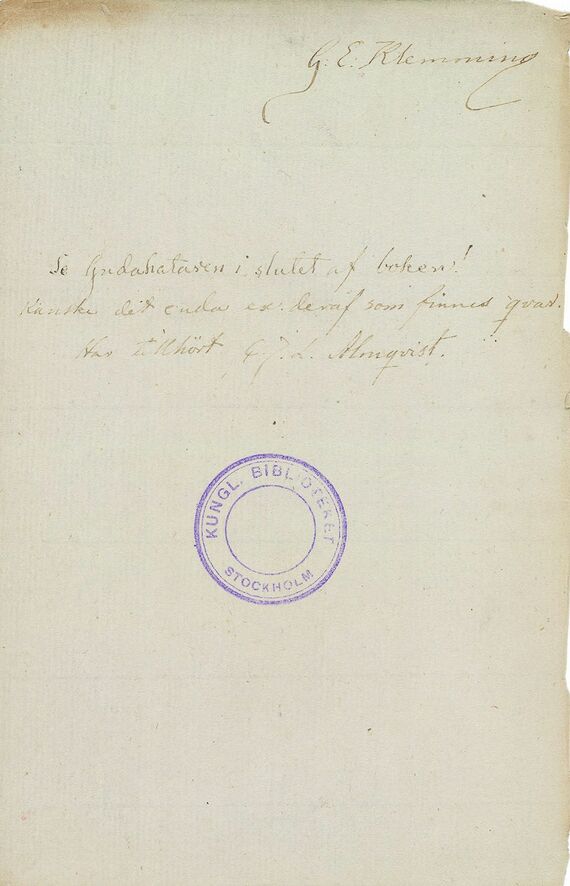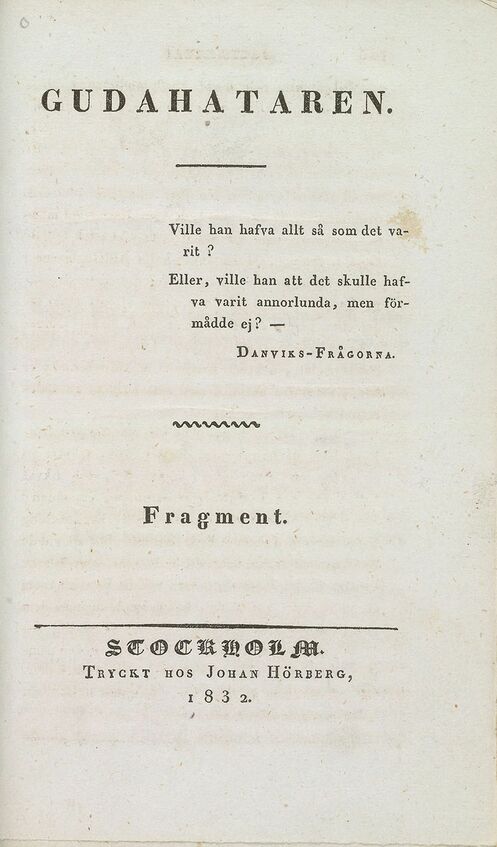 GUDAHATAREN.
————
Ville han hafva allt så som det varit?
Eller, ville han att det skulle hafva varit annorlunda, men förmådde ej? —
Danviks-Frågorna.
vvvvvvvv
Fragment.
————————————————————
STOCKHOLM.
Tryckt hos Johan Hörberg,
1832.
---
Förord till den elektroniska utgåvan
Detta fragment fanns sammanbundet med Törnrosens bok I från 1832. Av ett extra inlagt handskrivet blad med titeltexten på ena sidan och ett memento på baksidan framgår, att det kanske är "det enda ex. deraf som finns qvar." Anledningen till att fragmentet har sammanbundits med Törnrosens bok kan vara, att samma personer omnämns i dessa båda skrifter.
Boken har digitaliserats från Kungliga biblioteket av Litteraturbanken och anpassats för Projekt Runeberg i mars 2013 av Ralph E.

This volume was scanned by Kungl. biblioteket, Sweden's national library, from where the scanned images were copied to Project Runeberg. We very much appreciate that they have made this possible and want to encourage other digital library projects to follow their example. Read more about Project Runeberg's image sources.

---
The above contents can be inspected in scanned images: Omslag, Omslag, tom, blank, blank, blank, Info-blad, Info-blad, Titel, blank, blank, tom, Omslag, Omslag

---
Korrstapel / Proof bar for this volume


Innehåll / Table of Contents

Titel och innehåll - Omslag, Omslag, tom, blank, blank, blank, Info-blad, Info-blad, Titel, blank, blank, tom, Omslag, Omslag
Gudahataren - 3, 4, 5, 6

---
Project Runeberg, Thu Jul 11 08:50:13 2013 (aronsson) (diff) (history) (download) Next >>
https://runeberg.org/gudahatare/