Project Runeberg's front page section for December 2012:
Twenty years December 1992-December 2012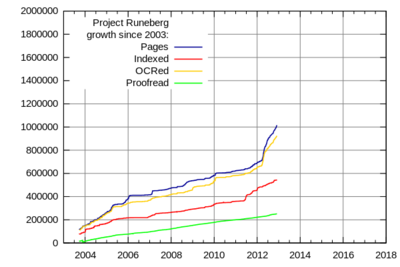 Project Runeberg started in the evening of December 13, 1992, which means we are now entering our 21st year. During 2012 we have reached several milestones:
Our 3,000th scanned volume was uploaded on November 27.
Our 1,000,000th scanned page was uploaded on November 22.
Our 250,000th page was proofread on November 20.
Our 500,000th page was indexed on May 31.
During December we converted all books scanned before 2005 from ISO 8859-1 (Latin-1) to the UTF-8 (Unicode) character set. Books scanned after 2005 already use the new standard, which allows a mix of Greek, Cyrillic, Chinese and other characters.
During the year, we recruited new volunteers in scanning and bought a faster scanner, which allowed our collection to grow much faster. One third of our 1,000,000 pages were uploaded during 2012.
Our Facebook page remained popular and active, and attracted new fans, currently 1800 in all.
Our website remained popular with between 1 and 2 million page views per month. As a comparison, this is roughly 1 percent of the web traffic to the Swedish language Wikipedia.
There are also many things we didn't accomplish:
The speed of proofreading didn't increase, but remained at circa 30,000 pages per year. That's a good speed, but doesn't correspond to our increased scanning speed.
We failed to secure funding for expanding the project. It is still hard to explain why digitizing books is beneficial to society, or why digitized books or newspapers should also be made easily and openly available.
Unicode conversion

An 8 minute video explains in Swedish how and why we're converting to Unicode. If you have a problem to view the video, perhaps the version on Facebook works better.
One fifth of our collection or some 200,000 scanned pages was uploaded before 2005 and its text was encoded in ISO 8859-1 (Latin-1), an international 8-bit standard defined in the 1980s for letters of the north European languages. It can represent Danish æøå, French àçë, German äöüß, Swedish åäö, and Icelandic þð, but not Greek, Cyrillic, Hebrew, Arabic, and Chinese letters or other special characters.
More recently, all texts have been uploaded in UTF-8 (Unicode, ISO 10646), an international standard capable of representing many thousands of characters from virtually all languages of the earth.
During December 2012, we have been converting texts from the old standard to the new one. The video (above) illustrates this. Another example is seen in our preface to Fänrik Ståls sägner, one of our first e-texts from 1993.

---
Project Runeberg, Fri Feb 21 19:43:51 2020 (aronsson) (diff) (history) (download) << Previous Next >>
http://runeberg.org/admin/201212-front.html