Bjørnson, Bjørnstjerne (1832-1910), writer, Norway.

Project Runeberg has published the following works by this author:

Project Runeberg has published the following works to which this author has contributed:
---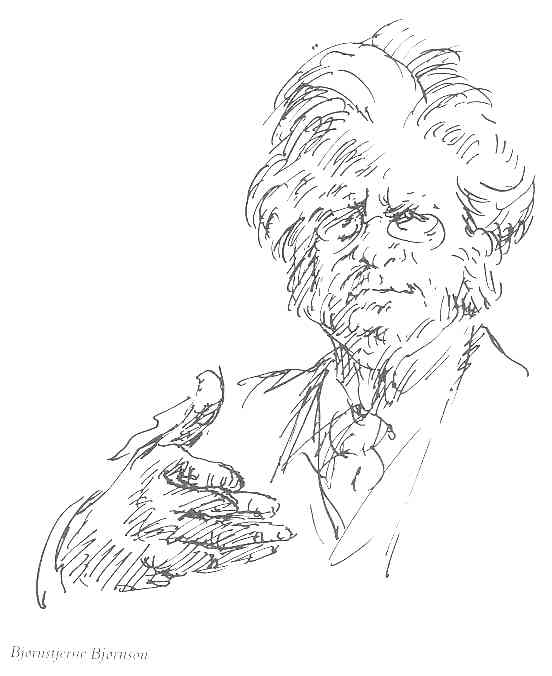 Bjørnstjerne Bjørnsson was a Norwegian patriot who often used folklore in his novels describing peasant life.
In 1903, Bjørnstjerne Bjørnsson received the Nobel Prize for literature, "as a tribute to his noble, magnificent and versatile poetry, which has always been distinguished by both the freshness of its inspiration and the rare purity of its spirit". See also The Nobel Foundation and their presentation of the laureate.
Books by / Bøger av Bjørnstjerne Bjørnson
Mellem Slagene, sagadrama, 1857

Synnøve Solbakken, bondefortelling, 1857

Arne, 1859

En glad Gut, 1860

Halte-Hulda, 1858

Kong Sverre, 1861

Sigurd Slembe, 1862

Maria Stuart i Skotland, 1863

De Nygifte, 1865

Fiskerjenten, 1868

Arnljot Gelline, 1870

Digte og Sange, 1880

Brudeslåtten, bondefortelling, 1872

Sigurd Jorsalafar, sagadrama, 1872

En fallit, drama, 1875

Redaktøren, drama, 1875

Kaptejn Mansana, novell, 1875

Kongen, 1877

Magnhild, 1877

Det ny system, 1879

Leonarda, 1879

En hanske, 1883

Støv, 1882

Over ævne, første stykke, 1883

Det flager i byen og på havnen, 1884

På guds veje, 1889

Fred, oratorium, 1891

Over Ævne, andet stykke, 1895

Paul Lange og Tora Parsberg, 1898

Daglannet, 1904

Når den ny vin blomstrer, 1909

Norges Vel, kantat, 1909
Links
Find other Nordic Authors named Bjørnson
Look for more information in Libris, Bibsys, Google, Yahoo.
---
Project Runeberg, 2014-03-04 15:50 (aronsson) << Previous Next >>
http://runeberg.org/authors/bjornstj.html