Project Runeberg's front page section for February 2004: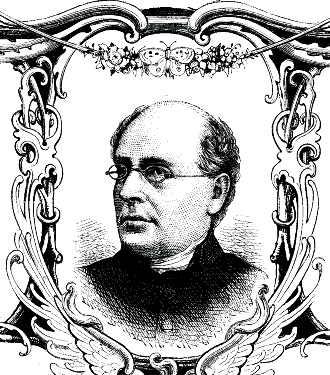 Happy 200th anniversary, Johan Ludvig Runeberg, born on February 5, 1804 in Jakobstad, Finland, from whom Project Runeberg got its name. His epic Fänrik Ståls sägner ("Tales of Ensign Stål", 1848) revived the memories of the war of 1809 where Russia conquered the part of the Swedish kingdom that today is Finland. His poems portrayed bravely fighting soldiers, and these proud memories started to matter more than the actual loss of the war. Generations of school children in Sweden and Finland learned the songs by heart. The first song, Vårt land, is the lyrics to Finland's national anthem. On March 6, 1993, this epic was the first complete work in Project Runeberg's growing collection of classic Nordic literature on the Internet.
Vi gratulerar 200-årsjubilaren Johan Ludvig Runeberg, som föddes den 5 februari 1804 i Jakobstad i Finland och från vilken Projekt Runeberg lånat sitt namn. Hans välkända diktsvit Fänrik Ståls sägner (1848) berättar om 1809 års krig där Ryssland erövrade den del av svenska riket som idag är Finland. Detta var det första fullständiga verk som publicerades i vår framväxande samling äldre nordisk litteratur på Internet, den 6 mars 1993.
Fänrik Ståls sägner, den ursprungliga "e-texten" (elektroniska texten) från 1993.
Fänrik Ståls sägner, en utgåva från 1886 illustrerad av August Malmström, scannad i faksimil 1999.
Johan Ludvig Runebergs Samlade skrifter, 6 band (1870), digital faksimil producerad hösten 2003.
Den senare av dessa behöver din hjälp med korrekturläsning.
Nytt i vår danska avdelning är Vilhelm Østergaard, Danske Digtere i det 19de Aarhundrede.


---
Project Runeberg, Thu Dec 20 03:34:57 2012 (aronsson) (diff) (history) (download) << Previous Next >>
http://runeberg.org/admin/200402-front.html