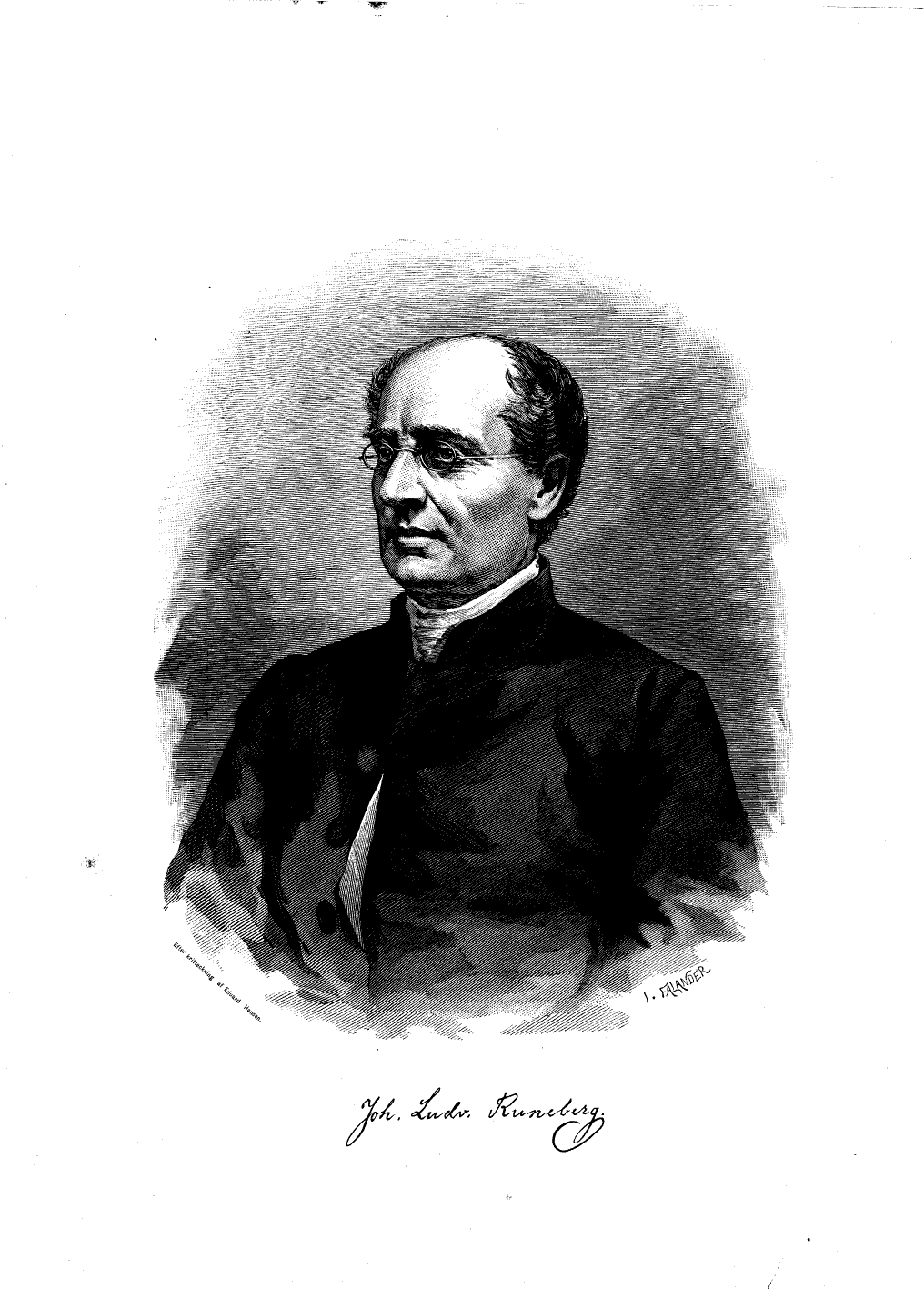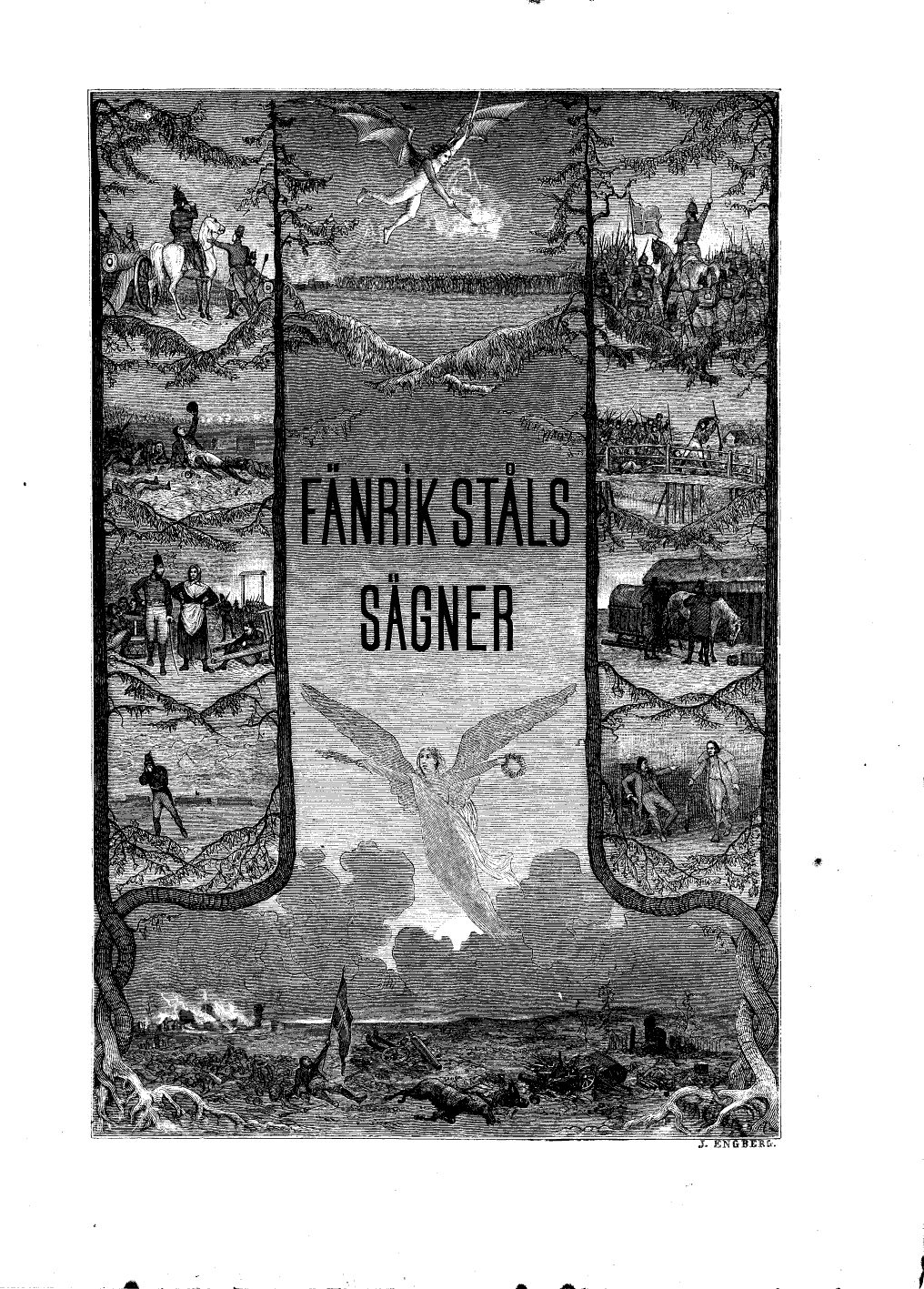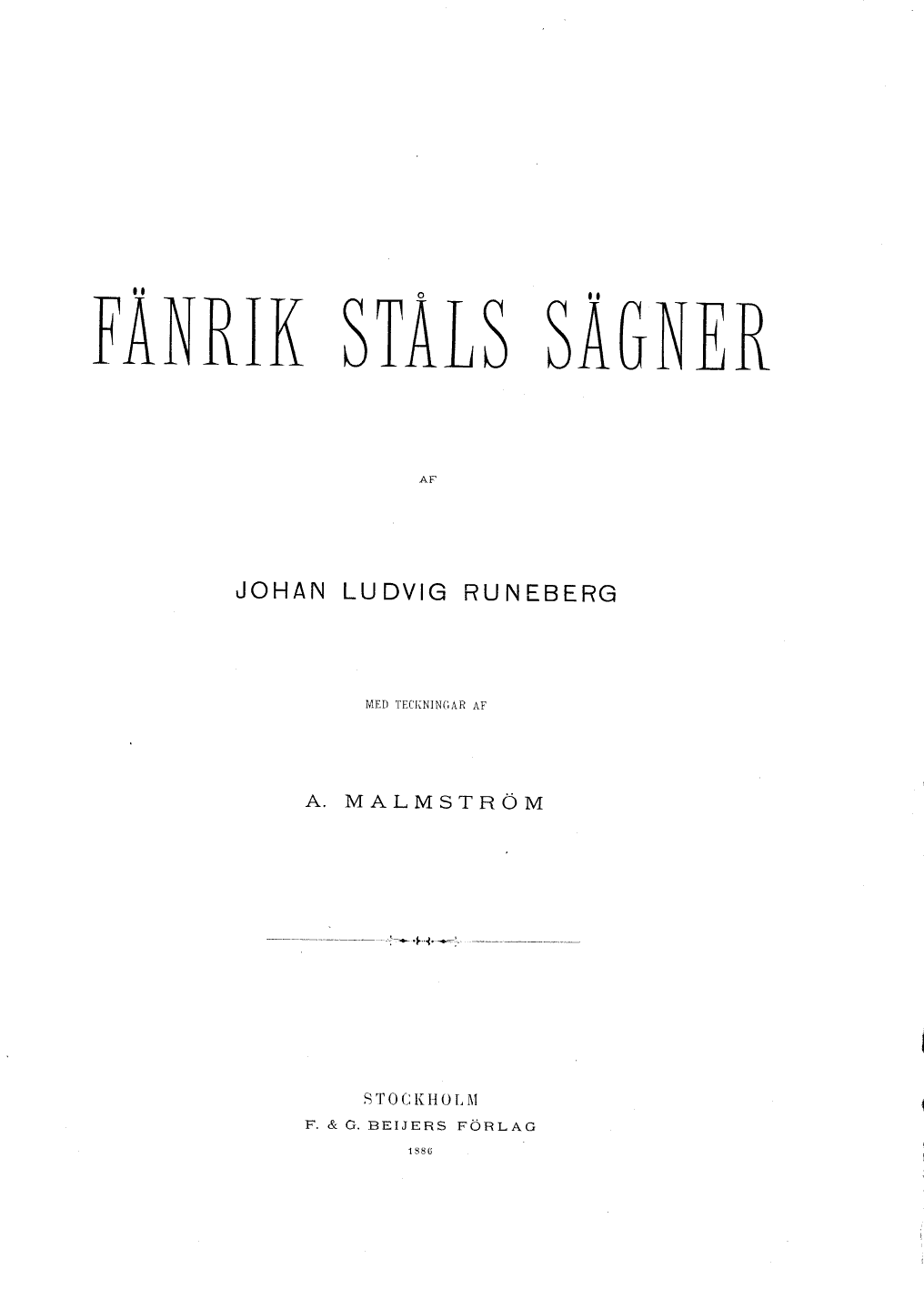 FÄNRIK STÅLS SÄGNER
AF
MED TECKNINGAR AF
--------
Stockholm
F. & G. Beijers Förlag
1886
---
Stockholm
Ivar Hæggströms Boktryckeri
1886
---
Papperet tillverkadt vid Granholms Bruk.
---
Preface to the Electronic Edition
The two parts of Fänrik Ståls sägner first appeared in 1848 and 1860, respectively. An illustrated edtion appeared in 1883, featuring woodcuts of paintigs by Swedish art professor August Malmström. An 1886 reprint of that edition is presented here in facsimile.
The book pages are c. 225 x 300 millimeters, and the digital images presented here are 215 x 300 mm or 8.5 x 11.8 inches, presented in 120 dpi resolution. This electronic facsimile edition was produced in February 1999 by Lars Aronsson. A simple non-illustrated e-text edition was produced in 1993.

---
The above contents can be inspected in scanned images: porträtt, titelvignett, titelsida, titelbladets baksida, 167, 168

---
Korrstapel / Proof bar for this volume


Innehåll / Table of Contents

Titel och innehåll - porträtt, titelvignett, titelsida, titelbladets baksida, 167, 168
FÖRRA SAMLINGEN - 5
Vårt land - 7, 8
Fänrik Stål - 9, 10, 11, 12
Molnets broder - 13, 14, 15, 16, 17, 18
Veteranen - 19, 20, 21
Löjtnant Zidén - 22, 23, 24
Torpflickan - 25, 26, 27
Sven Dufva - 28, 29, 30, 31, 32
Von Konow och hans korporal - 33, 34, 35, 36
Den döende krigaren - 37, 38, 39, 40
Otto von Fieandt - 41, 42, 43, 44
Sandels - 45, 46, 47, 48, 49, 50, 51
De två dragonerna - 52, 53, 54
Gamle Hurtig - 55, 56, 57
Kulneff - 58, 59, 60, 61, 62, 63
Konungen - 64, 65, 66
Fältmarskalken - 67, 68, 69
Sveaborg - 70, 71, 72, 73
Döbeln vid Juutas - 74, 75, 76, 77, 78, 79, 80, 81, 82
SENARE SAMLINGEN - 83
Soldatgossen - 85, 86
Björneborgarenas marsch - 87, 88
Fänrikens marknadsminne - 89, 90, 91, 92, 93, 94
Lotta Svärd - 95, 96, 97, 98, 99, 100, 101, 102
Gamle Lode - 103, 104, 105
Främlingens syn - 106, 107, 108
Fänrikens helsning - 109, 110, 111, 112
Von Törne - 113, 114, 115, 116, 117, 118
Den femte juli - 119, 120, 121, 122, 123
Munter - 124, 125, 126, 127, 128, 129, 130
Von Essen - 131, 132, 133, 134, 135, 136
Trosskusken - 137, 138, 139, 140, 141
Wilhelm von Schwerin - 142, 143, 144, 145, 146
N:r femton, Stolt - 147, 148, 149, 150, 151
Bröderna - 152, 153, 154, 155
Landshöfdingen - 156, 157, 158, 159
Adlercreutz - 160, 161, 162, 163, 164
Tecknarens slutord - 165, 166
Innehåll - 167

---
Project Runeberg, Mon Dec 10 21:59:50 2012 (aronsson) (diff) (history) (download) Next >>
http://runeberg.org/fstal83/
URN:NBN:se-d1998401