Project Runeberg's front page section for April 2006: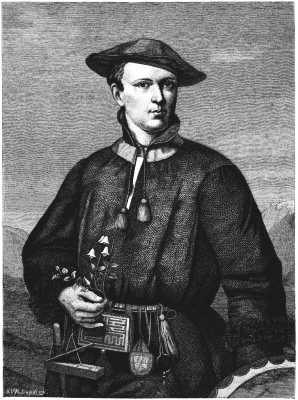 Linnaeus 1707 - 2007
Swedish botanist Carl von Linné, internationally known as Carolus Linnaeus, was born on May 23, 1707, meaning that the 300th anniversary of his birth will be celebrated all through next year. Project Runeberg can hardly compete with the efforts of the Linnean Society of London, Uppsala University, or the Royal Swedish Academy of Sciences. But perhaps we can help to digitize and make available some works by his disciples? This should be the time to start planing. What are your ideas?
A Swedish newspaper, Upsala Nya Tidning, reported that he was actually born in 1706 and the celebration should be this year. However, this turned out to be yet another April Fool's Day joke.
Existing Linnaeus resources:
---
April Fool's Day section follows...
Projekt Runeberg introducerar hexadecimal kodning av "nationella tecken"
April, april! Nedanstående var Projekt Runebergs aprilskämt 2006.
Äldre aprilskämt finns arkiverade i Projekt Runebergs historik.
Experimentet att konvertera Projekt Runebergs texter till den universella teckenstandarden Unicode har misslyckats och avbryts med omedelbar verkan. Tanken var att utvidga dagens alfabet (inklusive de svenska, danska och norska som har prickar, ringar och snedstreck) till ett globalt som dessutom omfattar grekiska, arabiska, kyrilliska (ryska), kinesiska, japanska med mera. Emellertid har webbservern visat sig inkapabel att klara den belastning som alla dessa skrivtecken skulle bidra till.
Denna dag inleder med anledning av detta en ny epok i Projekt Runeberg. Vi kastar in handuken och avbryter omsteget till Unicode. Som alternativ introduceras en metod som bland programmerare torde vara bekant under namnet hexadecimal kodning eller kort och gott "hexkod". Varje tecken som faller utom det engelska alfabetet (A-Z) kommer att visas som ett lika-med-tecken (=) och tvenne eller flera siffror eller tecken A-F. Till exempel kommer den svenska a-med-ring att visas som =E5, a-med-prickar som =E4 och o-med-prickar som =F6. En komplett tabell kommer att finnas till hands inom kort.
Inledningsvis kan detta bli en pedagogisk utmaning. Redaktionen tror att den webbsurfande publiken och Projekt Runebergs frivilliga medarbetare snart ska ta till sig det nya systemet. Men denna och andra instruktiva texter tvingas vi skriva utan de tecken som kommer efter XYZ i alfabetet, i syfte att bli begripliga. Men med tiden kommer avskaffandet av de nationella bokst=E4verna att k=E4nnas som en naturlig, rationell och f=F6rnuftig =E5tg=E4rd.
Project Runeberg introduces hexadecimal encoding of "national characters"
The following was Project Runeberg's April Fool's Day joke for 2006.
The jokes of previous years can be found in the Project Runeberg timeline.
The experiment to convert Project Runeberg's texts to the universal character standard Unicode has failed and will be discontinued effective immediately. The idea was to expand today's alphabets (including the Swedish, Danish, and Norwegian which use dots, rings and slashes) to a global system which also comprises Greek, Arabic, Cyrillic (Russian), Chinese, Japanese, and more. However, the webserver has proven incapable of handling the heavy load that all these characters would add.
Because of this, today marks the beginning of a new era in Project Runeberg. We are giving up on our attempted transition to Unicode. Our alternative is the introduction of a method that computer programmers know as hexadecimal encoding or simply "hex code". Every letter outside of the English alphabet (A-Z) will be shown as an equal sign (=) followed by two or more digits and letters A-F. For example, the Swedish a-with-ring will be shown as =E5, a-with-dots as =E4, and o-with-dots as =F6. A complete conversion table will be available shortly.
Initially the explanation might become a challenge. The editors believe that regular visitors to our website as well as Project Runeberg's volunteers will pick up the new system very quickly. But instructive texts in Swedish, such as the announcement above, will have to be written completely without the national Swedish letters, in order to be understood. With time it is believed that the removal of the national characters will be seen as a natural, rational and sound reform.
The Editors.

---
Project Runeberg, Thu Dec 20 03:34:58 2012 (aronsson) (diff) (history) (download) << Previous Next >>
http://runeberg.org/admin/200604-front.html