Website Statistics
Monthly usage statistics for Project Runeberg's section of Lysator's website (www.lysator.liu.se/runeberg/) for the years 1998, 1999, 2000, 2001, 2002 and the first eight months of 2003 have been compiled using Brad Barrett's Webalizer program.
If the usage patterns seem irregular and jagged, it might be explained by gaps in our log files when the harddisk was full. When this happens, the webserver continues to function, but access and event logging is lost. The best way to improve this situation is to become a sponsor of Project Runeberg so we can buy new disks more often.
But irregular usage patterns are also largely explained by the fact that accesses from search robots (spiders, crawlers) are included in presented statistics on bytes, hits, and page views. Search robots have the least impact on the number of "sites" or unique IP addresses (unique visitors).
Because of how our website is designed, the URL "img.pike" is used for serving facsimile images. Accesses to this URL are not included in the page view count, because the facsimile images are contained in ordinary HTML pages, but the number of accesses to this URL indicates how many of the page views that were facsimile page views rather than plain HTML page views.
Some other sources of statistics on Project Runeberg: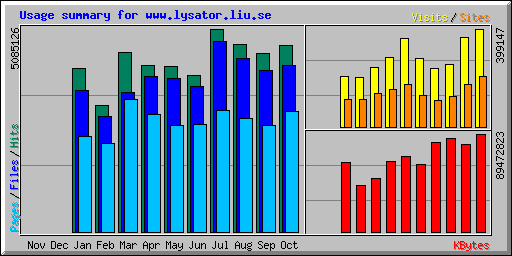 Website usage for 2003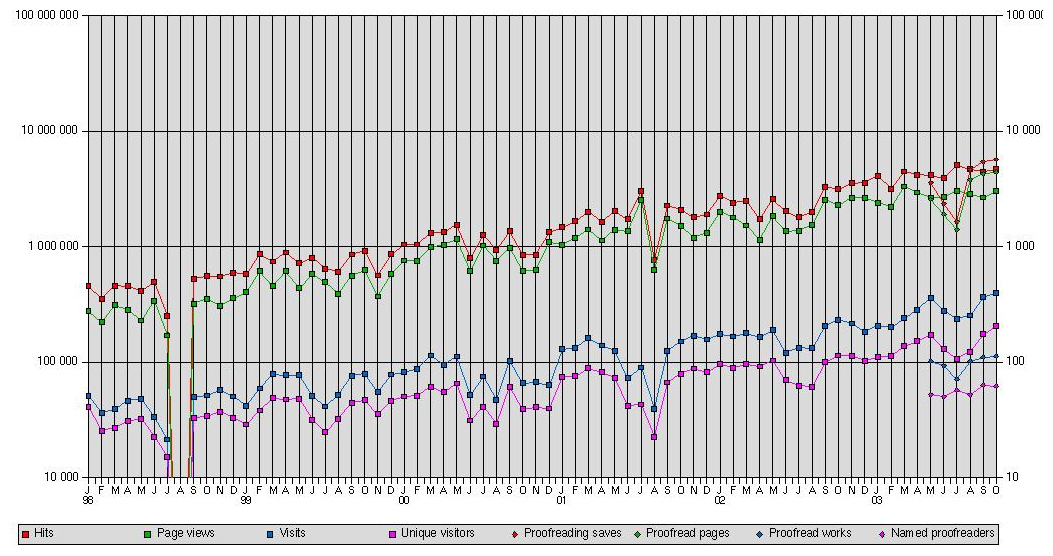 Website usage (left hand side scale) and proofreading activity (right hand side scale) since 1998

---
Table of Contents

Översikt
1998
1998 - Overview
Jan 1998 - Usage
Jan 1998 - Searches
Feb 1998 - Usage
Feb 1998 - Searches
Mar 1998 - Usage
Mar 1998 - Searches
Apr 1998 - Usage
Apr 1998 - Searches
May 1998 - Usage
May 1998 - Searches
Jun 1998 - Usage
Jun 1998 - Searches
Jul 1998 - Usage
Jul 1998 - Searches
Aug 1998 - Usage
Aug 1998 - Searches - no statistics available
Sep 1998 - Usage
Sep 1998 - Searches
Oct 1998 - Usage
Oct 1998 - Searches
Nov 1998 - Usage
Nov 1998 - Searches
Dec 1998 - Usage
Dec 1998 - Searches
1999
1999 - Overview
Jan 1999 - Usage
Jan 1999 - Searches
Feb 1999 - Usage
Feb 1999 - Searches
Mar 1999 - Usage
Mar 1999 - Searches
Apr 1999 - Usage
Apr 1999 - Searches
May 1999 - Usage
May 1999 - Searches
Jun 1999 - Usage
Jun 1999 - Searches
Jul 1999 - Usage
Jul 1999 - Searches
Aug 1999 - Usage
Aug 1999 - Searches
Sep 1999 - Usage
Sep 1999 - Searches
Oct 1999 - Usage
Oct 1999 - Searches
Nov 1999 - Usage
Nov 1999 - Searches
Dec 1999 - Usage
Dec 1999 - Searches
2000
2000 - Overview
Jan 2000 - Usage
Jan 2000 - Searches
Feb 2000 - Usage
Feb 2000 - Searches
Mar 2000 - Usage
Mar 2000 - Searches
Apr 2000 - Usage
Apr 2000 - Searches
May 2000 - Usage
May 2000 - Searches
Jun 2000 - Usage
Jun 2000 - Searches
Jul 2000 - Usage
Jul 2000 - Searches
Aug 2000 - Usage
Aug 2000 - Searches
Sep 2000 - Usage
Sep 2000 - Searches
Oct 2000 - Usage
Oct 2000 - Searches
Nov 2000 - Usage
Nov 2000 - Searches
Dec 2000 - Usage
Dec 2000 - Searches
2001
2001 - Overview
Jan 2001 - Usage
Jan 2001 - Searches
Feb 2001 - Usage
Feb 2001 - Searches
Mar 2001 - Usage
Mar 2001 - Searches
Apr 2001 - Usage
Apr 2001 - Searches
May 2001 - Usage
May 2001 - Searches
Jun 2001 - Usage
Jun 2001 - Searches
Jul 2001 - Usage
Jul 2001 - Searches
Aug 2001 - Usage
Aug 2001 - Searches
Sep 2001 - Usage
Sep 2001 - Searches
Oct 2001 - Usage
Oct 2001 - Searches
Nov 2001 - Usage
Nov 2001 - Searches
Dec 2001 - Usage
Dec 2001 - Searches
2002
2002 - Overview
Jan 2002 - Usage
Jan 2002 - Searches
Feb 2002 - Usage
Feb 2002 - Searches
Mar 2002 - Usage
Mar 2002 - Searches
Apr 2002 - Usage
Apr 2002 - Searches
May 2002 - Usage
May 2002 - Searches
Jun 2002 - Usage
Jun 2002 - Searches
Jul 2002 - Usage
Jul 2002 - Searches
Aug 2002 - Usage
Aug 2002 - Searches
Sep 2002 - Usage
Sep 2002 - Searches
Oct 2002 - Usage
Oct 2002 - Searches
Nov 2002 - Usage
Nov 2002 - Searches
Dec 2002 - Usage
Dec 2002 - Searches
2003
2003 - Overview
Jan 2003 - Usage
Jan 2003 - Searches
Feb 2003 - Usage
Feb 2003 - Searches
Mar 2003 - Usage
Mar 2003 - Searches
Apr 2003 - Usage
Apr 2003 - Searches
May 2003 - Usage
May 2003 - Searches
Jun 2003 - Usage
Jun 2003 - Searches
Jul 2003 - Usage
Jul 2003 - Searches
Aug 2003 - Usage
Aug 2003 - Searches
Sep 2003 - Usage
Sep 2003 - Searches
Oct 2003 - Usage
Oct 2003 - Searches
2006
Jan 2006 - Summary
Feb 2006 - Summary
Mar 2006 - Summary

---
Project Runeberg, Thu Dec 20 02:02:10 2012 (aronsson) (diff) (history) (download) Next >>
http://runeberg.org/admin/stats/