Note: This work was first published in 1946, less than 70 years ago. Therefore, this work is protected by copyright, restricting your legal rights to reproduce it. However, you are welcome to view it on screen, as you do now. Read more about copyright.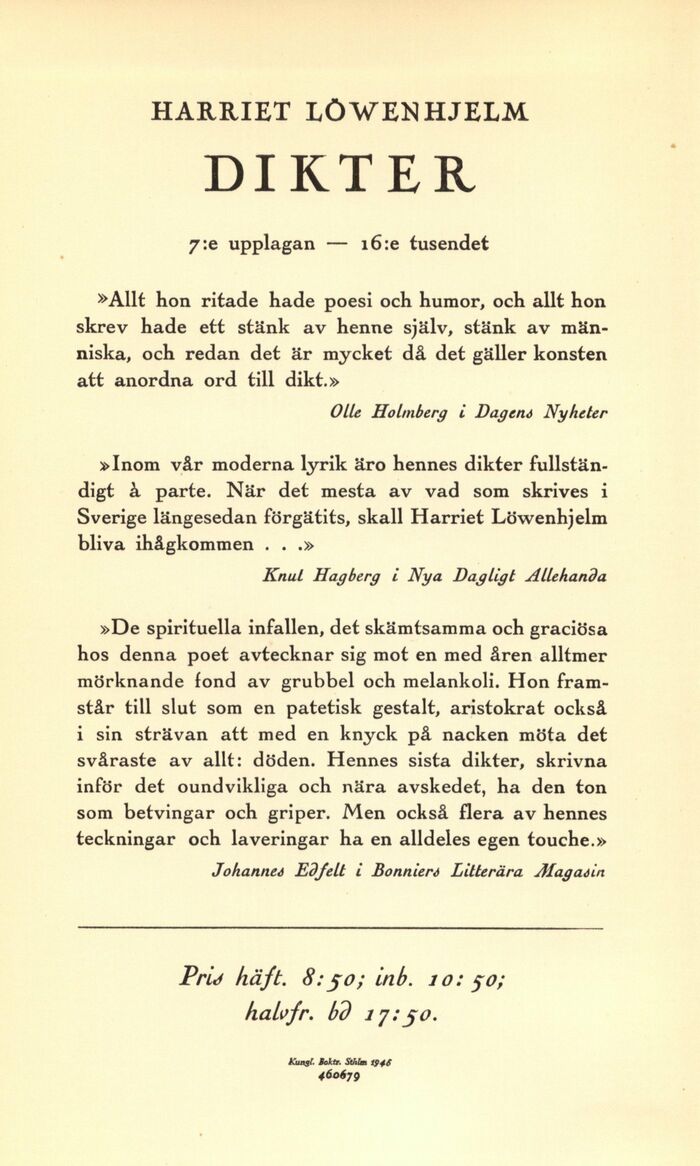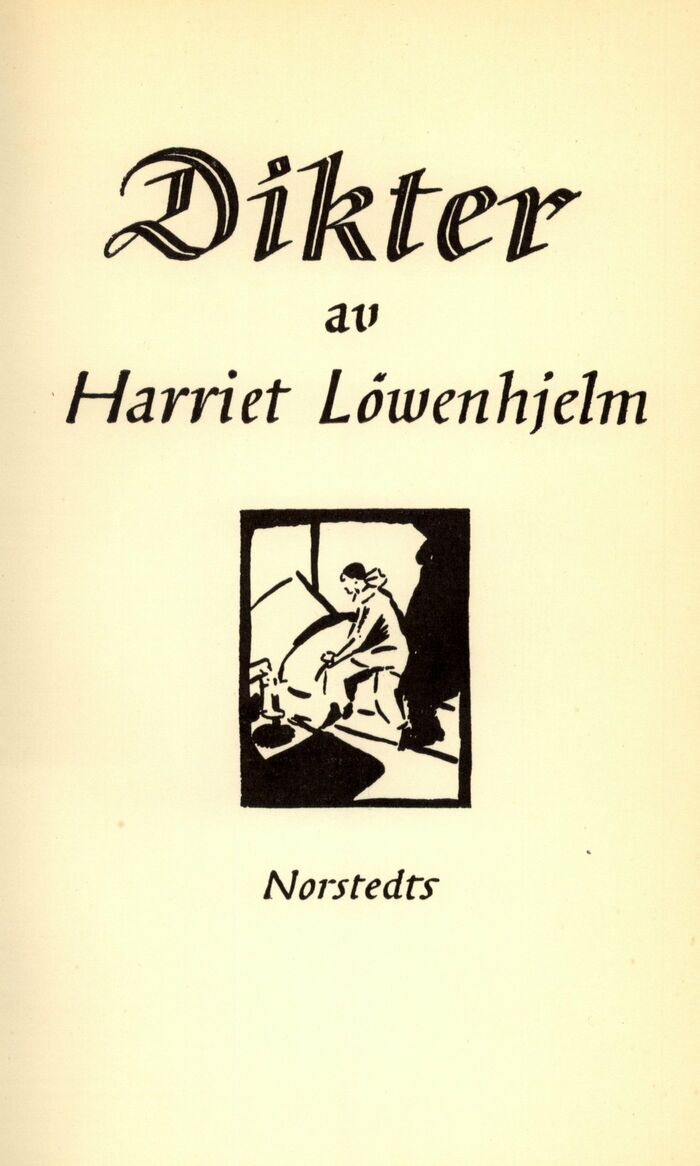 DIKTER
av
HARRIET LÖWENHJELM
Sjunde upplagan
------------
Stockholm / P. A. Norstedt & Söners Förlag
---
Kungl. Boktryckeriet P. A. Norstedt & Söner Stockholm 1946
---
Förord till den elektroniska utgåvan
Författaren avled 1918. Detta urval är således utgivet postumt.
Boken digitaliserades direkt från original och anpassades och OCR-tolkades för Projekt Runeberg i mars 2014 av Bert H.

---
The above contents can be inspected in scanned images: Smutstitel, Titelsida, Titelsida, Innehåll, Innehåll, Innehåll, Innehåll

---
Korrstapel / Proof bar for this volume


Innehåll / Table of Contents

Titel och innehåll - Smutstitel, Titelsida, Titelsida, Innehåll, Innehåll, Innehåll, Innehåll
Sidor ... - 3, 4, 5, 6, 7, 8, 9, 10, 11, 12, 13, 14, 15, 16, 17, 18, 19, 20, 21, 22, 23, 24, 25, 26, 27, 28, 29, 30, 31, 32, 33, 34, 35, 36, 37, 38, 39, 40, 41, 42, 43, 44, 45, 46, 47, 48, 49, 50, 51, 52, 53, 54, 55, 56, 57, 58, 59, 60, 61, 62, 63, 64, 65, 66, 67, 68, 69, 70, 71, 72, 73, 74, 75, 76, 77, 78, 79, 80, 81, 82, 83, 84, 85, 86, 87, 88, 89, 90, 91, 92, 93, 94, 95, 96, 97, 98, 99, 100, 101, 102, 103, 104, 105, 106, 107, 108, 109, 110, 111, 112, 113, 114, 115, 116, 117, 118, 119, 120, 121, 122, 123, 124, 125, 126, 127, 128, 129, 130, 131, 132, 133, 134, 135, 136, 137, 138, 139, 140

---
Project Runeberg, Fri Dec 18 12:58:40 2015 (www-data) (diff) (history) (download) Next >>
http://runeberg.org/lhdikter/