Full resolution (JPEG) - On this page / på denna sida - O - oumskyrdher ...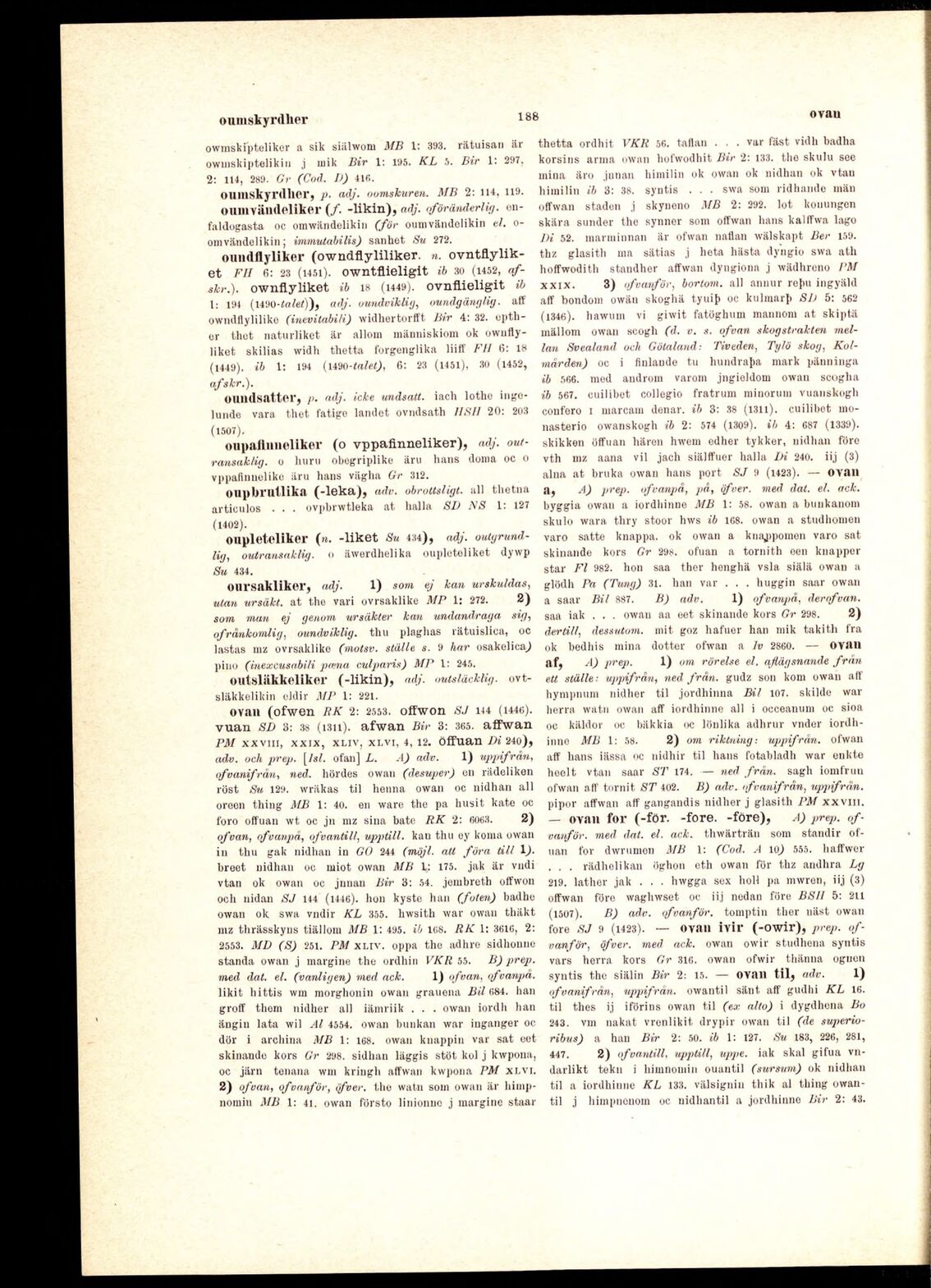 << prev. page << föreg. sida << >> nästa sida >> next page >>

---
Below is the raw OCR text from the above scanned image. Do you see an error? Proofread the page now!
Här nedan syns maskintolkade texten från faksimilbilden ovan. Ser du något fel? Korrekturläs sidan nu!
This page has never been proofread. / Denna sida har aldrig korrekturlästs.

ouniskyrdher

186

ovau

owmskfptelikor a sik siälwom MB 1: 393. riltuisan är
owinskiptelikiu j mik Bir 1: 195. KL 5. Bir 1: 297.
2: 114 , 289. Gr (Cod. D) 416.

ouiliskyrdlior, p. adj. oomskuren. MB 2: 114, 119.
ounivälldeliker (/. -likin), adj. oföränderlig.
en-faldogasta oc omwändolikin (för oumvändolikin el.
o-omvändclikin; immutabilis) sanhot Su 272.

oiindflyliker (owndflyliliker. ».
ovntflylik-et Fil fi: 23 (1451). owntflieligit ib 30 (1452,
afskr.). ownflyliket ib is (1449). ovnflieligit ib
l: 194 (l490-in/e<)), adj. oundviklig, oundgänglig. aff
owndflyliliko (inevitabi/i) widhertorfft Bir 4: 32.
opth-er thot naturliket är allom människiom ok
ownflyliket skilias widh thetta forgenglika liiff FH fi: 18
(1449). ib 1: 194 (UM-lalel), fi: 23 (l45l), 30 (1452,
afskr.).

OlllldsattPl', p. adj. icke undsatt, iacli lothe
inge-lunde vara thet tätigo landet ovndsath IISII 20: 203
(1507).

oiipafluiieliker (o vppafinneliker), adj.
out-ransaklig. o huru obegriplike äru hans doma oc o
vppalinnelike äru hans vägha Gr 312.

OllpliruUika (-leka), adv. obrottsligt, all tlietna
artioulos . . . ovpbrwtloka at halla SI) NS 1: 127
(1402).

Olipleteliker (n. -liket Sn 434), adj.
outgrundlig, outransaklig. o äwerdhelika oupleteliket dywp
Su 434.

oursakliker, adj. 1) som ej kan urskuldas,
utan ursäkt, at the vari ovrsaklike MP 1: 272. 2)
som man ej genom ursäkter kan undandraga sig,
ofrånkomlig, oundviklig, thu plaghas rätuislica, oc
lastas mz ovrsaklike (motsv. ställe s. 9 liar osakelica)
pini» (inexcusabili prena culparis) MP 1: 245.

outsläkkolikor (-likin), adj. outsläcklig.
oTt-släkkelikin oldir MP 1: 221.

ovan (ofwen RK 2: 2553. offwon SJ 144 (1446).
vuan SD 3: 3» (i3u). afwan Bir 3 : 365. affwan
PM xxviii, xxix, xliv, xlvi, 4, 12. öffuan Di 240),
adv. och prep. [/3/. ofan] L. A) adv. 1) uppifrån,
ofvanifrån, ned. hördes owan (desuper) en rädoliken
röst Su 129. wräkas til heuna owan oc nidhan all
oroon thing MB 1: 40. en ware the pa husit käte oc
foro offuan wt. oc ju mz sina bate RK 2: 6063. 2)
ofvan, ofvanpå, ofvantill, upptill, kan thu ey koma owan
in thu gak nidhan in GO 244 (tnöjl. alt föra till l).
breot nidhan oc miot owan MB 1: 175. jak är vudi
vtan ok owan oc junau Bir 3: 54. jembreth offwou
och l|idan SJ 144 (1446). hon kyste han (foten) badhe
owan ok swa vndir KL 355. hwsith war owan thäkt
mz thrässkyus tiällom MB 1: 495. ib 168. RK 1: 361«, 2:
2553. MD (S) 251. PM xliv. oppa the adhre sidhonne
standa owan j margine the ordhin VKR 55. B) prep.
med dat. el. (vanligen) med ack. 1) ofvan, ofvanpå.
likit hjttis wm raorghoiiin owan grauona Bil 684. ban
groft thorn nidher all iämriik . . . owan iordh ban
äugin lata wil Al 4554. owan blinkan war ingånger oc
dör i archina MB 1: 168. owan knappin var sat eet
skinande kors Gr 298. sidhan läggis stöt kol j kwpoua,
oc järn tonana wm kriiigh affwan kwpona PM xlvi.
2) ofvan, ofvanför, ifver, the watu som owan är
kimp-nomiii MB 1: 41. owan försto linionnc j margine staar

thetta ordhit VKR 56. taflan ... var fäst vidh badha
korsins arma owan hofwodhit Bir 2: 133. the skulu soe
mina äro jonan himilin ok owan ok nidhan ok vtan
liiinilin ib 3: 38. syutis . . . swa som ridhande män
offwan staden j skyucno MB 2: 292. lot konungen
skära smider the sytiner som offwan hans kalffwa lågo
Di 52. marmiunan är ofwan naflan wälskapt Ber 159.
thz glasit.h ma siitias j heta hästa dyngio swa aili
hoffwodith standher affwan dyngiona j wädhreno l'M
xxix. 3) ofvanför, bortom, all annur ro|m ingyiild
aff bondoni owiin skoghä tyuiþ oc ktilmarfi SD 5: 562
(1346). hawuui vi giwit fatöghum mannoni at skiptä
liiällom owan »cogli (d. v. s. ofvan skogstrakten
mellan Svealand och Götaland: Tiveden, Tglö skog,
Kolmården) oc i finlaude tu hundraþa mark pänninga
ib 566. med andrum varom jngioldom owan scogha
ib 567. cuilibet collegio fratrum niiuoruin vuaiiskogh
conforo 1 marcam denar, ib 3: 38 (1311). cuilibet
uio-liasterio owanskogh ib 2 : 574 (1309). ib 4: 687 (1339).
skikken öffuan hären hweiu cdher tykker, nidhan före
vth mz aana vil jach siälffucr halla Di 240. iij (3)
alna at bruka owan hans port SJ 9 (1423). — ovan
a, A) j/rep. ofvanpå, på, ifver, med dat. el. ack.
byggia owan a iordliinne MB 1: 58. owan a bunkanoin
skulo wara tliry stoor hws ib 168. owan a stiidhomen
värö satte knappa, ok owan a knajipoinon värö sat
skinande kors Gr 29s. ufuau a tornith 0011 knäpper
star FI 982. hon saa ther honghä vsla siälii owan a
glödh Pa (Tung) 31. han var . . . huggin saar owan
a saar Bil 887. B) adv. 1) ofvanpå, derofvan.
saa iak . . . ownu aa eet skinande kors Gr 298 . 2)
dertill, dessutom, mit goz hafuer han mik takith fra
ok bedhis mina dotter ofwan a Iv 2860. — OVIin
af, A) prep. 1) om rörelse el. aflägsnande från
ett ställe: uppifrån, ned från. gudz son kom owan alf
hympnum nidher til jordhinna Bil io7. skilde war
herra watn owan aff iordhinne all i occeanuni oc sion
oc käldor oc biikkia oc lönlika adhrur vndor
iordh-inno MB 1: 58. 2) om riktning: uppifrån. ofwan
aff hans iiissa oc nidhir til hans fotabladh war enkto
heolt vtan saar ST 174, — ned från. sagli iomfruu
ofwan aff tornit ST 402. B) adv. ofvanifrån, uppifrån.
pipor affwan aff gangandis nidher j glasith PM xxvin.
— ovan for (-för. -fore. -före), A) prep.
ofvanför. med dat. el. ack. thwärträu som standir
of-uan for dwriimon MB 1: (Cod. A 10) 555. haffwer
. . . rädhelikan öghon oth owan för thz andhra Lg
219. lathor jak . . . hwgga sex boll pa mwron, iij (3)
offwan före waghwset oc iij nedan fore BSll 5: 211
(1507), B) adv. ofvanför, tomptin ther näst owan
fore SJ 9 (1423). — ovan ivir (-owir), prep.
ofvanför, öfver, med ack. owan owir studhcna syntis
vars herra kors Gr 316. owan ofwir tliänna ogiieu
syntis the siälin Bir 2: 15. — ovail til, adv. 1)
ofvanifrån, uppifrån, owantil sänt aff gudhi KL 16.
til thes ij iförins owan til (ex alto) i dygdhena Bo
243. vm nakat vrenlikit drypir owan til (de
superio-ribus) a hall Bir 2: 50. ib 1: 127. Su 183, 226, 281,
447 . 2) ofvantill, upptill, uppe. iak skal gifua
vn-darlikt tekn i hiinnomiii ouantil (sursnm) ok nidhan
til a iordhinne KL 133. välsignin thik al thing
owan-til j himpncnom oc nidbantil a jordhinno Bir 2: 43.
<< prev. page << föreg. sida << >> nästa sida >> next page >>

---
Project Runeberg, Mon Sep 6 19:13:52 2021 (aronsson) (download) << Previous Next >>
http://runeberg.org/svmtsprk/2/0192.html