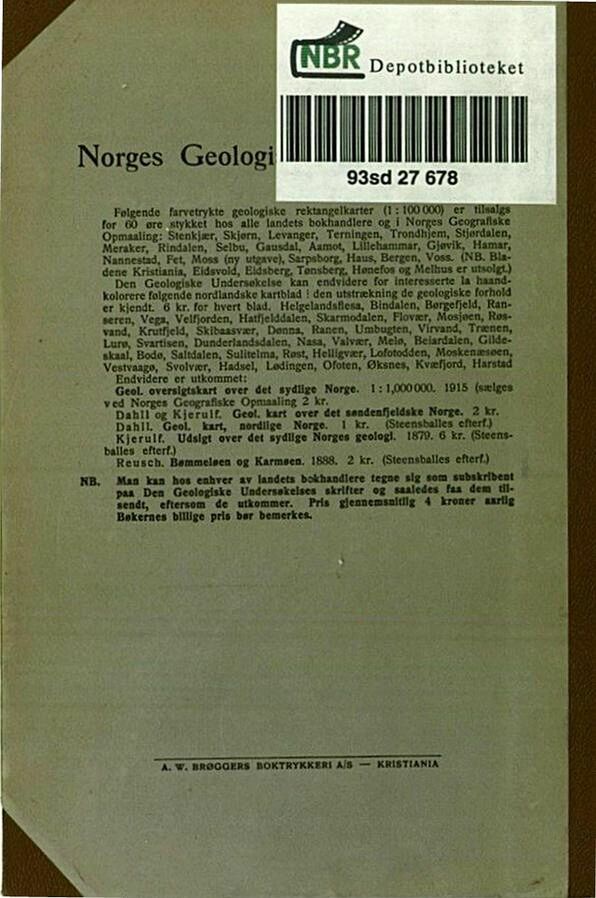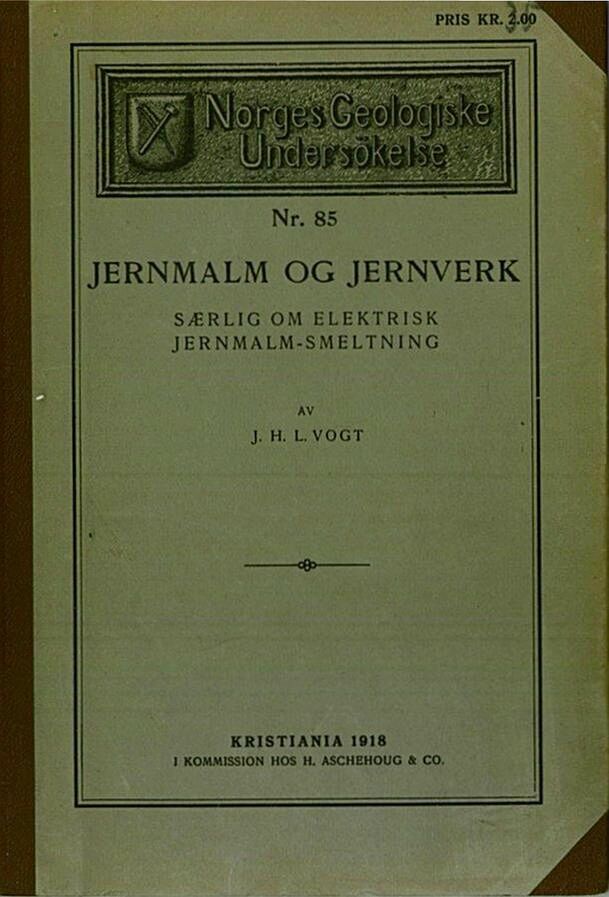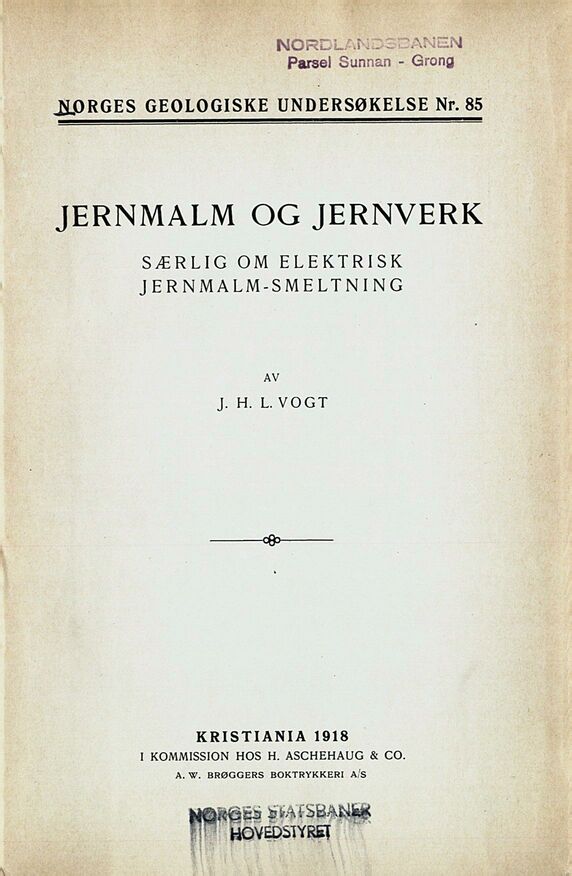 NORGES GEOLOGISKE UNDERSØKELSE Nr. 85
JERNMALM OG JERNVERK
SÆRLIG OM ELEKTRISK
JERNMALM-SMELTNING
AV
J. H. L. VOGT

KRISTIANIA 1918
I KOMMISSION HOS H. ASCHEHAUG & CO.
A. W. BRØGGERS BOKTRYKKERI A/S
---
Trykt 9de april 1918.
---
Förord till den elektroniska utgåvan
Det scannade verket kopierades till Projekt Runeberg i januari 2010. Det ingår som nummer 85 serien av skrifter utgivna av Norges geologiske undersøkelse.


This volume was scanned by the Norwegian National Library, from where the scanned images were copied to Project Runeberg. We very much appreciate that they have made this possible and want to encourage other digital library projects to follow their example. Read more about Project Runeberg's image sources.

---
The above contents can be inspected in scanned images: främre pärm, främre pärmens insida, titelsida, (blank), indhold, Trykk, bakre pärmens insida, rygg, bakre pärm

---
Korrstapel / Proof bar for this volume


Innhold / Table of Contents

Titel og innhold - främre pärm, främre pärmens insida, titelsida, (blank), indhold, Trykk, bakre pärmens insida, rygg, bakre pärm
Sider ... - 1, 2, 3, 4, 5, 6, 7, 8, 9, 10, 11, 12, 13, 14, 15, 16, 17, 18, 19, 20, 21, 22, 23, 24, 25, 26, 27, 28, 29, 30, 31, Kart, 33, 34, 35, 36, 37, 38, 39, 40, 41, 42, 43, 44, 45, 46, 47, 48, 49, 50, 51, 52, 53, 54, 55, 56, 57, 58, 59, 60, 61, 62, 63, 64, 65, 66, 67, 68, 69, 70, 71, 72, 73, 74, 75, 76, Kart, 78, 79, 80, 81, 82, 83, 84, 85, 86, 87, 88, 89, 90, 91, 92, 93, 94, 95, 96, 97, 98, 99, 100, 101, 102, 103, 104, 105, 106, 107, 108, 109, 110, 111, 112, 113, 114, 115, 116, 117, 118, 119, 120, 121, 122, 123, 124, 125, 126, 127, 128, 129, 130, 131, 132, 133, 134, 135, 136, 137, 138, 139, 140, 141, 142, 143, 144, 145, 146, 147, 148, 149, 150, 151, 152, 153, 154, 155, 156, 157, 158, 159, 160, 161, 162, 163, 164, 165, 166, 167, 168, 169, 170, 171, 172, 173, 174, 175, 176, 177, 178, 179, 180, 181

---
Project Runeberg, Fri Aug 10 09:00:16 2012 (aronsson) (diff) (history) (download) Next >>
http://runeberg.org/jernmalm/