PIENI TIETOSANAKIRJA
Toimituskunta:
Jaakko Forsman, fil. tohtori, päätoimittaja
J. A. Wecksell, fil. kand., toimitussihteeri
I. Havu, fil. tohtori
Hannes Salovaara, lehtori
Helsingissä
Kustannusosakeyhtiö Otava
Kustannusosakeyhtiö Otavan
kirjapaino, Helsingissä, 1925-1928.
---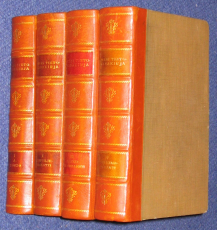 Esipuhe digitaaliseen julkaisuun
Tämä on Projekti Runebergin digitaalinen näköispainos teoksesta Pieni Tietosanakirja, 4 osaa, 1925-1928.
Pieni tietosanakirja (1925–1928) oli toinen suomeksi julkaistu tietosanakirja. Sen julkaisi Otava, siinä oli neljä osaa ja noin 3 000 sivua. Aiemmin oli julkaistu vain WSOY:n ja Otavan Tietosanakirja vuosina 1909–1919.
Ditalisointi tehtiin helmikuussa 2005. Kaikki sivut ovat kuvattu musta-valkoisina, 600 dpi, ja tallennettu yksittäisinä TIFF G4 tiedostoina. Jotkut ovat myös kuvattu värillisinä, 300 dpi. Optisella merkintunnistuksella (OCR) on luotu tekstitiedosto joka sivusta.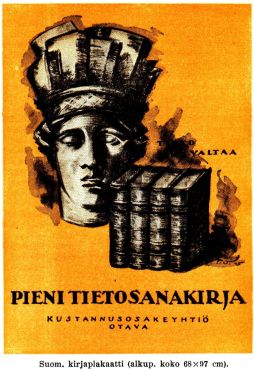 Preface to the digital edition
This is Project Runeberg's digital facsimile edition of Pieni Tietosanakirja, 4 volumes, 1925-1928.
The title is Finnish for "the small encyclopedia". Before this, only one encyclopedia had been published in the Finnish language, the Tietosanakirja, 10 volumes, 1909-1919. For background information about these and other early Finnish encyclopedias, see the article Tietosanakirja in Wikipedia, the free encyclopedia.
The yellow advertising poster was painted by Topi Vikstedt and is featured in the article Reklaami in volume 3. Its slogan "tieto on valtaa" translates to "knowledge is power".
Facts from old books should be handled with care. On some topics, the descriptions given here might still be valid, e.g. Afrodite or Aho, Juhani (1861-1921). But most importantly this old encyclopedia provides a view of what the world looked like from Finland in the mid 1920s. This is especially clear in articles such as Afrikka and Automobiili.
Project Runeberg considers this work to be in the public domain, since it was first published more than 70 years ago and it is a collective work that cannot be attributed to any single or small group of authors. The digitization was made in February 2005. All pages are captured in black-and-white 600 dpi and saved as individual TIFF G4 files. Some are also captured in 300 dpi color. Optical character recognition (OCR) creates a plain text file for each page, which we hope many volunteers will help to proofread and markup. For web presentation, these source files are automatically converted to PNG, HTML, and PDF.
Förord till den digitala utgåvan
Detta är Projekt Runebergs digitala faksimilutgåva av Pieni Tietosanakirja, 4 band, 1925-1928.
Verkets titel är finska för "Lilla uppslagsverket" och före dess hade bara ett enda uppslagsverk getts ut på finska språket, nämligen Tietosanakirja, 10 band, 1909-1919. För mer upplysningar om äldre finska uppslagsverk, se artikeln Tietosanakirja i finska Wikipedia, den fria encyklopedin.
Digitaliseringen genomfördes i februari 2005. För indexeringen har en praxis etablerat sig, som avviker från övriga verk i Projekt Runeberg. Här indexeras sidrubriken (Autokraatti-Automobiili) och inte varje artikel.

---
Sisällys / Table of Contents

Yleiskatsaus
I. A - Isonzo
II. Isopurje - Maskotti
III. Masku - Sanomalehti
IV. San Remo - Öölanti

---
Project Runeberg, Mon Jun 20 17:11:10 2011 (runeberg) (diff) (history) (download) Next >>
http://runeberg.org/pieni/