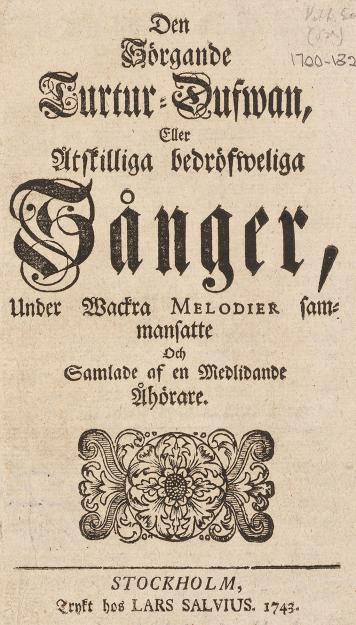 Den Sörgande Turtur-Dufwan,
Eller
Åtskilliga Bedröfweliga Sånger,
Under Wackra Melodier sammansatte
Och Samlade af en Medlidande Åhörare.
————————————————————————
STOCKHOLM,
Trykt hos LARS SALVIUS, 1743.
---
Förord till den elektroniska utgåvan
Denna poetiska samling av Hedvig Charlotta Nordenflycht (1718-1763), alias en Medlidande Åhörare, har digitaliserats i mars 2011 från Kungliga Biblioteket i Stockholm för Litteraturbanken och anpassats för Projekt Runeberg i oktober 2015 av Ralph E.

This volume was scanned by Litteraturbanken, from where the scanned images were copied to Project Runeberg. We very much appreciate that they have made this possible and want to encourage other digital library projects to follow their example. Read more about Project Runeberg's image sources.

---
The above contents can be inspected in scanned images: Omslag, Omslag, Titel, blank, blank, blank, Omslag, Omslag

---
Korrstapel / Proof bar for this volume


Innehåll / Table of Contents

Titel och innehåll - Omslag, Omslag, Titel, blank, blank, blank, Omslag, Omslag
Til den ljufwa och ömsinta Philomela - 3, 4
Den Sörgande Turtur-Dufwan - 5, 6, 7, 8
Alla Nymphers Prinsessinna - 9, 10, 11, 12, 13, 14, 15, 16, 17, 18, 19, 20, 21
Lefnads Beslut - 21, 22

---
Project Runeberg, Fri Oct 16 11:49:41 2015 (www-data) (diff) (history) (download) Next >>
http://runeberg.org/sorgturtur/