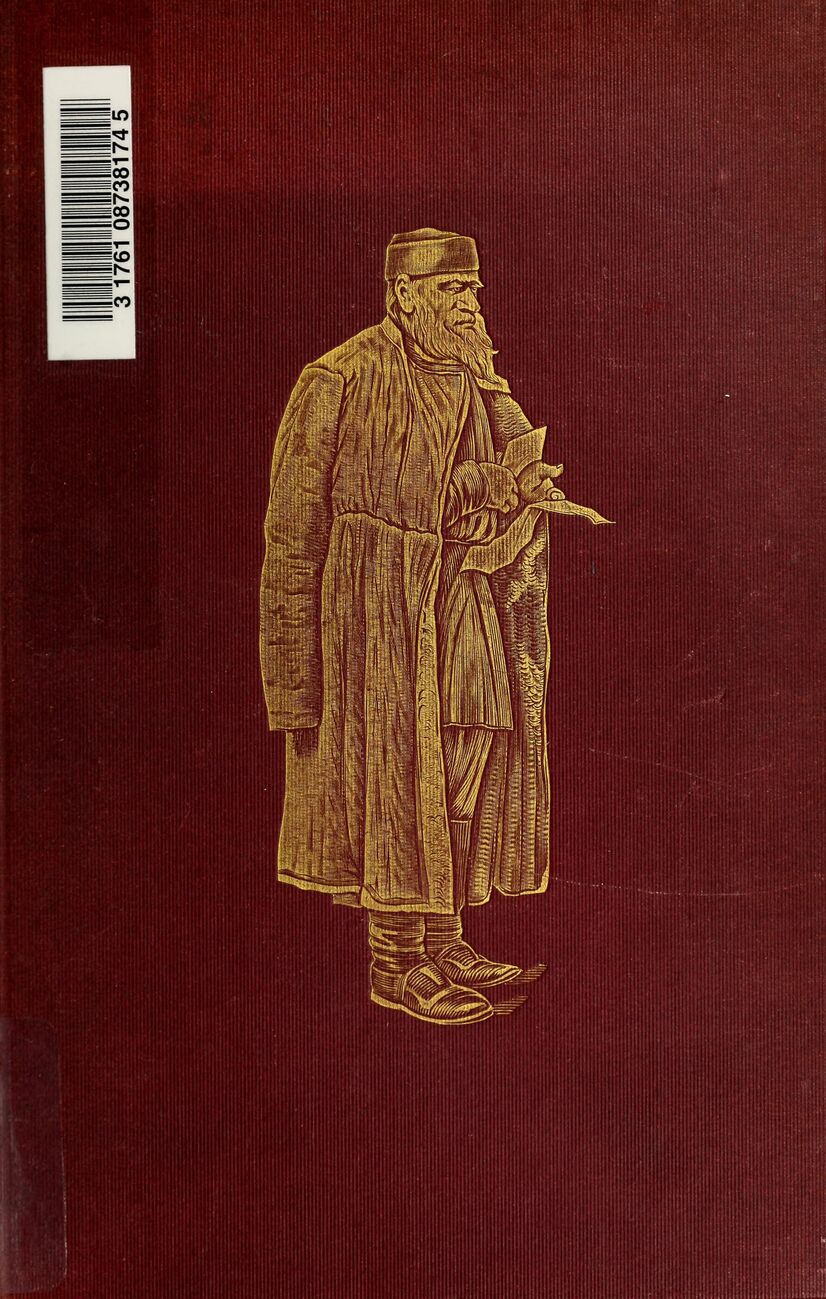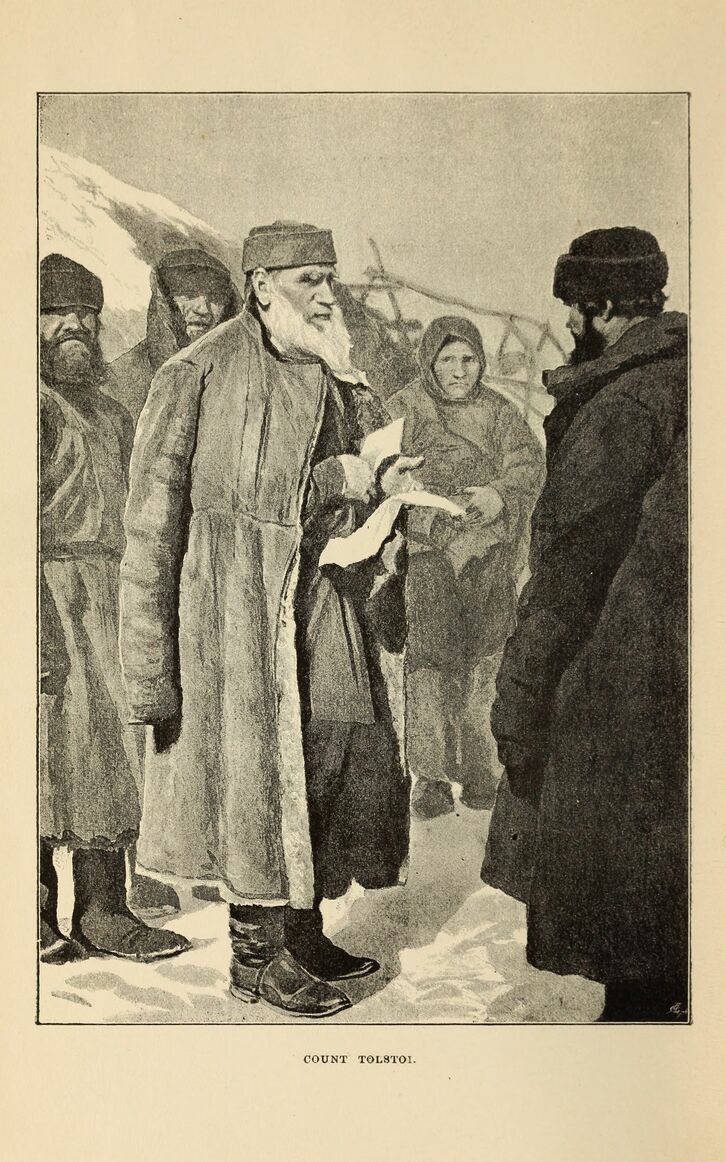 IN THE LAND OF TOLSTOI
EXPERIENCES OF FAMINE AND MISRULE IN RUSSIA.
by
JONAS STADLING
and
WILL REASON. London: JAMES CLARKE & CO., 13 & 14, FLEET STREET, E.C. 1897. LONDON: W. SPEAIGHT AND SONS, PRINTERS, FETTER LANE, E.C.
---
Preface to the electronic edition
This work about Leo Tolstoy by Jonas Stadling (1847-1935) with illustrations by Gerda (1858-1928) and Johan Tirén (1853-1911) and adapted to English by Will Reason (1864-1926) was digitized in February 2015 at the University of Toronto and adapted to Project Runeberg i July 2015 by Ralph E.
The original Swedish title is Från det hungrande Ryssland.
This work can be read as a book at the Internet Archive.


This volume was scanned by the University of Toronto and made available by the Internet Archive, from where the scanned images were copied to Project Runeberg. We very much appreciate that they have made this possible and want to encourage other digital library projects to follow their example. Read more about Project Runeberg's image sources.

---
The above contents can be inspected in scanned images: pretitle, frontispiece, title page, ix, x, xi, xii

---
Korrstapel / Proof bar for this volume


Table of Contents

Title and contents - pretitle, frontispiece, title page, ix, x, xi, xii
Preface - vii
List of illustrations - xiii, xiv
I. First Acquaintance with Count Tolstoi - 1, 2, 3, 4, 5, 6, 7, 8, 9, 10, 11
Arrival at Rjasan—Tolstoi's Early Life—Education—His Opinion of the Universities—Unsuccesful Efforts to Help the Peasants—Years of Dissipation—Establishes Schools on his Estate—Tolstoi as "Peacemaker"—Educational Work and Opinions—Influence in Russia, &c.—Tolstoi and his Critics
II. Causes of the Famine - 12, 13, 14, 15, 16, 17, 18, 19, 20, 21, 22, 23, 24, 25, blank, 27, 28
Contrast of Famines in Russia and Western Europe—Condition at the Emancipation—Broken Promises—Insufficiency of Allotments—Action of Landlords—Prince Vasiltchikov's Opinion—Proportion of Agriculturists in Russia and other Countries—Nomadism—Capitalism and the Peasants—Kulacks and their Usury—Kulacks and Officials—Oppressive Taxation
III. Tolstoi on the Famine - 29, 30, 31, 32, 33, 34, 35, 36, 37, 38, 39, 40
Tolstoi's Warnings to the Government—Their Reception—Government Measures and Tolstoi's Criticisms—The True Cause of the Distress—Russian Society—The True Remedy
IV. Relief Work in Rjasan - 41, 42, 43, 44, 45, 46, 47, 48, 49, 50, 51, 52, 53, blank, 55, 56, 57, 58, 59, 60
Countess Tolstoi's Letter—General Organisation—An Illustration of the Position—Defects of Government Relief—Tolstoi's Methods—Visit to a Famine-Stricken Village—Countess Maria Tolstoi and her Father's Work—"Traits of Civilisation"—Destitution, Disease, and Death—Miss Kuzminsky and the Mir—More Starving Villages—Tolstoi's Difficulties—Some of his Helpers
V. Tolstoi's Table Talk - 61, 62, 63, 64, 65, 66, 67, 68, 69, 70, 71, 72, 73, 74
War—An Expensive Conscience—Modern Religious Sects—Religion and Invention—The Russian Sectarians—"The Café of Surat"—Attitude to Political Governments—Western Literature and Mammon—Forthcoming Books—Is Tolstoi a Christian?—The Nature of his Christianity
VI. Spring Scenes in Samara - 75, 76, 77, 78, 79, 80, 81, 82, 83, 84, 85, 86, 87, 88, 89, blank, 91, 92, 93, 94, 95, 96, 97, 98, 99, 100, 101, blank, 103, 104, 105, 106, 107, 108, 109, blank, 111, 112, 113
On the Cars—Conditions of Russian Travel—A Prison Car—Relief Work in the City of Samara—Railroad Punctuality—Mushik Hospitality—A Molokhan Meeting—My Lodgings with Count Lyeff Tolstoi—Famine Scenes—A Wakeful Night—"Vot Klop!"—Visit to Petrovka—In a Snowdrift—Von Birukov—Feeding on Clay—"He must be the Devil!"—Orphaned Children—Upper-class Opinion and Government Opposition—An Address of Thanks—Birukov and the Priest—A Lenten Service—The Popes and the Villagers—A Cheap Marriage—The Pope and the Bell—A Peasant's Burial—The Burnt Sheepskin—Fine Feathers—The Rouble Note—Eastertide—Visit to a Horse-Farm—A Stormy Night—Black Thoughts—A Peasant Superstition—"Christos Voskresje!"—Lack of Seed—A Farewell Visit—Count Lyeff Tolstoi—The Honest Physician!
VII. A Policy of Death - 115, 116, 117, 118, 119, 120, 121, blank, 123, 124, 125, 126
Ignorance and Superstition Due to the Government—Repression of Schools—Schools under the Priests—An Extensive Curriculum—Attitude to Private Schools—An Educated Mushik—The Story of Semjanov—Educational Statistics—A Battle of Circulars—Ignorance and Disease—Superstition—Official Folly—Practical Consequences—A Sister of the People—The Hospital—Ravages of Disease—Responsibilities of the Church and Government
VIII. A Day in a Famine-stricken Village, by P. von Birukoff - 127, 128, 129, 130, 131, 132, 133, 134, 135, 136, 137, blank, 139
Early Dawn—Starved Horses—Applicants for Relief—A Terrible Story—In the Eating Room—Simplicity of Human Wants—A Hidden Izba—A Scorbutic Family—More Applicants—Weariness and its Effects—A Tangle of Thoughts
IX. On the Volga - 140, 141, 142, 143, 144, 145, 146, 147, 148, 149, 150
The Steamer Puschkin—Soldiers' Songs—Peasants "Hunting"—A Colporteur—British and Foreign Bible Society—Influence of the Bible—A Peasant's Story of his Conversion—A "Cross Procession"—The Water Road to Exile—The City of Kasan—Tatars—Nishni Novgorod—A Sapient Governor—A Liberal Professor of Theology—The Advantages of Orthodoxy—Feast Days in Russia—An Intelligent Official
X. Among German Colonists - 151, 152, 153, 154, 155, 156, 157, 158
Skilful Boatmen—Adventures in a Row-boat—The German Colonies—Their Prospering—and Decay—Mennonite Colonies—Their Principles—A Visit—An Oasis in the Desert—Peace and Plenty—A Miracle of Co-operation—Land for All—Successful Prohibition—A Wonderful Record of "Crime"—"No Priests, Policemen, Publicans, or Paupers"—Co-operation and Competition
XI. In the City of Saratov - 159, 160, 161, blank, 163, 164, 165, blank, 167, 168
The City—General Ustimovitch—A Stundist Meeting—A Prison-Evangelist—Detectives—A Notable Picnic—Consecration of the Volga—Calumny against Stundists—An Orthodox Missiocary—Holy Water
XII. Prince Dmitri Khilkov - 169, 170, 171, 172, 173, 174, 175, 176, 177, 178, 179, 180, 181, 182
His Questionings—Abandonment of Property—Life as a Mushik—Influence on the Peasants-—Conflict with Landowners—with the Church—"The Damned Stundist"—Banishment by "Administrative Process"—Journey into Exile—A Well-meant Offer—Settlement of Baschkitchet—Activity during a Cholera Epidemic—An Official Medical Commission—Imperial Persecution—His Confession
XIII. A Ruined Family - 183, 184, 185, 186, 187, 188, 189, 190, 191, 192, 193, 194, 195, 196, 197
Wealth and Rank—A Good Landowner and his Clever Son—Schooldays—Liberal Opinions and their Dangers—Disorder in the Schools—Accession to the Estate—Scientific Research and Police Suspicion—At Moscow—A Cruel Plot—Solitary Confinement Uncondemned—The Sentence—Exile to Siberia—Destitution—Better Things—"No Rights"—Police and Love Affairs—Fate of a Refugee—Waste of Human Life—Loss of the Estate—A Young Girl's Religious Experiences—Education—Good Prospects—Struggle after Truth—Reading the New Testament—Persecution by Priests and Police—Exile—A Generous Revenge—Another Sister's Fate—And a Brother's—Mammon and Priestcraft
XIV. Older Russian Sects - 199, 200, 201, 202, 203, 204, 205, 206, 207, 208, 209, 210, 211, 212, 213, 214, 215, 216, 217, 218, 219, 220, 221, 222, 223, blank, 225
Tsardom and Orthodoxy—Reforms of Nikon—The Stanoveri—Popovtsi and Bespopovtsi—The "Antichrist-Tsar"—Specimens of Hymns—Contempt of Suffering—Stranniki (Wanderers) and Beguni (Fugitives)—How They are Made—A Sectarian's Story—Moltchalniki (Dumb)—An Advocate's Experience—Prugoni (Dancers) and Chlisti (Flagellators)—Origin and Tenets—Initiation Ceremonies—Orgies—Skoptsi (Mutilators)—Mutilation—Samoistrebitjeli (Suicides)—Nje Nashi (Agnostics)—Their Behaviour towards Authorities
XV. Later Sects - 227, 228, 229, 230, 231, 232, 233, 234, 235, 236, 237, blank, 239, 240, 241, 242, 243, 244, 245, 246, 247, 248, 249, 250, 251, 252, 253, 254, 255, 256
Close Connection between Social Conditions and Religious Development—The Upper Classes and the People—The Schalaputi—Religious Tenets—Communism—Conscience the Sole Lawgiver—Molokhani and Dukhobortsi—The Stundists; their Origin—Letter from a Persecuted Adherent—Testimonies to the Moral Life of Stundists—The Missionary Gathering in St. Petersburg—Bishop Nikanor—Outrages in Kiev—Prince Khilkov's Letters—General Ustimovitch's Protest—Character Sketches—Ivan Tchaika—Ustim Dolgolenko—Panass Pantilimonovitch Tolupa
XVI. The two Worlds, Peasant and Official - 257, 258, 259, 260, 261, 262, 263, 264, 265, 266, 267, 268, 269, 270, 271, 272, 273, 274, 275, 276
Two Nations in One—Study of "the People"—The "Mir"—Peasants' Views on Land Tenure—On Jurisdiction Generally—Later Corruption by Officialism—Tchinovniks and the "Mir"—Examples of Official Oppression—"Uriadniks" or Rural Police—Their Misdeeds—Wickedness in High Places—The Logoschino Affair—Experiences of a Russian Friend—Tolstoi's Description of Russian "Justice"
XVII. Is There a Remedy? - 277, 278, 279, 280, 281, 282, 283, 284, 285, 286
A Conversation—A Russian's Views—The Fatal Breach—True Division of Labour—Healthful Development—Paramount Claims of Life—A Revolution Inevitable—"Go to the People"

---
Project Runeberg, Sun Aug 23 02:00:25 2015 (aronsson) (diff) (history) (download) Next >>
https://runeberg.org/jstolstoi/