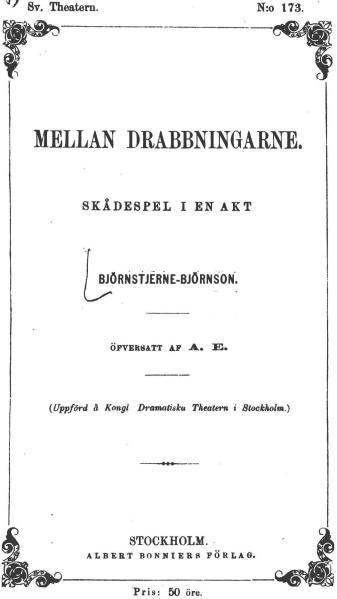 MELLAN DRABBNINGARNE.
SKÅDESPEL I EN AKT.
AF
BJÖRNSTJERNE-BJÖRNSON. ------------ ÖFVERSATT AV A. E. ---------- (Uppförd å Kongl. Dramatiska Theatern i Stockholm).

STOCKHOLM.
ALBERT BONNIERS FÖRLAG.
---
STOCKHOLM
ALB. BONNIERS BOKTRYCKERI, 1867.
---
Förord till den elektroniska utgåvan
Detta norska skådespel (Sv. Theatern N:o 173) av Bjørnstjerne Bjørnson (1832-1910), översatt till svenska av A. E. = Albert Andersson-Edenberg (1834-1913), har digitaliserats i maj 2009 från University of California av Google Books och anpassats för Projekt Runeberg i juni 2016 av Ralph E.

This volume was scanned by Google Book Search, from where the scanned images were copied to Project Runeberg. We very much appreciate that they have made this possible and want to encourage other digital library projects to follow their example. Read more about Project Runeberg's image sources.

---
Korrstapel / Proof bar for this volume


Innehåll / Table of Contents

Titel och innehåll
Sidor ... - pärm, pärm, omslag, omslag, titelsida, 2, 3, 4, 5, 6, 7, 8, 9, 10, 11, 12, 13, 14, 15, 16, 17, 18, 19, 20, 21, 22, 23, 24, 25, 26, 27, 28, 29, 30, 31, 32, 33, 34, 35, 36, 37, 38, 39, 40, 41, 42, 43, 44, 45, 46, 47, 48, omslag, omslag, pärm, pärm

---
Project Runeberg, Tue Jun 14 21:10:18 2016 (www-data) (diff) (history) (download) Next >>
http://runeberg.org/drabbning/