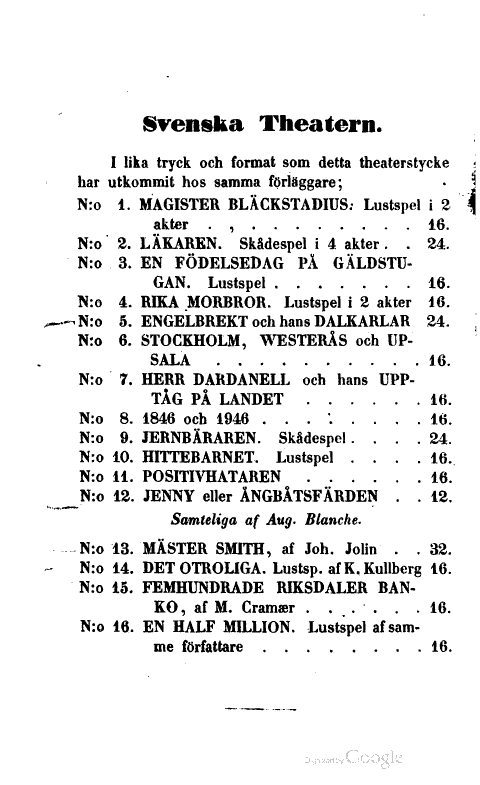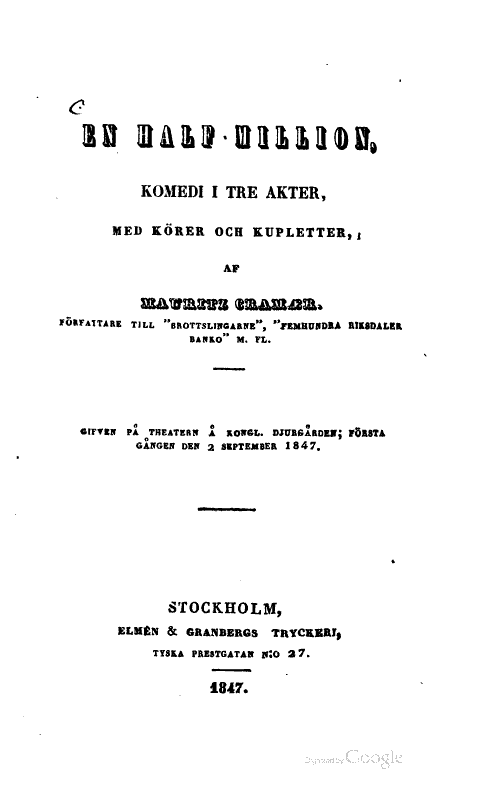 EN HALF MILLION,
KOMEDI I TRE AKTER,
MED KÖRER OCH KUPLETTER,
AF
MAURITZ CRAMÆR
FÖRFATTARE TILL "BROTTSLINGARNE". "FEMHUNDRA RIKSDALER BANCO" M. FL.
——
GIFVEN PÅ THEATERN Å KONGL. DJURGÅRDEN; FÖSTA GÅNGEN DEN 2 SEPTEMBER 1847.
———
STOCKHOLM,
ELMÈN OCH GRANBERGS TRYCKERI
TYSKA PRESTGATAN N:O 27.
——
1847.
---
Förord till den elektroniska utgåvan
Denna komedi har digitaliserats från Bayerska Statsbiblioteket i september 2008 av Google Books och anpassats för Projekt Runeberg i augusti 2014 av Ralph E.

This volume was scanned by Google Book Search, from where the scanned images were copied to Project Runeberg. We very much appreciate that they have made this possible and want to encourage other digital library projects to follow their example. Read more about Project Runeberg's image sources.

---
Korrstapel / Proof bar for this volume

Innehåll / Table of Contents

Titel och innehåll
Sidor ... - Titel, Personer, 3, 4, 5, 6, 7, 8, 9, 10, 11, 12, 13, 14, 15, 16, 17, 18, 19, 20, 21, 22, 23, 24, 25, 26, 27, 28, 29, 30, 31, 32, 33, 34, 35, 36, 37, 38, 39, 40, 41, 42, 43, 44, 45, 46, 47, 48, 49, 50, 51, 52, 53, 54, 55, 56, 57, 58, 59, 60, 61, 62, 63, 64, 65, 66, 67, 68, 69, 70, 71, blank, blank, SvTheatern

---
Project Runeberg, Sun Aug 10 19:45:05 2014 (www-data) (diff) (history) (download) Next >>
http://runeberg.org/enhalfmill/