Note: This work was first published in 1975, less than 70 years ago. Gunnar Gällmo is still alive, as far as we know. Therefore, this work is protected by copyright, restricting your legal rights to reproduce it. However, you are welcome to view it on screen, as you do now. Read more about copyright.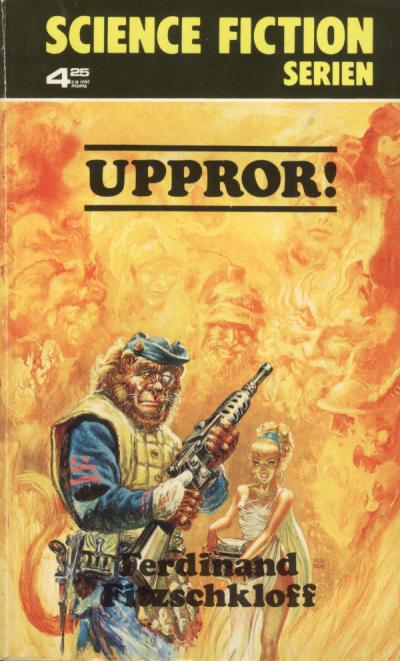 Uppror!
Copyright © 1974 by Ferdinand Fitzschkloff
Science fiction-serien. 14
Lindfors Förlag AB, Stockholm
Tryck: Civiltryckeriet i Köping AB 1975
ISBN 91 7268 027 X
---
Förord till den elektroniska utgåvan
Projekt Runebergs elektroniska utgåva av Uppror! gjordes i april 2005 med vänligt tillstånd av Gunnar Gällmo. Som förlaga till scanningen har ett exemplar tryckt av Lindfors 1975 använts. Mig veterligen är det den enda upplagan (Libris listar inte boken alls).

---
The above contents can be inspected in scanned images: omslag, smutstitel, titel, tryckort, (blank), annons, (blank), annons, (blank), baksidans insida, baksida

---
Korrstapel / Proof bar for this volume


Innehåll / Table of Contents

Titel och innehåll - omslag, smutstitel, titel, tryckort, (blank), annons, (blank), annons, (blank), baksidans insida, baksida
1 - 5, 6, 7, 8, 9, 10, 11, 12, 13, 14
2 - 15, 16, 17, 18, 19, 20, 21, 22, 23, 24, 25, 26
3 - 27, 28, 29, 30, 31, 32, 33, 34, 35, 36, 37, 38, 39, 40, 41, 42, 43
4 - 44, 45, 46, 47, 48, 49, 50, 51, 52, 53, 54, 55, 56, 57, 58, 59, 60, 61, 62
5 - 63, 64, 65, 66, 67, 68, 69, 70, 71, 72, 73, 74
6 - 75, 76, 77, 78, 79, 80, 81, 82, 83, 84
7 - 85, 86, 87, 88, 89, 90, 91, 92, 93, 94, 95, 96, 97, 98, 99
8 - 100, 101, 102, 103, 104, 105, 106, 107, 108, 109, 110, 111, 112, 113, 114
9 - 115, 116, 117, 118, 119, 120, 121, 122, 123, 124, 125, 126
10 - 127, 128, 129, 130
11 - 131, 132, 133, 134, 135, 136, 137, 138, 139

---
Project Runeberg, Fri Apr 8 21:06:23 2005 (aronsson) (diff) (history) (download) Next >>
http://runeberg.org/uppror/