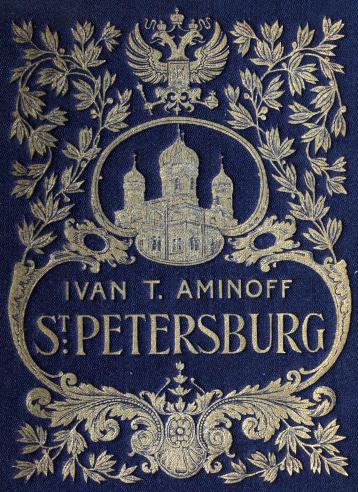 Iwan T. Aminoff
S:t PETERSBURG

STOCKHOLM
WILH. SILÉNS BOKFÖRLAGS A.-B.
---
CENTRALTRYCKERIET, STOCKHOLM 1909
---
Förord till den elektroniska utgåvan
Verket av Iwan T. Aminoff (1868-1928), vilket tillhör The Getty Research Institute, har hämtats från Internet Archive. Det anpassades och OCR-tolkades för Projekt Runeberg i februari 2016 av Bert H.

This volume was scanned elsewhere and made available by the Internet Archive, from where the scanned images were copied to Project Runeberg. We very much appreciate that they have made this possible and want to encourage other digital library projects to follow their example. Read more about Project Runeberg's image sources.

---
The above contents can be inspected in scanned images: Pärm, Blank, Blank, Blank, Smutstitel, Blank, Titelsida, Titelsida, Innehåll, Innehåll, Blank, Blank, Blank, Pärm

---
Korrstapel / Proof bar for this volume


Innehåll / Table of Contents

Titel och innehåll - Pärm, Blank, Blank, Blank, Smutstitel, Blank, Titelsida, Titelsida, Innehåll, Innehåll, Blank, Blank, Blank, Pärm
Ankomsten - 1, 2, 3, 4, 5, 6
Newa, den gudaborna - 7, 8, 9, 10, 11, 12, 13, 14, 15, 16, 17, 18, 19, 20, 21, 22
Hvad morgonsolen blottar - 23, 24, 25, 26, 27, 28, 29, 30
Petersburgs hufvudpulsåder - 31, 32, 33, 34, 35, 36, 37, 38, 39, 40, 41, 42, 43, 44, 45, 46, 47, 48, 49, 50, 51
Istvoschiken - 52, 53, 54, 55, 56, 57, 58, 59, 60, 61, 62
Passlöshet och brottets noviser - 63, 64, 65, 66, 67, 68, 69, 70, 71, 72, 73, 74
Fattigdom och korruption - 75, 76, 77, 78, 79, 80, 81, 82, 83, 84, 85, 86
Det älskvärda och det icke älskvärda Petersburg - 87, 88, 89, 90, 91, 92, 93, 94, 95, 96, 97, 98, 99, 100, 101, 102
Stadsdelar och gator - 103, 104, 105, 106, 107, 108, 109, 110, 111, 112, 113, 114, 115
Det lätta gardet - 116, 117, 118, 119, 120, 121, 122, 123, 124, 125, 126, 127, 128, 129, 130, 131, 132, 133, 134, 135, 136, 137, 138, 139, 140, 141, 142, 143, 144, 145, 146
De som öfvervakas af polisen - 116, 117, 118, 119, 120, 121, 122, 123, 124, 125, 126, 127, 128, 129, 130, 131
De galanta - 131, 132, 133, 134, 135, 136, 137, 138, 139, 140, 141, 142, 143
Perversitet - 143, 144
De legala förbindelserna - 144, 145, 146
I butiker, bazarer och hallar - 147, 148, 149, 150, 151, 152, 153, 154, 155, 156, 157, 158, 159, 160, 161, 162, 163, 164, 165, 166, 167
De, som man lägger märke till - 168, 169, 170, 171, 172, 173, 174, 175, 176, 177, 178, 179, 180
Rättvisans handtlangare - 181, 182, 183, 184, 185, 186, 187, 188, 189, 190, 191, 192, 193, 194
Statyer, torg och parker - 195, 196, 197, 198, 199, 200, 201, 202, 203, 204, 205, 206, 207, 208, 209, 210, 211
Sidor ... - 212, 213, 214, 215, 216, 217, 218, 219, 220, 221, 222, 223, 224, 225, 226, 227, 228, 229, 230, 231, 232, 233, 234, 235, 236, 237, 238, 239, 240, 241, 242, 243, 244, 245, 246, 247, 248, 249, 250, 251, 252, 253, 254, 255, 256, 257, 258, 259, 260, 261, 262, 263, 264, 265, 266, 267, 268, 269, 270, 271, 272, 273, 274, 275, 276, 277, 278, 279, 280, 281, 282, 283, 284, 285, 286, 287, 288, 289, 290, 291, 292, 293, 294, 295, 296, 297, 298, 299, 300, 301, 302, 303, 304, 305, 306, 307, 308, 309, 310, 311, 312, 313, 314, 315, 316, 317, 318, 319, 320, 321, 322, 323, 324, 325, 326, 327, 328, 329, 330, 331, 332, 333, 334, 335, 336, 337, 338, 339, 340, 341, 342, 343, 344, 345, 346, 347, 348, 349, 350, 351, 352, 353, 354, 355, 356, 357, 358, 359, 360, 361, 362, 363, 364, 365, 366, 367, 368, 369, 370, 371, 372, 373, 374, 375, 376, 377, 378, 379, 380, 381, 382, 383, 384, 385, 386, 387, 388, 389, 390, 391, 392, 393, 394, 395, 396, 397, 398, 399, 400, 401, 402, 403, 404, 405, 406, 407, 408, 409, 410, 411, 412, 413, 414, 415, 416, 417, 418, 419, 420, 421, 422, 423, 424, 425, 426, 427, 428, 429, 430, 431, 432, 433, 434, 435, 436, 437, 438, 439, 440, 441, 442, 443, 444, 445, 446, 447, 448, 449, 450, 451, 452, 453, 454, 455, 456, 457, 458, 459, 460, 461, 462, 463, 464, 465, 466, 467, 468, 469, 470, 471, 472, 473, 474, 475, 476, 477, 478, 479, 480, 481, 482, 483, 484, 485, 486, 487, 488, 489, 490, 491, 492, 493, 494, 495, 496, 497, 498, 499, 500, 501, 502, 503, 504, 505, 506, 507, 508, 509, 510, 511, 512, 513, 514, 515, 516, 517, 518, 519, 520, 521, 522, 523, 524, 525, 526, 527, 528
Studenter, revolutionärer och sekterister - 529, 530, 531, 532, 533, 534, 535
Petersburgs omgifningar - 536, 537, 538, 539, 540, 541, 542, 543, 544, 545, 546, 547, 548, 549, 550, 551, 552, 553, 554, 555, 556, 557, 558, 559, 560, 561, 562, 563, 564, 565, 566, 567, 568, 569, 570
Peterhof - 536, 537, 538, 539, 540, 541, 542
Oranienbaum - 543
Gatschina - 544
Pavlovsk - 545, 546, 547, 548
Tsarskoje-Sselo - 549, 550, 551, 552, 553
Kurort - 553, 554, 555, 556
Schlüsselburg - 557, 558, 559, 560, 561, 562, 563, 564, 565, 566, 567, 568, 569, 570

---
Project Runeberg, Thu Mar 24 07:25:27 2016 (aronsson) (diff) (history) (download) Next >>
https://runeberg.org/aistpet/