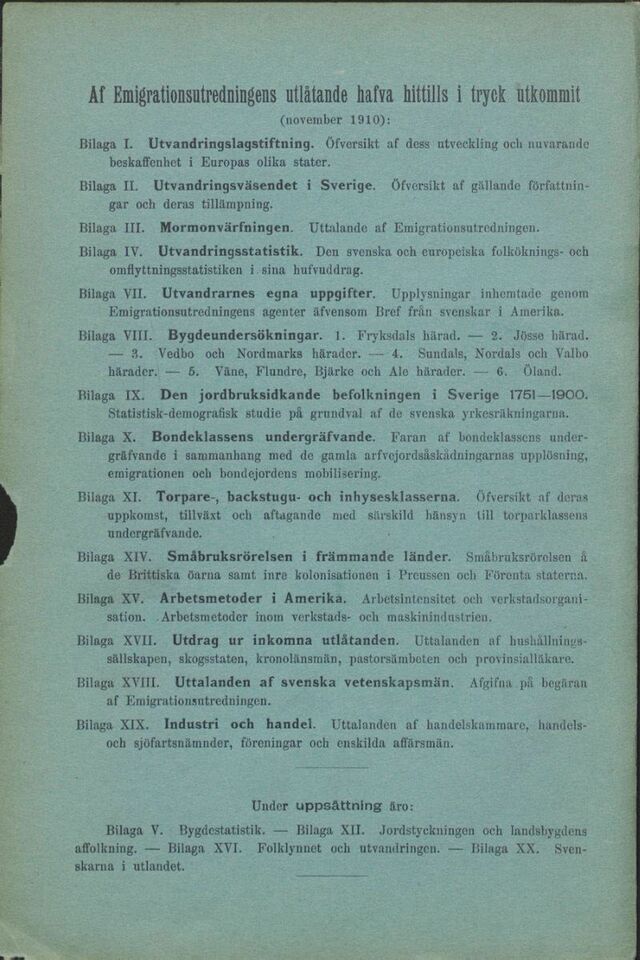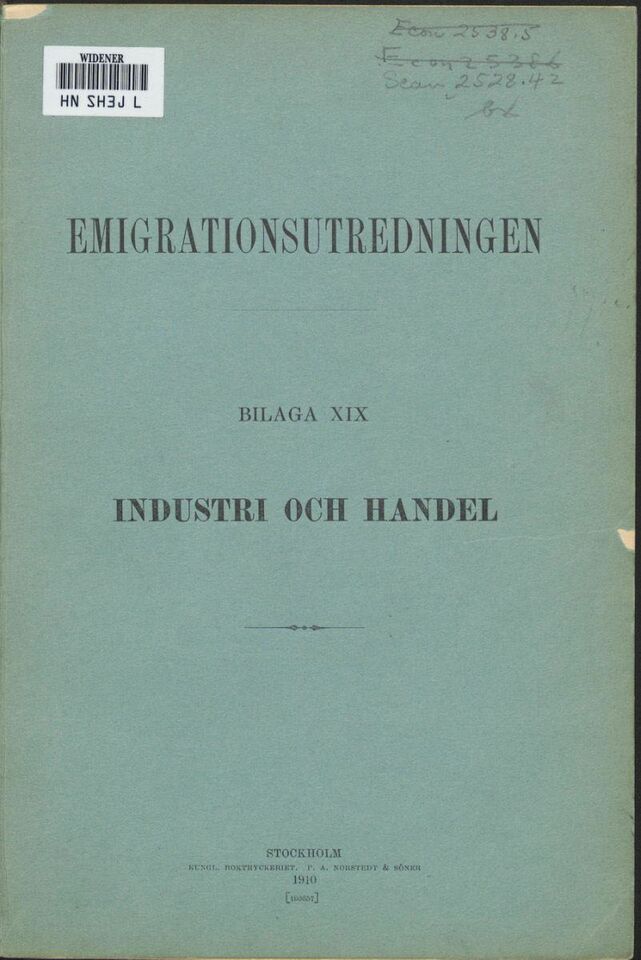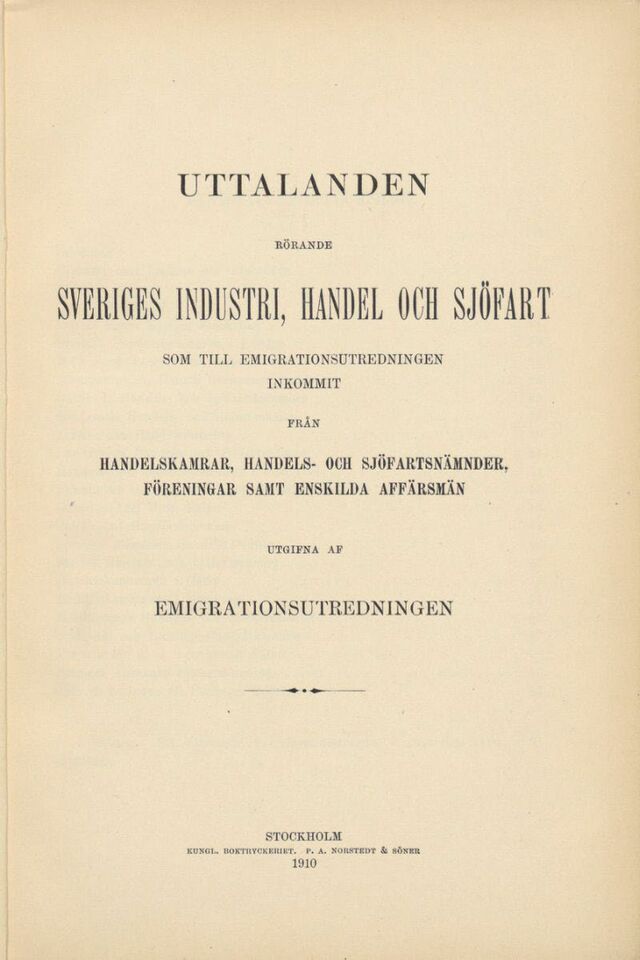 EMIGRATIONSUTREDNINGEN
——
BILAGA XIX
INDUSTRI OCH HANDEL


---
UTTALANDEN
RÖRANDE
SVERIGES INDUSTRI, HANDEL OCH SJÖFART
SOM TILL EMIGRATIONSUTREDNINGEN INKOMMIT
FRÅN
HANDELSKAMRAR, HANDELS- OCH SJÖFARTSNÄMNDER FÖRENINGAR SAMT ENSKILDA AFFÄRSMÄN
UTGIFNA AF
EMIGRATIONSUTREDNINGEN

STOCKHOLM
KUNGL. BOKTRYCKERIET. P. A. NORSTEDT & SÖNER
1910
---
Förord till den elektroniska utgåvan
Denna nittonde bilaga till Emigrationsutredningen har digitaliserats av Harvard University Library och i april 2013 kopierats till Projekt Runeberg av Ralph E.
Se för övrigt om Emigrationsutredningen under Betänkandet!

This volume was scanned by Harvard University Library, from where the scanned images were copied to Project Runeberg. We very much appreciate that they have made this possible and want to encourage other digital library projects to follow their example. Read more about Project Runeberg's image sources.

---
The above contents can be inspected in scanned images: Omslag, Omslag, Verkstitel, blank, Titel, blank, Innehåll, blank, Omslag, Omslag

---
Korrstapel / Proof bar for this volume


Innehåll / Table of Contents

Titel och innehåll - Omslag, Omslag, Verkstitel, blank, Titel, blank, Innehåll, blank, Omslag, Omslag
Sidor ... - 7, 8, 9, 10, 11, 12, 13, 14, 15, 16, 17, 18, 19, 20, 21, 22, 23, 24, 25, 26, 27, 28, 29, 30, 31, 32, 33, 34, 35, 36, 37, 38, 39, 40, 41, 42, 43, 44, 45, 46, 47, 48, 49, 50, 51, 52, 53, 54, 55, 56, 57, 58, 59, 60, 61, 62, 63, 64, 65, 66, 67, 68, 69, 70, 71, 72, 73, 74, 75, 76, 77, 78, 79, 80, 81, 82, 83, 84, 85, 86, 87, 88, 89, 90, 91, 92, 93, 94, 95, 96, 97, 98, 99, 100, 101, 102, 103, 104, 105, 106, 107, 108, 109, blank, blank, blank
Af Emigrationsutredningens utlåtande hafva hittills i tryck utkommit (november 1910) - Omslag

---
Project Runeberg, Sun Mar 9 13:08:11 2014 (aronsson) (diff) (history) (download) Next >>
http://runeberg.org/emuindhand/