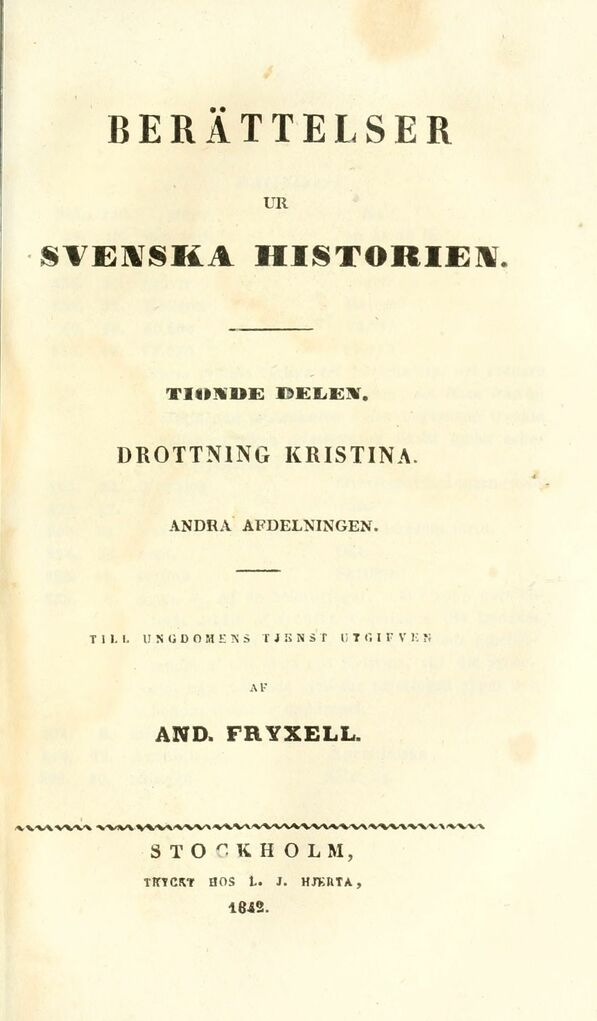 BERÄTTELSER UR SVENSKA HISTORIEN.
——
TIONDE DELEN.
DROTTNING KRISTINA.
ANDRA AFDELNINGEN.
——
TILL UNGDOMENS TJENST UTGIFVEN
AF
AND. FRYXELL,
——
STOCKHOLM,
TRYCKT HOS L. J. HJERTA,
1842.
---
Förord till den elektroniska utgåvan
Detta är den tionde delen av Anders Fryxells (1795-1881) Berättelser ur svenska historien, vilken digitaliserades i juli 2008 av University of Toronto och anpassades i januari 2013 för Projekt Runeberg av Ralph E.
Se i övrigt förordet till hela serien!
Denna volym kan läsas såsom en uppslagen bok i färg på Internet Archive.

This volume was scanned by the University of Toronto and made available by the Internet Archive, from where the scanned images were copied to Project Runeberg. We very much appreciate that they have made this possible and want to encourage other digital library projects to follow their example. Read more about Project Runeberg's image sources.

---
Korrstapel / Proof bar for this volume


Innehåll / Table of Contents

Titel och innehåll
Sidor ... - Omslag, Blank, Blank, Blank, Titel, Blank, Rättelser, Blank, Innehåll, IV, V, VI, 1, 2, 3, 4, 5, 6, 7, 8, 9, 10, 11, 12, 13, 14, 15, 16, 17, 18, 19, 20, 21, 22, 23, 24, 25, 26, 27, 28, 29, 30, 31, 32, 33, 34, 35, 36, 37, 38, 39, 40, 41, 42, 43, 44, 45, 46, 47, 48, 49, 50, 51, 52, 53, 54, 55, 56, 57, 58, 59, 60, 61, 62, 63, 64, 65, 66, 67, 68, 69, 70, 71, 72, 73, 74, 75, 76, 77, 78, 79, 80, 81, 82, 83, 84, 85, 86, 87, 88, 89, 90, 91, 92, 93, 94, 95, 96, 97, 98, 99, 100, 101, 102, 103, 104, 105, 106, 107, 108, 109, 110, 111, 112, 113, 114, 115, 116, 117, 118, 119, 120, 121, 122, 123, 124, 125, 126, 127, 128, 129, 130, 131, 132, 133, 134, 135, 136, 137, 138, 139, 140, 141, 142, 143, 144, 145, 146, 147, 148, 149, 150, 151, 152, 153, 154, 155, 156, 157, 158, 159, 160, 161, 162, 163, 164, 165, 166, 167, 168, 169, 170, 171, 172, 173, 174, 175, 176, 177, 178, 179, 180, 181, 182, 183, 184, 185, 186, 187, 188, 189, 190, 191, 192, 193, 194, 195, 196, 197, 198, 199, 200, 201, 202, 203, 204, 205, 206, 207, 208, 209, 210, 211, 212, 213, 214, 215, 216, 217, 218, 219, 220, 221, 222, 223, 224, 225, 226, 227, 228, 229, 230, 231, 232, 233, 234, 235, 236, 237, 238, 239, 240, 241, 242, 243, 244, 245, 246, 247, 248, 249, 250, 251, 252, 253, 254, 255, 256, 257, 258, 259, 260, 261, 262, 263, 264, 265, 266, 267, 268, 269, 270, 271, 272, 273, 274, 275, 276, 277, 278, 279, 280, 281, 282, 283, 284, 285, 286, 287, 288, 289, 290, 291, 292, 293, 294, 295, 296, 297, 298, 299, 300, 301, 302, 303, 304, 305, 306, 307, 308, 309, 310, 311, 312, 313, 314, 315, 316, 317, 318, 319, 320, 321, 322, 323, 324, 325, 326, 327, 328, 329, 330, 331, 332, 333, 334, 335, 336, 337, 338, 339, 340, 341, 342, 343, 344, blank, bibliotek, bibliotek, Omslag

---
Project Runeberg, Thu Mar 12 22:11:40 2015 (www-data) (diff) (history) (download) Next >>
http://runeberg.org/svhistfry/10/