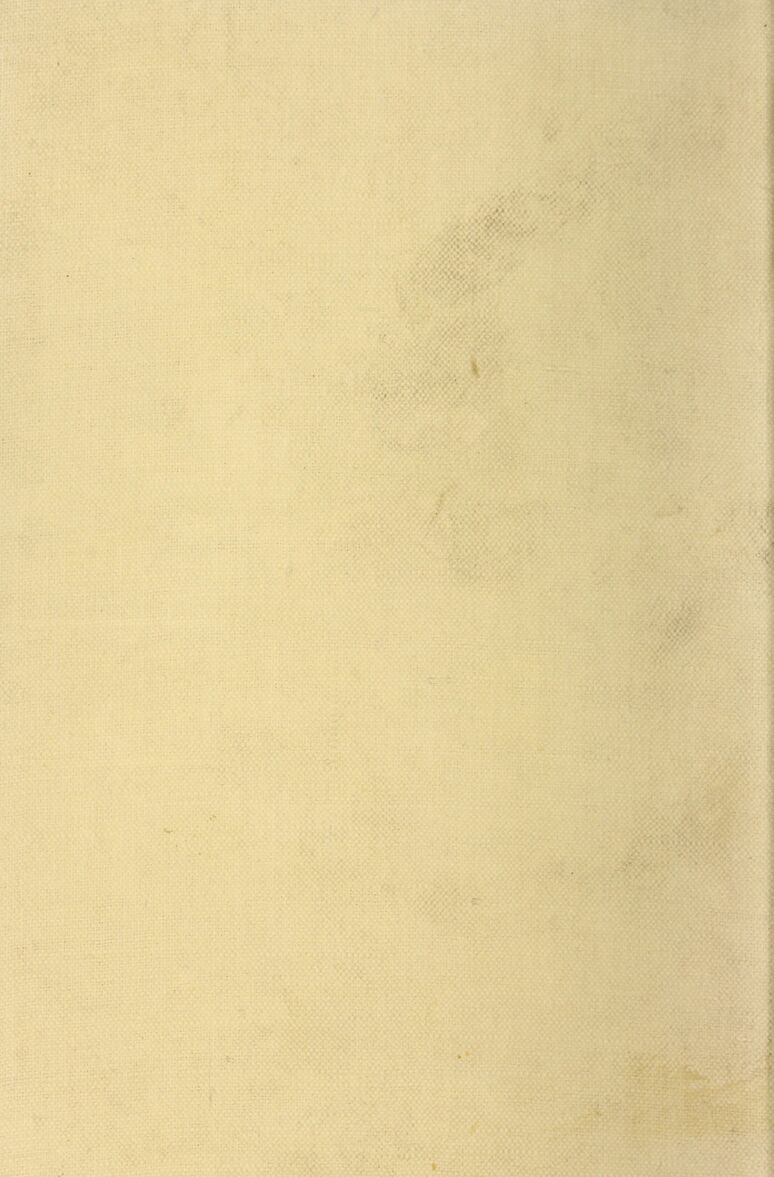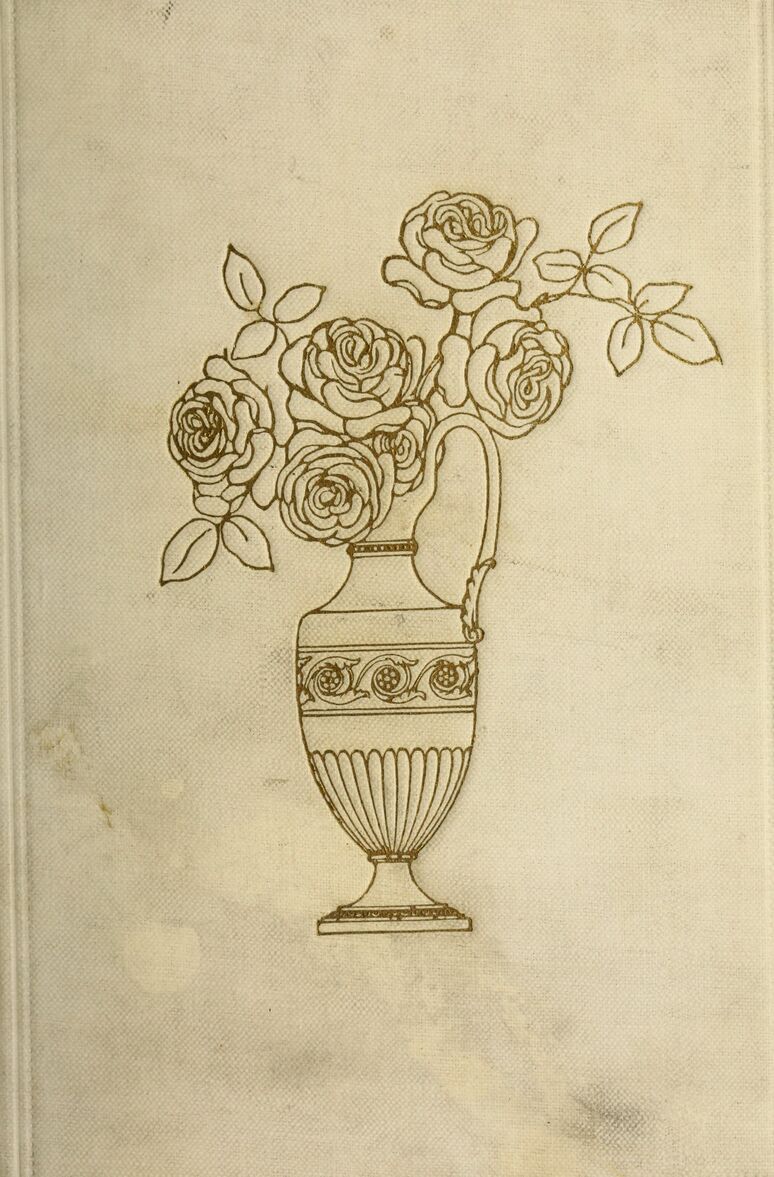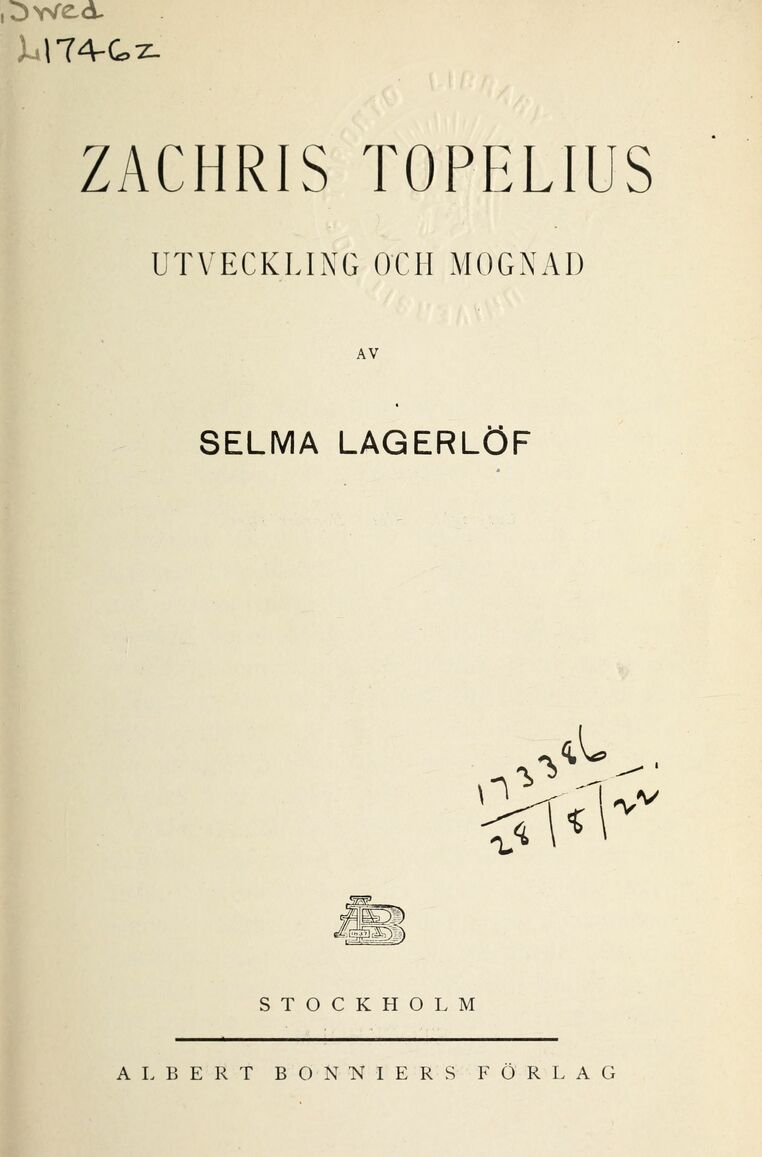 ZACHRIS TOPELIUS
UTVECKLING OCH MOGNAD
AV
SELMA LAGERLÖF

STOCKHOLM
————————
ALBERT BONNIERS FÖRLAG
---
Copyright. Albert Bonnier 1920.
STOCKHOLM
ALB. BONNIERS BOKTRYCKERI 1920
---
Förord till den elektroniska utgåvan
Denna biografi över Zachris Topelius av Selma Lagerlöf (1858-1940) har digitaliserats i februari 2014 av Internet Archive från University of Toronto och anpassats för Projekt Runeberg i april 2015 av Ralph E.
Jämför den danska översättningen Et Eventyr!
Denna biografi kan läsas såsom en upplsagern bok i färg på Internet Archive.

This volume was scanned by the University of Toronto and made available by the Internet Archive, from where the scanned images were copied to Project Runeberg. We very much appreciate that they have made this possible and want to encourage other digital library projects to follow their example. Read more about Project Runeberg's image sources.

---
The above contents can be inspected in scanned images: Omslag, Omslag, blank, blank, smutstitel, blank, Titel, Tryckeri, Innehåll, blank, blank, blank, Omslag, Omslag

---
Korrstapel / Proof bar for this volume


Innehåll / Table of Contents

Titel och innehåll - Omslag, Omslag, blank, blank, smutstitel, blank, Titel, Tryckeri, Innehåll, blank, blank, blank, Omslag, Omslag
Företal - 1, 2, 3
Christopher Toppelius - 5, 6, 7, 8
Michael Toppelius - 9, 10, 11, 12, 13, 14, 15
Zachris Topelius d.ä. - 16, 17, 18, 19, 20, 21, 22, 23, 24
Kuddnäs - 25, 26, 27, 28, 29, 30, 31, 32, 33, 34, 35, 36, 37
Uleåborg - 38, 39, 40, 41, 42, 43, 44, 45, 46, 47, 48, 49, 50, 51
Faderns död - 52, 53, 54
Hos Runeberg - 55, 56, 57, 58, 59, 60, 61, 62, 63, 64, 65, 66, 67, 68, 69, 70, 71, 72, 73, 74, 75, 76
Romantik - 77, 78, 79, 80, 81, 82, 83, 84, 85, 86, 87, 88, 89, 90, 91, 92
Verklighet - 93, 94, 95, 96, 97, 98, 99, 100, 101, 102, 103, 104, 105, 106, 107, 108
Lyrik - 109, 110, 111, 112, 113, 114, 115, 116, 117, 118, 119, 120, 121, 122, 123, 124, 125, 126, 127, 128, 129, 130, 131, 132, 133, 134
Jubelfesten - 135, 136, 137, 138, 139, 140, 141, 142, 143, 144, 145, 146, 147, 148, 149, 150, 151, 152
Mystik - 153, 154, 155, 156, 157, 158, 159, 160, 161, 162, 163, 164, 165, 166, 167, 168, 169, 170, 171, 172, 173, 174, 175, 176, 177, 178, 179
Helsingfors tidningar - 180, 181, 182, 183, 184, 185, 186, 187
Förlovning - 188, 189, 190, 191, 192, 193, 194, 195, 196, 197, 198, 199, 200
Motståndare - 201
I. Despotismen - 201, 202, 203, 204, 205, 206, 207, 208, 209, 210, 211, 212, 213
II. Pietismen - 213, 214, 215, 216, 217, 218, 219, 220, 221, 222, 223, 224, 225, 226, 227, 228
III: Nationalismen - 228, 229, 230, 231, 232, 233, 234, 235, 236, 237, 238, 239, 240, 241, 242, 243, 244, 245, 246, 247, 248
Åbo domkyrka - 249, 250, 251, 252, 253, 254, 255, 256, 257, 258, 259, 260, 261, 262, 263, 264, 265, 266, 267, 268, 269, 270, 271, 272, 273
År 1848 - 274, 275, 276, 277, 278, 279, 280, 281, 282, 283, 284, 285, 286, 287, 288, 289, 290
Sånger till ljuset - 291, 292, 293, 294, 295, 296, 297, 298, 299, 300, 301
Ringen - 302, 303, 304, 305, 306, 307, 308, 309, 310, 311, 312, 313, 314, 315, 316, 317
Mannen från gatan - 318, 319, 320, 321, 322, 323, 324
Förrädaren - 325, 326, 327, 328, 329, 330, 331, 332, 333, 334, 335, 336, 337, 338, 339, 340, 341
Islossningen - 342, 343, 344, 345, 346, 347, 348, 349, 350, 351, 352, 353, 354
Rosengården - 355, 356, 357, 358, 359, 360, 361, 362

---
Project Runeberg, Fri Apr 10 15:03:00 2015 (aronsson) (diff) (history) (download) Next >>
https://runeberg.org/ztopelius/